| Levi's overalls c/o Anthropologie | red hair bandana | white sleeveless tank c/o Anthropologie | Schutz blue fringe slides c/o Anthropologie | fanfare earrings c/o Anthropologie | Birdcagse basket bag c/o Anthropologie |
I'm officially halfway through this pregnancy now and I'm much larger at this point than I was with my pregnancy. I'm excited to be pregnant during warmer months this time around so that I can wear dresses… But getting bigger faster this time has made dressing the bump much more difficult.  My hack with my last pregnancy was wearing non-maternity clothes for the majority of the time.  This time…not gonna fly for much longer.
I did the whole overalls with a bump look last time I was pregnant and I loved it. I just think it's such a cute and easy outfit that can be dressed up or down. And those lovely buttons on the sides mean that bellies can be squeezed into non-maternity overalls!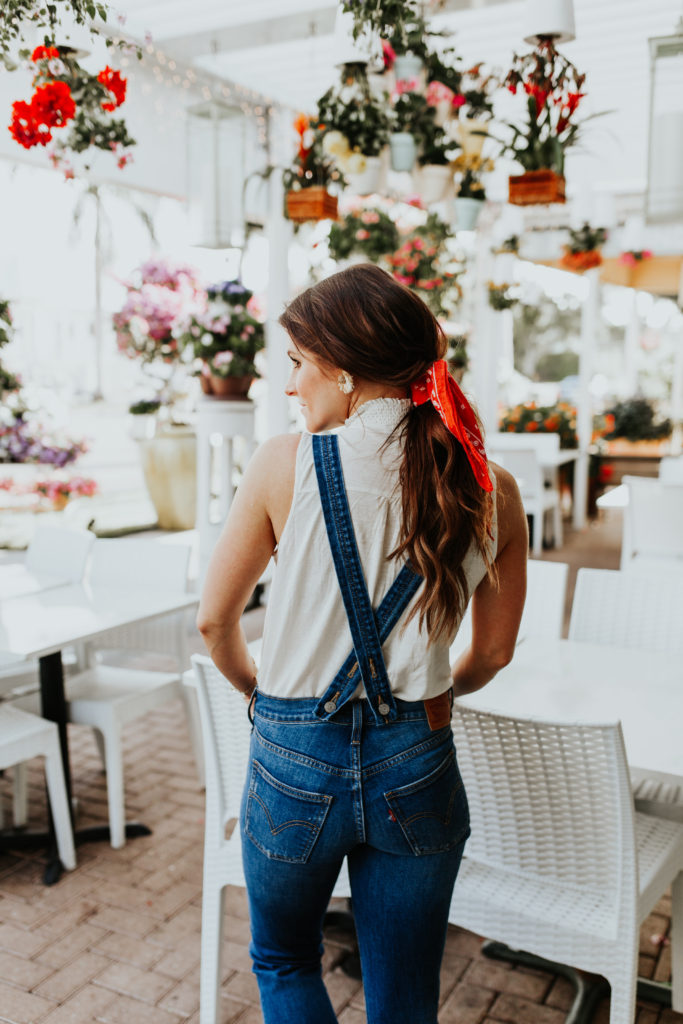 Whenever I get dressed now, comfort and ease is the name of the game. I also like something a little more body contouring so that people can immediately tell that you're pregnant and not just super obsessed with Chipotle Burritos (note: I am tho).
As an aside, we had such a lovely family trip down to Naples. Nick's dad lives down there so we spend a few weeks out of the year there. It's definitely our happy place – especially when spring has given Ohio the finger and has decided not to show up AT ALL….. Worst. We left 85 degrees in Naples to come home to 40 degrees here in Columbus.
I've linked all the items from this outfit here in the post but I also wanted to showcase some of my favorite pregnancy inspo photos. I try to keep my Pinterest page updated as well, so you can follow me for more "dressing the bump" outfit inspo there.
I LOVE this Summer Caftan look from Little Blonde Book.
This has been a typical outfit for me lately since it's still freaking COLD HERE! – But tbh everything Arielle of Something Navy wears is goals.
Amber Fillerup always looked stunning every time she was pregnant – especially in this dress. I really like to wear a body con dress with sleeves that is comfy and accetuates the bump.
Once it warms up I'm looking forward to wearing outfits like this one that Rachel Parcell of Pink Peonies wore when she was pregnant.  I also wore a very similar outfit when I was pregnant two years ago.
XOXO – Em
A BIG thank you to Anthropologie for sending over my cute non-maternity maternity outfit.
p.s. I will be doing a pregnancy update post here shortly, I just want to put a little more effort into an honest and real post to share.
photos by the uber-talented Faith Danielle Photography