To me, Chicken Pot Pie is one of those dishes that is either extraordinary or incredibly boring. For some it summons feelings of nostalgia and cozy nights at home when mom or grandma made pot pie for dinner. For others it reminds them of a soggy, microwaved mess that came out scorching on the outside but somehow still an ice cube in the middle.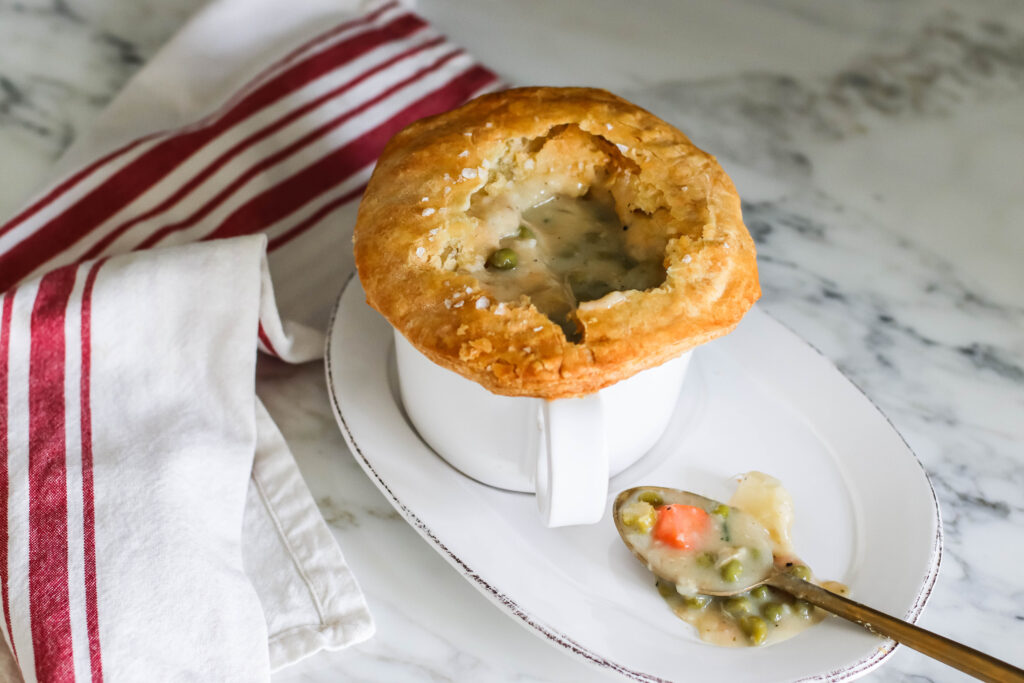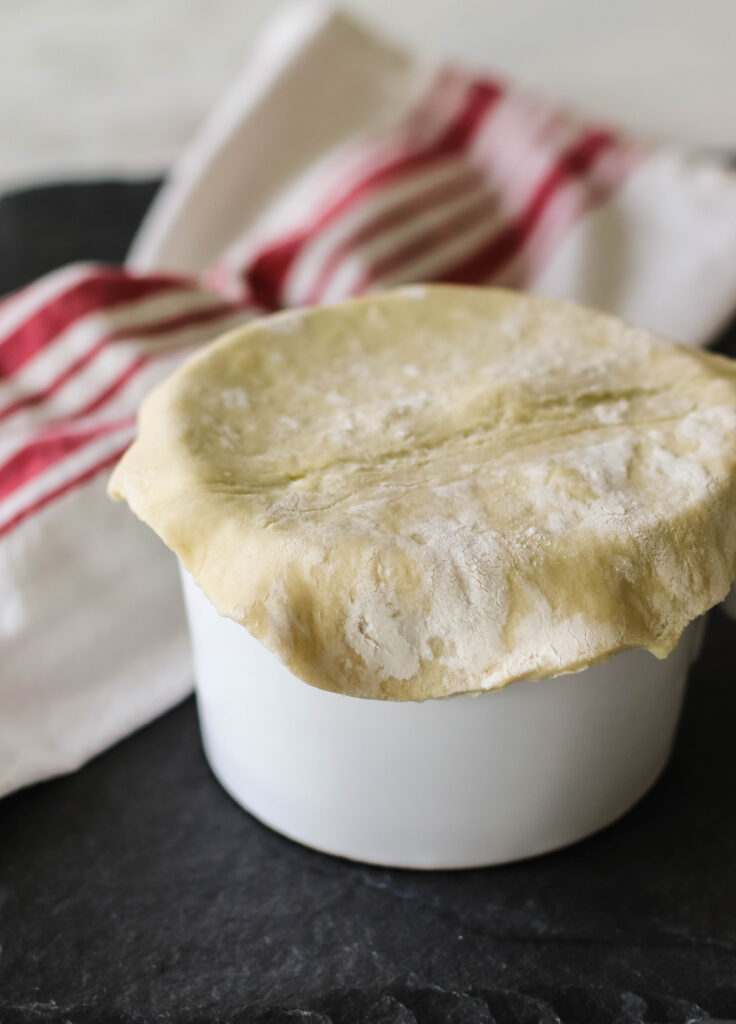 Honestly I leaned toward the latter opinion on pot pies, but while on Pinterest one day I came across a recipe for pot pie from Half Baked Harvest. After reading through her recipes and a few others, I decided to challenge myself to create a new opinion on pot pies. After a few tests – this is the recipe that won me over.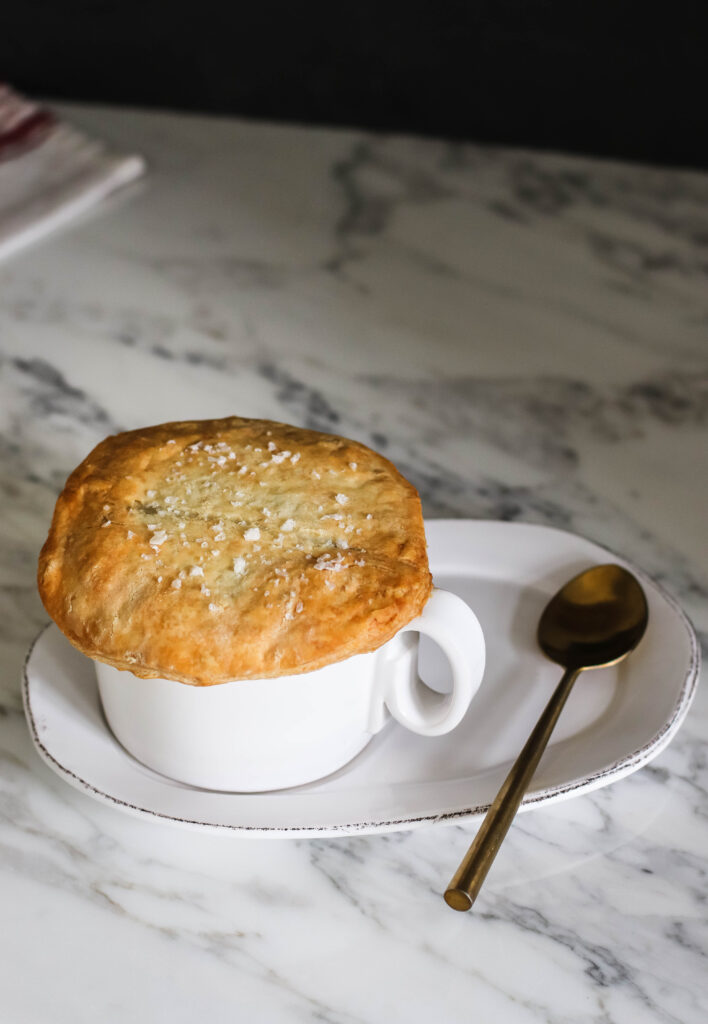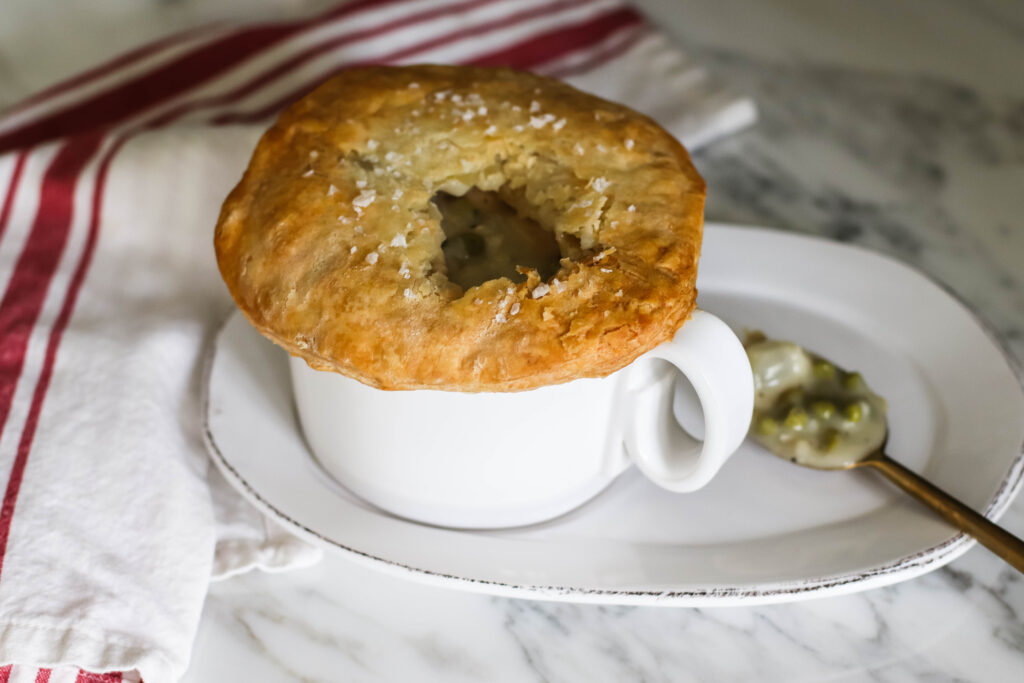 I specifically chose puff pastry because it's easy and delicious. I prefer puff pastry to a pie crust and I find it incredibly time consuming to try and make your own puff pastry when it's perfect straight out of the freezer section. But if you prefer a pie crust for your pot pie, I would recommend Ina Garten's Pot Pie Recipe.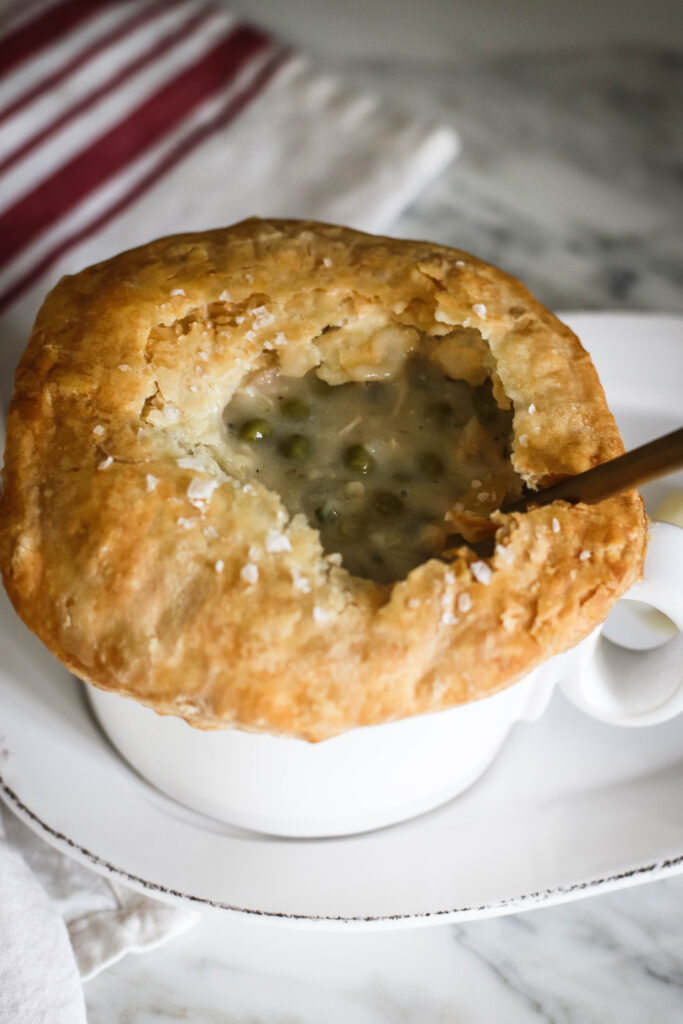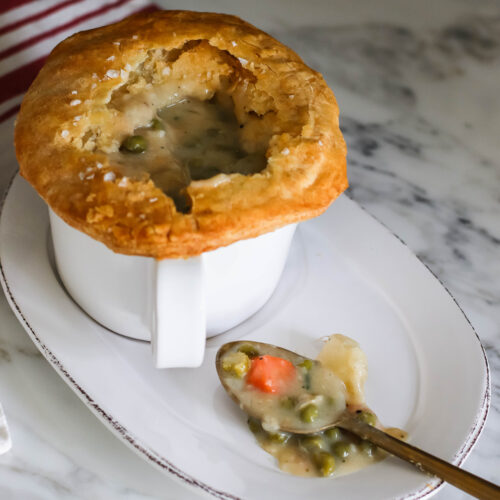 Chicken Pot Pie
A Chicken Pot Pie Recipe to convert the non-believers!
Ingredients
3 large or 4 small

chicken breasts

skineless, bone-in for best flavor

3-4

tbsp

olive oil

kosher salt

to taste

freshly ground pepper

to taste

garlic powder

to taste

6

tbsp

butter

unsalted

1

small

sweet onion

chopped

2

cloves

garlic

finely chopped

1/2

cup

flour

4

cups

chicken stock

1

cup

apple cider vinegar

2

chicken bouillon cubes

1/2

cup

heavy cream

2

cups

carrots

either sliced or rough diced

1

bag

frozen peas

(10 oz)

1

bag

frozen pearl onions

(10 oz)

1/2

cup

chopped fresh flat-leaf parsley

2

frozen puff pastry sheets

room temperature
Instructions
Preheat the oven to 375 degrees. Place the chicken breasts on a rimmed baking sheet and drizzle generously with olive oil. Sprinkle boths sides of each breast with salt, pepper, and garlic powder to taste. Roast for 40 minutes or until 165 degrees in the center. Once cooked, remove breasts from oven to rest and cube once the chicken has been able to rest for at least 10 minutes. Keep oven at 375.

In a large Dutch Oven, add the butter and onion on medium heat. Once the onions start to turn translucent (about 8 mins), add the garlic and cook for about 1-2 more minutes. Be sure not to let that garlic burn. Reduce to low heat and add the flour, stirring contstantly for about 1-2 minutes. You want to see that all of the flour has cooked into the butter.

Add the chicken stock and the apple cider vinegar. Simmer on low heat until the liquid has warmed through, then add the bouillon cubes. Stir until they dissolve. Add the heavy cream, stir to incorporate and bring to a boil. Then reduce to a low simmer. Add the peas, carrots and cubed chicken breasts. Let simmer for 5 minutes. Add salt and pepper to taste. For me, this was about 1 tbsp salt and 2 tsp cracked pepper. Turn off heat and stir in chopped parsley.

Roll out room temperature puff pastry with a rolling pin and a sprinkle of flour. Cut puff pastry to fit the top of individual, oven-safe bowls, with about 3/4 inch overhang. Fill each bowl about 3/4 of the way full with the pot pie filling and then drape the cut puff pastry dough on top. Sprinkle with salt and pepper. Place the bowls on a baking sheet and cook for 30 – 35 minutes or until the puff pastry is golden brown. Serve with a sprinkle of flaked sea salt and chopped parsley.
If you make this and love it, share it on IG stories and tag me! I'd love to know what you think!!!