I can't believe I'm already 30 weeks pregnant. It sounds cliche to say that time is really flying by…but my god does it ever. The first trimester seemed to drag along. I spent much of those first three months just sleeping or thinking about how exhausted I was and wondering when that would pass. I wrote about that here.
Then second trimester hits and all of a sudden I felt like superwoman. I had (comparatively) all this energy, I could stay awake past 9pm, I was actually hungry and could keep food down….So I took advantage of the second trimester by working out as much as possible, getting the baby's room organized, putting together our registry, and trying to generally just be as organized for her arrival as I can. I didn't even write a post on my experience in the second trimester because I mainly just felt like my normal self. The biggest highlights of those fourth, fifth and sixth months were that:
1. I started taking a barre class three days a week at Studio B in German Village and I am absolutely obsessed. It is by far the best workout when you're pregnant and it involves plenty of Kegel exercises to strengthen your pelvic floor muscles, which will be put under huge pressure when you have your baby. Obviously, you don't want to strengthen them too much due to the importance of sexual health (it could lead to you having an overly tight vagina), but a few exercises to help build them up a bit certainly won't go a miss. I heard some people use these things called yoni eggs with kegel exercises to assist in this matter but I also heard never to use them when pregnant so I avoided them after that. Perhaps if I continue these exercises after the baby is born then I could listen to what they say regarding these things.
2. The baby started moving non-stop. Nick was able to feel her, then you could SEE her move from the outside, and now she moves so much that I don't even notice it all the time – unless I'm trying to sleep or she gets the hiccups.
3. I craved donuts and pineapple and smoothies all the time.
4. I started having pretty serious lower back pain that never seemed to go away, (and still hasn't).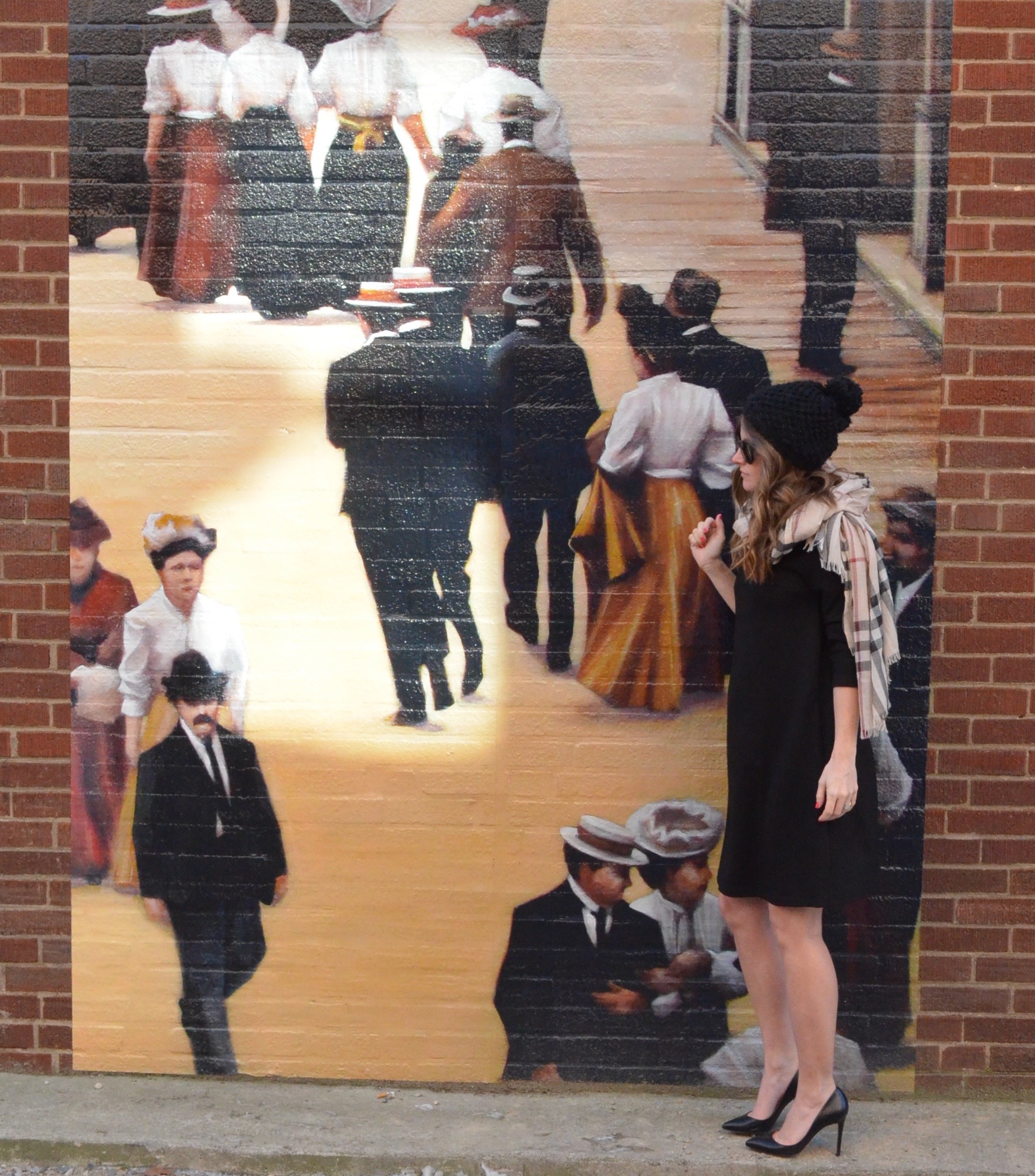 30 WEEKS UPDATE
So even though I am only a few weeks in to the third trimester, it seems like a lot is happening, so here are the highlights…both physical and emotional:
Cravings – chocolate, kale, nachos, berries, and more chocolate
Pains – lower back pain that has never really gone away. I finally gave in and took some Tylenol which seemed to help a little if I was trying to fall asleep, but it is just something that I anticipate having to live with until the little chick arrives. A friend mentioned that when she was pregnant, she had something like chiropractic for pregnancy and it helped massively, so if the pain continues I might look into that. I had really bad heartburn just once and it hasn't been too bad other than that. At our 28 week ultrasound the doctor said that she has a ton of hair!!! So I'm surprised I haven't had more heartburn! I need to ask next time if I am able to take Zantac to help calm it, just in case it does get worse.
Body Issues – Also, I started to feel HUGE as of about a week ago. It is difficult to bend over, or get up from the couch or off the bed. I've started waddling a little. Also, no joke, I sneezed this morning and peed a little. So that's great. I haven't gotten any stretch marks yet. I have been using coco butter lotions, oils from Aveda, and an organic belly butter a friend gave me. I apply it all over my belly AND my boobs at least once a day if not twice.
Working Out – I am still working out at Studio B three times per week. I swear it helps my psyche as much as it has helped my body. I was doing yoga and pilates but I find that this gives me a more intense work out and I am able to do more of the moves without having to modify all the time. I was taking a mat pilates class and so much of the class was spent on your back or on your belly I just couldn't do it anymore. I also try to go to the gym just for a good hour and a half of cardio once a week. I haven't been doing great with my evening walks with the dog, but it has been cold…and there's been nachos….
Eating – I have to eat a bunch of small meals throughout the day. Not so much because I am constantly hungry, but because there just isn't enough room in my belly to eat an entire meal anymore. Second trimester I could beast an entire Chipotle burrito bowl like it was nothing. Now I look at one and I feel full.
Weight Gain – I have gained a total of 18 pounds since my first doctors appointment. I see it in my boobs and my butt and my thighs for sure. Also, over the past few weeks, I have noticed that my feet, ankles and calves swell a lot by the end of the day. Hello sexy cankles.
Baby Girl – As of our 28-week ultrasound, the little chick was breech. Which I knew already because I can feel her little kicks going straight down towards my butt….which is a super weird sensation. I asked the doctor what I should do to move her, and the doc recommended that I let her be in the meantime. She said that babies lay certain ways because they are comfortable and that closer to my due date I can lay at an incline for a while each day to try and get her to move, but the doctor did not seem super worried about it. She moves constantly, gets the hiccups a few times a week, seems to fall asleep when I am walking, and then gets super active right when I lay down to go to sleep.
Baby Brain – it's real. That is all. So please forgive any typos you find in my posts over the past few weeks.
Baby Prep – I have been working on getting organized, setting up her nursery and ordering items that have been recommended to me by other mamas. I will do a separate post on "What to Buy Before Baby Comes," in the next week or so.
Pregnancy Hormones – I seem to get sad out of nowhere…and for no reason. My poor husband tries to help – tells me that whatever it is that is bothering me isn't really a problem. But sometimes you just want someone to agree with you and say, "I get it, it f$%king sucks." I talk to my girlfriends every single day which is good for distractions or bitching about whatever or opening up about all the hilarious and embarrassing stuff that is happening to my body. A huge help has been my close friend Jackie of Mrs. Jaclyn Leblanc because it's her first pregnancy also and she is due the day before I am!!! She wrote a 30-week update post as well. But last time I was feeling down Nick did surprise me with a dinner date with him..which did help a lot. Surprising me with food is always a win.
Baby's Name – [it's a secret]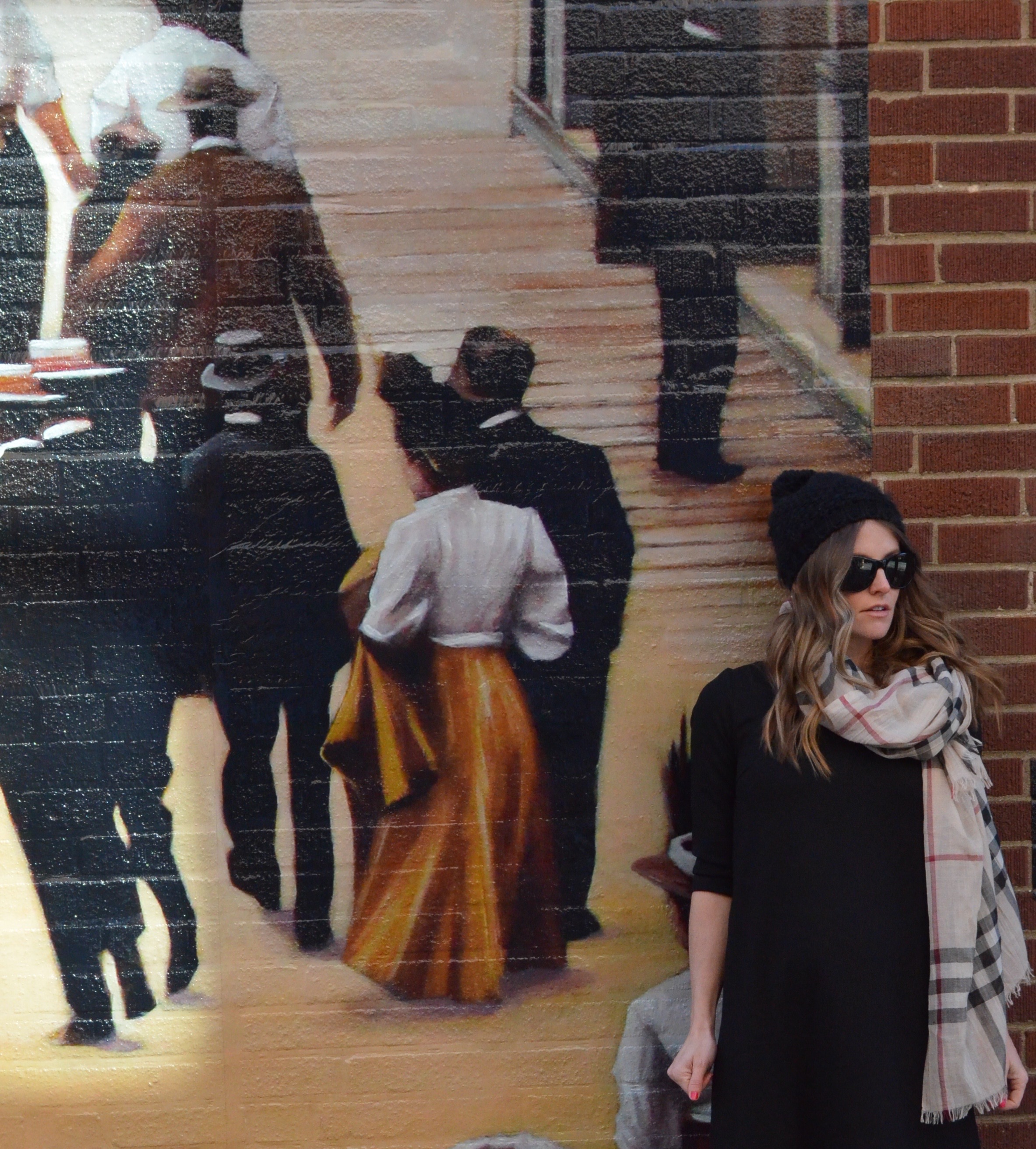 In other news…getting dressed is getting more and more difficult. I am battling between buying a ton of new clothes that WILL fit, and just rotating the pieces that I already have. Despite the cold, I have been sticking to dresses and leggings as much as possible.
Thankfully the weather has been mild enough that dresses, coats, scarves and cute hats are enough. Plus I swear my body temperature is running hotter than usual, because the cold does not seem to bother me quite so much.
I did stock up on a few maternity dresses, mainly from Ingrid & Isabel and ASOS. Both are versatile, well-made, and on the inexpensive side to boot.

| ASOS maternity dress | Louboutin Pigalle pumps | Burberry scarf via Nordstrom – one of my favorite layering pieces in my closet and it can be worn all 4 seasons | pom pom hat from Shopbop |