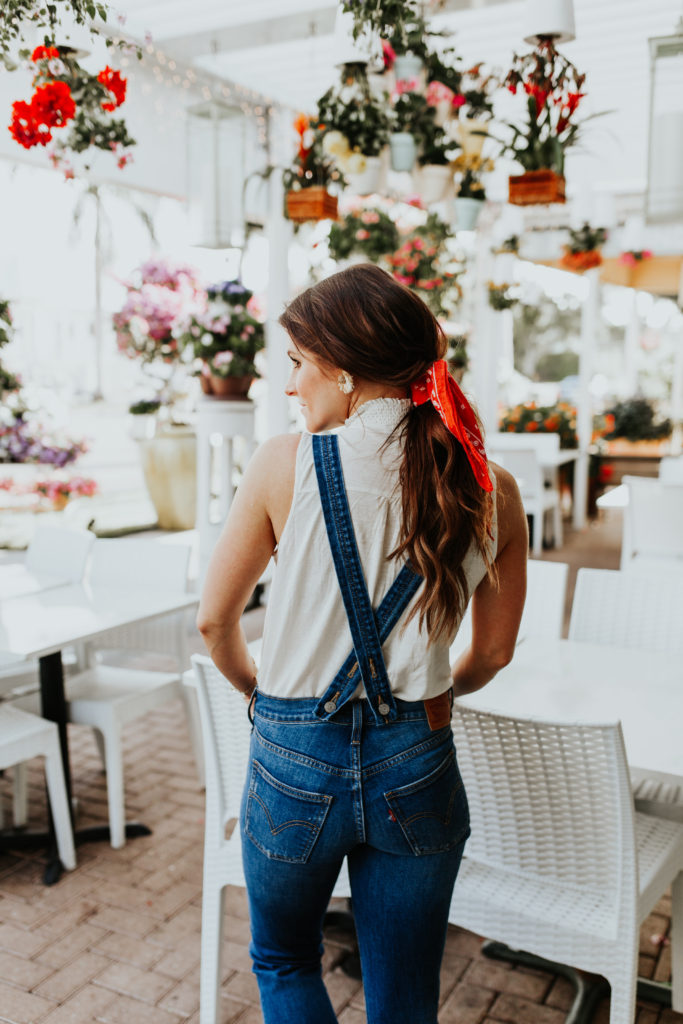 Had a big week last week with Coco's third birthday and Easter. On the docket for this week: getting the house organized and cleaning things that don't normally get cleaned, looking for an outdoor table and chairs, eating clean and enjoying this gorgeous weather we're having in Charlotte!
ONE. If you follow me on Insta, you may have seen that I (re)started BBG. I started it once before after Cora was born but I never really finished or did it consistently. It's a 12 week (or 24 week) program that you can do ANYWHERE. And the recommendation is that you have some equipment, but you can get creative. I don't have weights at home so I use gallon of water or a heavy statue that we have in our bedroom. We deal right?
I'm starting week 5, so I will be taking and posting progress pictures on here sometime next week, but I wanted to share that I do feel like I'm getting stronger. I'm not sure that I necessarily see a difference yet, and I haven't weighed myself, but when I first started I could not get through a lot of the exercises without feeling exhausted or taking breaks. At this point I can get through everything without stopping, (although I still feel exhausted afterwards lol).
TWO. If you haven't seen Lil' Dicky's Earth video yet you HAVE to watch it. It's so so good. I cannot believe how good the production quality is NOR how many famous people they got to be a part of it. Leonardo DiCaprio, Justin Bieber, John Legend, Ariana Grande, Zac Brown, Snoop Dog, Kevin Hart……and more. Save the Earth, ya'll. I love it.
THREE. We're trying to eat clean over the next few weeks. We have quite a few beach trips coming up and we also just need to do a little detox – we eat a lot of pasta at our house. I've earmarked this post to use for recipe inspo: 24 Healthy Recipes to Make – That Aren't a Salad.
FOUR. Speaking of food, (I always am, it seems), we made the Red Chicken Curry recipe from Chrissy Teigan's Cravings: Hungry for More cookbook and IT WAS THE BOMB DOT COM. (Um. I just wrote that. What is this 2011? )
Anyways, I'm trying to get healthier AND more creative in the kitchen and this was one of the recipes along that journey. It is a must. Both purchasing her cookbook and this recipe in particular.
FIVE. I've been wearing this Levi's skirt like twice a week lately. The fit is great and it's just an easy piece when you want to throw together an outfit in the morning. Fits true to size.
SIX. One of the things that I miss about Columbus (there's quite a few actually) are the AWESOME small businesses. My all-time favorite kid's shop, Cub Shrub, is one that I miss so badly. Thankfully they have a pretty legit online shop as well so I can still get my fix. May or may not be immediately ordering this outfit for Beck and this wooden sushi toy set for Coco (she LOVES sushi).
SEVEN. Potty training Coco is going well. She still wears pull-ups when she goes to bed at night but she wears underwear at all other times, even during naps. We are down to only 2 or 3 accidents a week. I bought these special seats and these pretty wooden stools for each of our bathrooms. This way we can keep our bathrooms looking as neat as possible.
EIGHT. Recently purchased these reusable bags for Cora's lunches and snacks and I'm nothing short of obsessed. You can boil them. You can put them in the dishwasher.
NINE. I struggle sometimes to come up with creative things for Cora and Beck to eat. Cora will try almost anything and is not picky, however she eats like a bird, so I'd like to try introducing even more new foods to see if she will eat more. Beck honestly will eat anything I put in front of him. The kid is a vacuum.
I have been following Liz Adams for ages and hers is one of the few blogs that I actually read consistently. She put up this post about her favorite foods for her kids and I'm using it as a guide next time I hit the grocery store.
TEN. Anthropologie is killing it with their swimwear. I mean….does this scream Italian vacay or what? Also – did you know that Anthro will let you pay in installments now? So now you don't have to decide between being Sporty Spice and Posh this summer. You can be both!