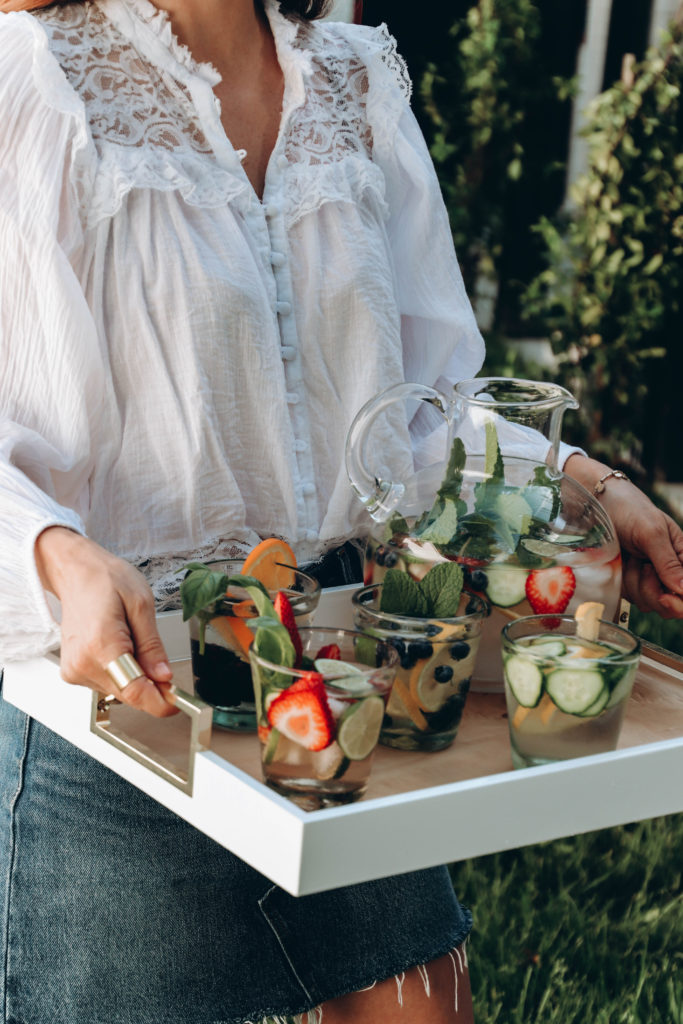 On spring and summer weekends when our plans involve staying around the house – whether it's just relaxing or getting projects done – we always make big pitchers of infused water. It's such a great way to make sure that we stay hydrated during the day, plus all the added health benefits from the fruit and herbs.
It's also a quick thing to throw together if you have unannounced company that comes over. Throw together some fruit and herbs into a pitcher and you're the perfect host/hostess!!
If we make a big batch and plan on drinking it throughout the day, we use still water and typically we will keep it on the counter in one of these fancy drink dispensers. But if I'm just making a glass for myself, I like to use unflavored Pelligrino or Perrier to make it extra festive.
I wanted to share a few of our favorite infused water combinations and shed some light on the added health benefits attached to certain ingredients.
Cheers to staying well-hydrated!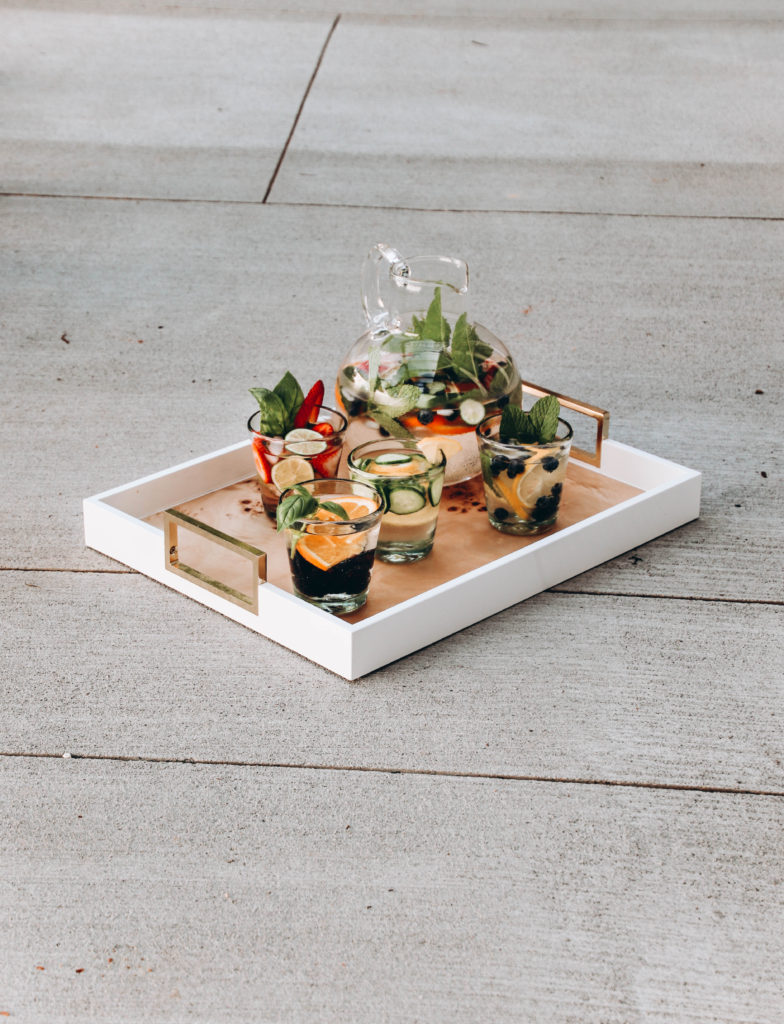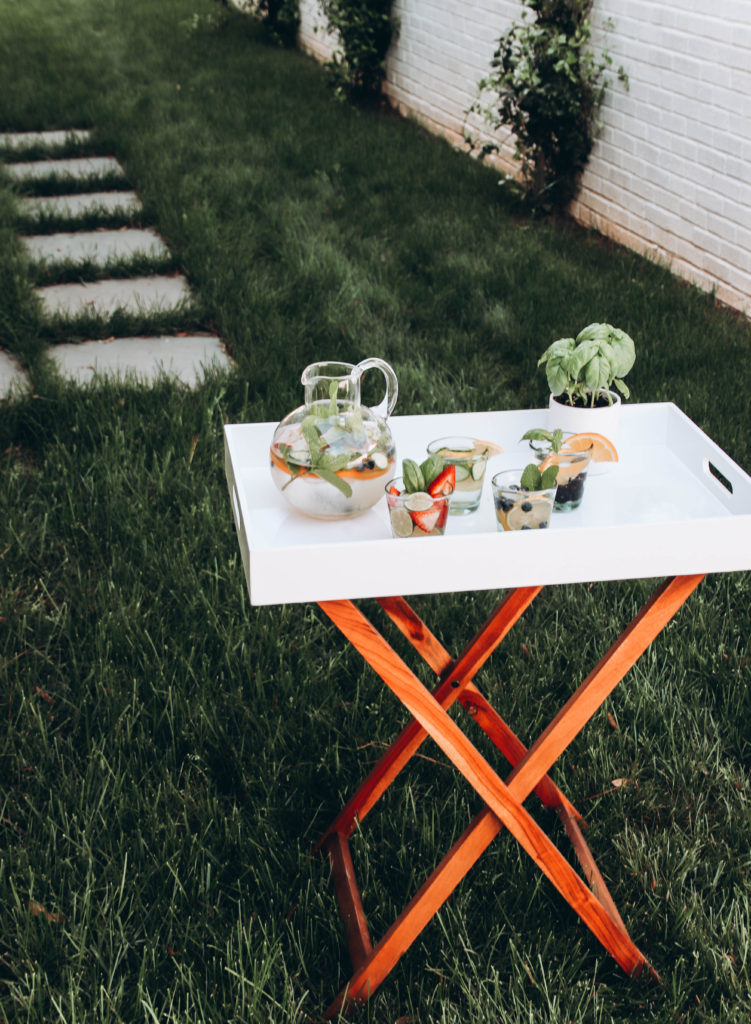 Infused Water Combinations
1. The OG – Cucumber & Lemon
This is sort of the typical infused water combination; the one you'll see at any spa. It's wonderfully refreshing and it's great for your digestive system. Both cucumber and lemon are anti-inflammatory and help your digestive system. That's why you hear so many people recommend drinking cold water with lemon first thing in the morning and hot water with lemon before bed.
Cucumbers are also a great source of potassium. Potassium is an electrolyte that helps regulate the amount of sodium retained by your kidneys. Cucumbers are also high in vitamin K. In fact, a cup of sliced cucumbers has about 19% of your daily recommended amount.
For your reading pleasure: more information on the health benefits of Cucumbers and Lemons.
2. The Showoff – Strawberry, Lime & Basil
This is the pretty one. The contrast of red and green makes it super visually appealing.
Strawberries are HIGH in vitamin C. One cup of fresh strawberries gives you over 100% of your daily recommended amount of vitamin C. Additionally, strawberries are also known to help regulate your blood sugar.
Basil is packed with vitamin K. It has antibacterial properties, helps boost your immune system and helps to detoxify your body. If you're looking to provide your body with an extra boost to its immune system that it needs to get through flu season unscathed, especially when germs are abundant, you could consider zinc lozenges as an organic way of doing this – view it online on the Quantum Health website and also take a look at their other nature-based health products.
For your reading pleasure: more information on the health benefits of Strawberries, Limes and Basil.
3. The Crowd Pleaser – Blueberries, Lemon & Mint
This combination seems to be the one that everybody loves the most. The flavors are gentle and unassuming. (Some people don't love lime, cucumber, basil or ginger in water, as these flavors tend to be stronger.)
Blueberries are anti-inflammatory, they help lower cholesterol, help prevent bladder infections and promote regular bowel movements (just sayin – you know you are a better person when you aren't constipated…)
Mint is sneaky helpful to your body. Besides naturally freshening your breath, mint also soothes the stomach in case of inflammation or indigestion. It also has been known to relive nausea for some people, similar to ginger.
You could even make ice cubes with blueberries and mint leaves inside ahead of time and then just pop the ice cubes into some water when you get thirsty. Add a slice of lemon and boom!
For your reading pleasure: more information on the health benefits of Blueberries, Lemons and Mint.
4. The Game Changer – Valencia Orange, Blueberry & Ginger
This is the combo that you probably have not had before. And this one is especially good with sparking water!
Oranges are obviously high in vitamin C, but the bonus in this recipe is that they just taste so good. Fresh oranges scream summer to me. And I guess it's a big deal that they're also anti-inflammatory, anti-tumor, and anti-blood clot. Show offs.
I don't particularly love ginger because while I was pregnant with Cora I used to drink it to help with my nausea and now it just reminds me of feeling sick. I can handle it in small doses, so I just add one small slice of fresh ginger per glass for this recipe.
But I know it's SO good for your body, so I try to add some to my diet when I can handle it. Ginger helps treat nausea, helps fight infections and can help with chronic indigestion.
Fun Fact: I lived in China for a year after college. Whenever I felt ill, the resident nurse at the school where I worked would often tell me to drink hot water with ginger. Once, when I had a bad cold, she told me to drink hot ginger water and then rub the ginger on my feet before I went to bed. I did try it – I cannot say definitively that it worked or not, but it DEFINITELY helped with upset stomachs when I drank it.
For your reading pleasure: more information on the health benefits of Oranges, Blueberries and Ginger.
I mainly used whfoods.org for the nutritional information. It's a not-for-profit foundation that promotes natural, healthy foods.
XOXO – Em