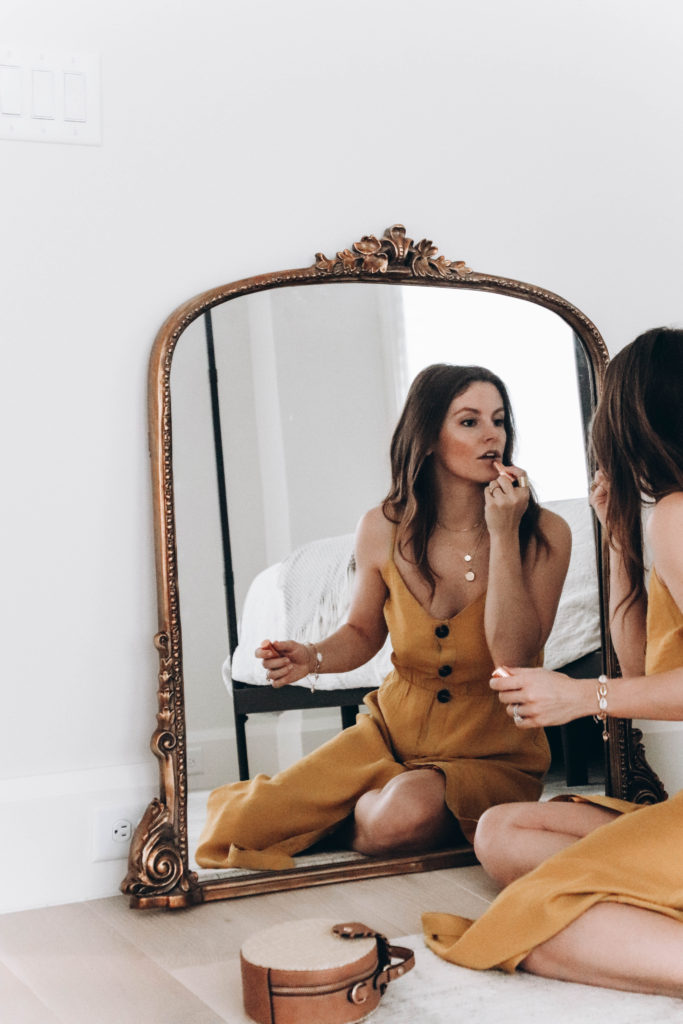 We all have favorite products that we keep buying month after month; year after year. Those products that you can't wait to share with your friends because you've found something that works and you love. Many of these become so popular that they even have cult followings. And for the record, this post is not sponsored in any way. I just wanted to share my faves with you guys.
These are the SIX products that I always have in my house, at all times. Two of them I have been using since high school – which was longer ago than I'd like to admit.
Beauty Must-Haves
One. Laura Mercier Tinted Moisturizer
I've been wearing Laura Mercier's Oil-Free Tinted Moisturizer for about 5 years now. On a day-to-day basis I don't wear much makeup, and even when I do get dolled up, I rarely wear foundation. This tinted moisturizer is the perfect amount of coverage – it's like a real life IG filter.
I still look like me when I wear it. You can see my freckles. It doesn't appear like you have anything on your skin at all and you definitely don't FEEL like you're wearing anything. You just look like a fresher version of you. It also has SPF 20 in it, so that on top of whatever SPF you normally use is a bonus.
I wear the color 'Nude.'
TWO. Smith's Rosebud Salve
I keep this in my bathroom drawer next to my toothbrush. I keep one in my car. And one in my purse. I got this in my stocking once when I was in high school and I've been hooked ever since. It actually keeps my lips moisturized and has a slight gloss to it so it looks pretty. Plus it has clean ingredients, (gets the "Clean" seal of approval at Sephora), is very inexpensive and lasts FOREVER. One tube lasts me like 6 months.
THREE. Not Your Mother's Dry Shampoo
I always talk about this dry shampoo because it's my favorite – and I've tried a lot of different brands. It works SO well. It's inexpensive. You can buy it at any grocery store or drug store. I buy the Original version which has a very light, almost unnoticeable scent. It definitely goes on white, which I prefer because it forces me to rub it in and really get it in there.
A close runner up is the Perfect Hair Day Dry Shampoo by Living Proof. I actually prefer the smell of this dry shampoo a bit more than the smell of Not Your Mother's, but it's 3x more expensive, so it gets second place.
FOUR. Glossier Boy Brow
I bought a few items from Glossier around the time the company launched online and I immediately was smitten with this brow gel. Not too tinted and not too expensive. This stuff is easy to use (you don't have to be a makeup artist like with some brow pencils) and it lasts me a good three months.
Since then I've purchased quite a few more Glossier products to try, many of which I loved, a few of which I thought were just 'meh.' But Boy Brow is my jam and as I write this, I'm reminded that I have to order more.)
I wear the color 'Brown.'
FIVE. The OPI Trio
Cajun Shrimp. Big Apple Red. Lincoln Park After Dark.
I buy these three colors to have at home for my toes and touch ups to manicures.
I know these are popular colors because year after year you can always find these colors. And nail salons always seem to carry them as well.
I'm telling you – the best summer red/orange, the best classic red and the best dark purple.
SIX. Secret Clinical Strength Deodorant
You want something you can apply and then not worry about for the rest of the day? No matter how busy or stressed you are? Or how hard you work out? This stuff works. I honestly never worry about being sweaty or smelling during the day – even when it's crazy hot outside. I can't give a better review than that. Again, one I've been using since high school and I'll probably use it for the rest of my life.
Pro Tip: Get the solid – not the gel.
What are your beauty must-haves? After 32 years on this Earth I have yet to find a shampoo that I REALLY like, so if you've got one, share the wealth girl.
XOXO – Em