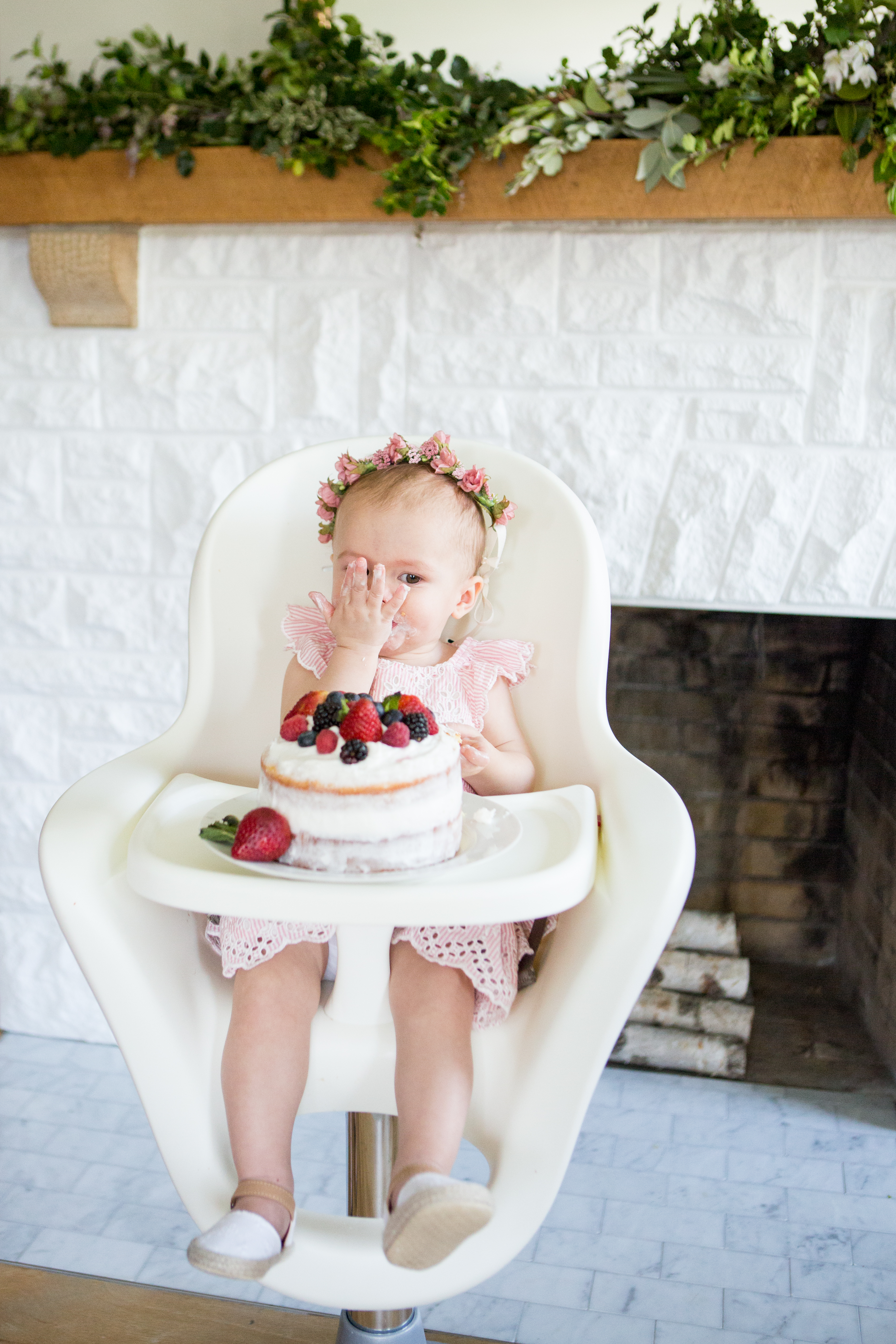 While I was pregnant, a friend of mine said that a birthday party for a one-year old is not for the baby really, it's to celebrate that the parents made it through the first year in one piece and still married. I thought this was funny at the time, but now I know she was right! OMG WE MADE IT. I cannot keep any house plants alive but my gosh I kept a human baby alive and she is the best thing that has ever happened to me.
I had originally planned on making all of the food myself, but thankfully at the last minute, Nick talked me out of it by suggesting that we could order fried chicken from The Eagle. SOLD
We set out a buffet, set a bar tray with mixers and fruit and had people make their own drinks, had rose, white, and prosecco in the fridge and lots of sparkling waters. I made the cakes myself….wanting to make sure that Cora's first experience with cake didn't send her into a diabetic shock…so I made a naked cake and added berries and mint.
Cora loved all the people and the babies who came to see her. Her favorite gifts were books and stuffed animals and the girl who normally refuses to wear hats/bows/anything on her head, wore that flower crown the entire afternoon. I cannot believe she is already one. I must have done something right in my life to be able to deserve to be her mama.
Party details are below.
Flowers – Evergreen Flower Co. [seriously loved that wall installation – it was my favorite part of the decor!]
Food – The Eagle
Cake – made by me by using a box cake mix and whipped icing, here was my inspo: here and here
Teepee – Pottery Barn
Cora's Flower Crown – Bunches Handmade
Cora's Highchair – Boon via Amazon
Photos – Emma Parker Photography
XOXO – Em
Thank you Emma for always taking photos even when I ask you not to and to just enjoy the party.