The new Abercrombie and Fitch is not the same brand you remember from high school.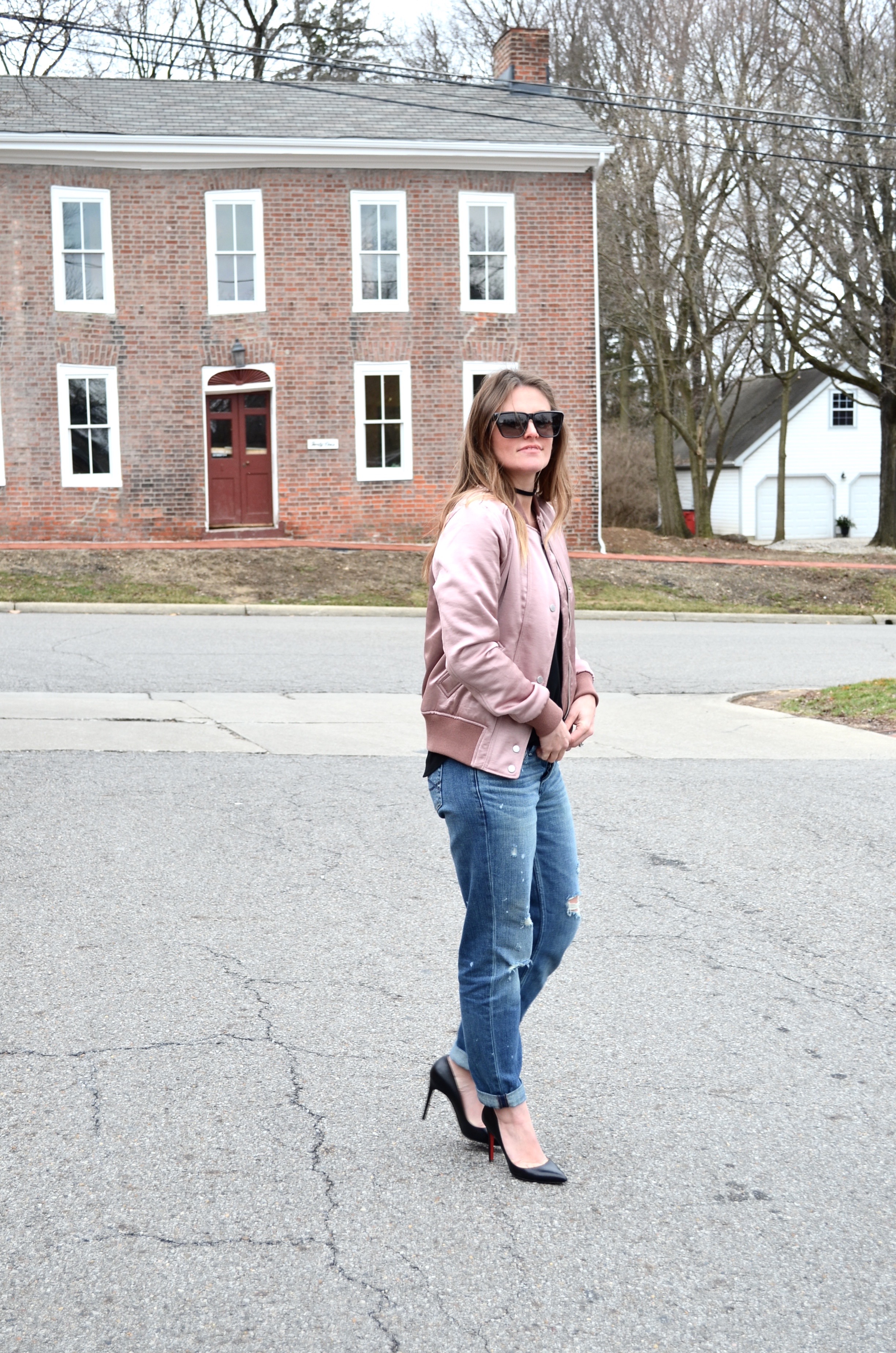 | blush satin bomber c/o Abercrombie | boyfriend jeans c/o Abercrombie | black tank c/o Abercrombie | Louboutin heels via Neiman Marcus | Givency sunglasses via Nordstrom |
The name Abercrombie still elicits visions of pastel polos with popped collars. I paired these with jean skirts and leather belts nearly as wide as the skirt was.  I loved that store.  I lived in the store for some time while I worked there after high school.
But at some point I fell out of love. For a number of reasons I suppose.  I'd pass by an AF store with its doors open and catch a whiff of that notoriously dreamy Abercrombie scent and smile, but I wouldn't stop.  I'd felt it had grown to be so exclusive, that I no longer wanted to be included.
Fast forward a few years, and I started to see a rebranding.  A shift in focus.  A more inclusive focus. And a more inclusive price range. The boyfriend jeans pictured above are on sale for $39. And the jeans are still as good as I remember – few jean brands can make a butt look so good like AF can.
Seriously just go to their site and look. It's not AF as you remember it.  You'll still get a little of the old AF vibe – that laid back, eternal summer, lock-eyes-with-your-crush-across-the-room feeling. But it feels different now – fresh and new. And check out their Facebook site – you'll see that their models have changed as well.
Abercrombie is headquartered here in Columbus, so we have been privy to the new haps with the store.  As the clothes have changed, the stores are changing as well. Today, Friday, February 17, the first of these re-designed stores will be unveiled to the public, but last night I was invited to get a sneak peek.
It's dope. It's different but still familiar. The layout makes sense – it isn't overwhelming. The prices on their own will make you fall in love all over again. And the dressing rooms.  THE DRESSING ROOMS. Each room has a panel that lets you adjust the type of light, lets you adjust the music volume and lets you call an attendant so you don't have to wander out, half-naked into the store to find someone. And they have phone chargers in there. Genius. My phone is on 20% at all times and I always forget to charge my backup charger. God forbid I try to use SnapChat and then it's dead before I can center the flower crown.
If you're in town, swing by the store this weekend. Here is the location. If you're not in Cbus – take a stroll through their website, if for nothing else, just to see how it's different. I also put together a couple of my favorite items from their site below:

XOXO – Em