Rosemary is one of my favorite aromatics – especially during the winter. The smell is comforting and piney, and always reminds me of my parents' house during the holidays. This recipe for The Rosemerry Fizz (rosemerry…get it), combines pine and citrus; two seasonal flavor staples. Elderflower liqueur rounds out the profile with a warm, but very subtle, floral flavor.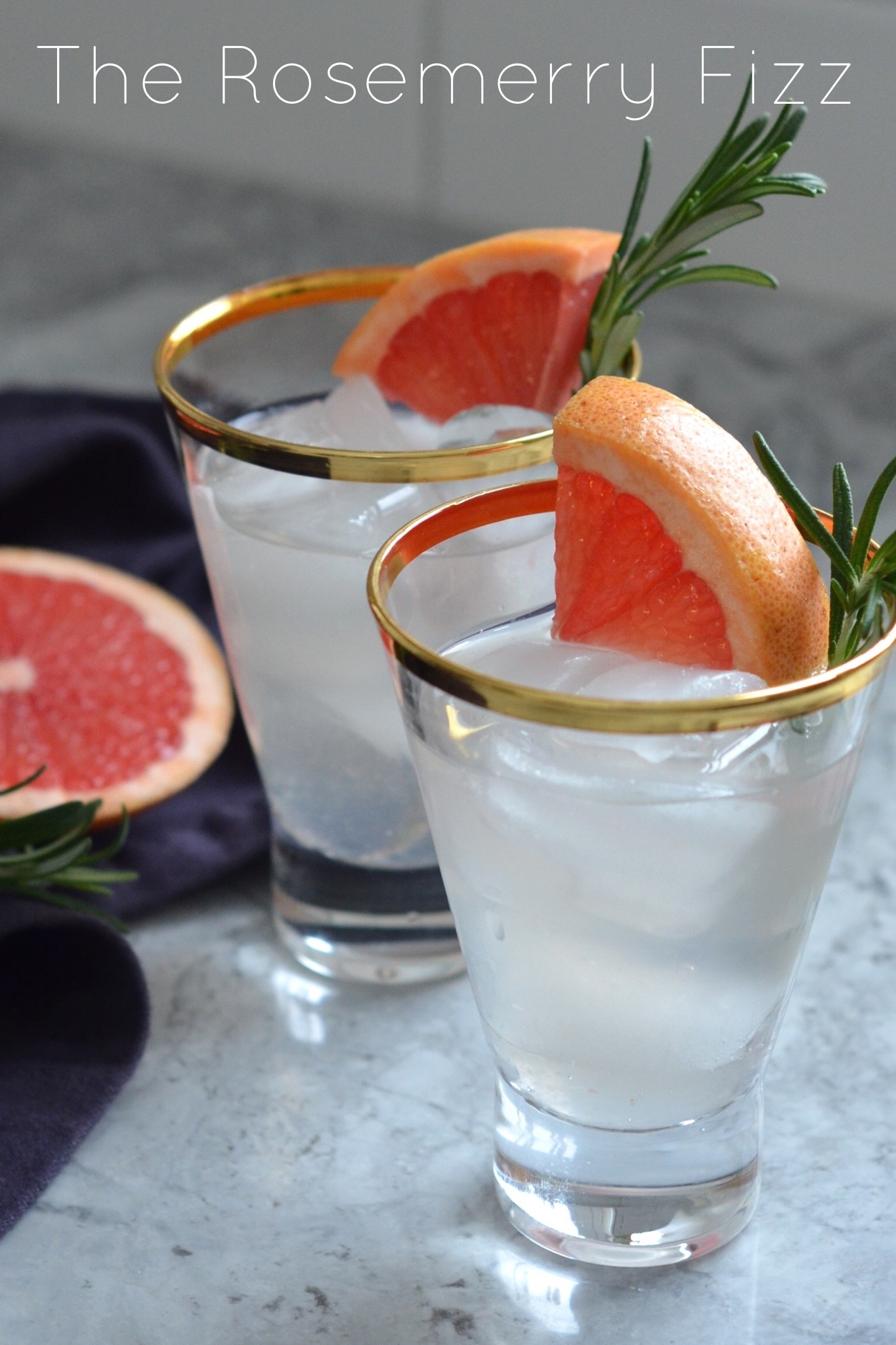 When we have friends or family over for the holidays, I like to offer them something other than the traditional gin and tonic or vodka soda while we catch up. (Nothing wrong with either of those – gin and tonics will always be my go-to).
A bar cart is an easy way for people to help themselves to cocktails and snacks without feeling overwhelmed by options. There is just enough room to offer a few options.
[plaid napkins and a reindeer cookie jar filled with peppermint oreos add a festive touch]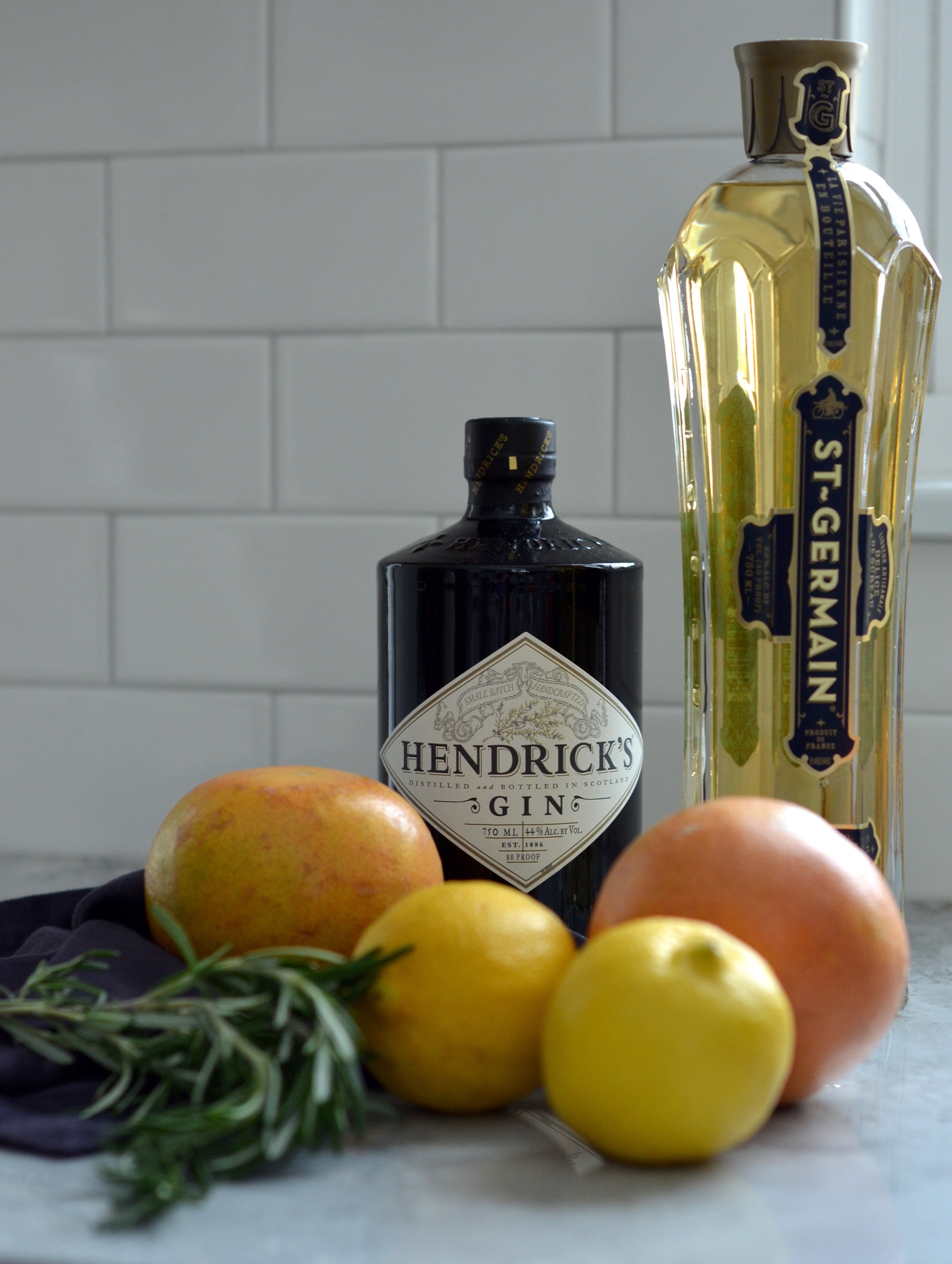 I made this recipe using gin (Henderick's), but you could easily use vodka and it would taste great!
THE ROSEMARY FIZZ
Ingredients:
2 shots of gin (or vodka)
2 – 3 shots of tonic (we use Fever Tree because it's the jam)
2 Tablespoons St. Germain liqueur.  (Glorious elderflower liqueur)
1 Tablespoon rosemary syrup (recipe below) – two sprigs of rosemary, one cup of granulated sugar and one cup of water
The juice of half a pink grapefruit and 1/4 lemon (squeeze over a strainer to remove pulp and seeds).
small sprig of rosemary and a pink grapefruit wedge for garnish
ice
Directions:
For the rosemary syrup, add sugar and water to a saucepan over medium high heat and stir until sugar dissolves. Add rosemary sprigs and simmer for 10 minutes. Remove from heat and let cool for 20 minutes. Pour over a strainer into a small container.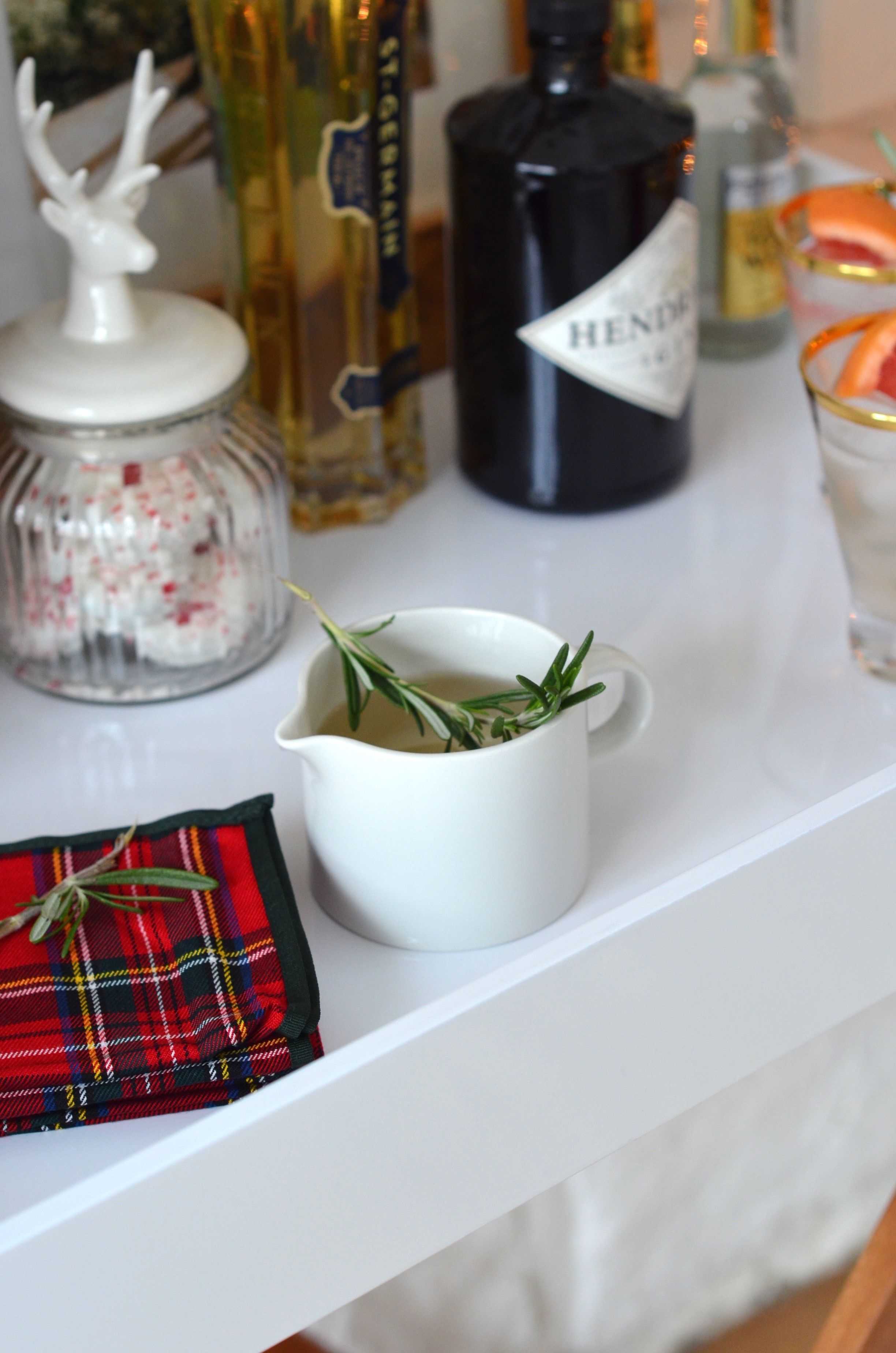 Fill a high ball glass with ice. Pour gin, tonic, grapefruit and lemon juice and syrup over the ice. Stir quickly for 20 seconds or so. OR add ice to a shaker, add the ingredients and shake.  Either way.  Either way's fine. (I love Jonah Hill in Superbad).
Fill cocktail glasses with new ice cubes and pour the stirred or shaken liquid over the ice. Add the rosemary and the grapefruit wedge and VOILÀ!
Yield: 2 cocktails.  In the glasses that I used, this recipe was enough for two. But it will depend on how strong you like your cocktails.
You could definitely sub vodka for gin, or sub cava or prosecco for the gin and the tonic. Offering guests the options would be a nice idea as well.

A big thanks to Mark & Graham for partnering with me on this post! Check out their site for tons of host and hostess gift ideas.
XOXO – Em