Before I scare off the non-new mamas, the nutritional info below would be helpful for anyone and the recipes are delicious and super healthy!!
____________________________________________________________________________
My friend Mariah is a Holistic Health Counselor in New York City. Sounds pretty baller right?! She works with people one-on-one, (even via Skype), who really want to make positive changes in their life and their wellbeing. We spoke a few months ago about giving birth and breastfeeding and nutrition, and I asked her if she could help me put together a list of nutrients that would be helpful for new mamas. I also asked if she would send me some easy, healthy recipes that would incorporate these nutrients.
She enlisted the help of her friend, Chef Marjorie Greenfield, to come up with a few recipes for breakfast, lunch and dinner that are geared towards new mom nutrition, and are easy to make – because….let's face it…I'm not over here stirring a hollandaise sauce with a newborn. Then, she went over and above by request by writing this awesome blog post on mom/breastfeeding nutrition. I have already made two of the recipes below, (pictured above), the Lemon-scented Quinoa with Cauliflower and Walnuts and the Grilled Shrimp with Fresh Fennel Slaw. They were both SO FREAKING GOOD! The pictures do not do them justice. I could eat both of them all the time. I have yet to make the other recipes but I think the Roasted Vegetable Soup with Parmesan is next! I've really enjoyed making some of these recipes, and it always seems worthwhile when they taste as good as they look. Sometimes it's hard to stick with making nutritional food and it becomes even harder when your friends keep telling you to join them at an American restaurant to give myself a much-needed treat. Don't get me wrong, it does sound tempting, but there is plenty of time to eat different types of foods when I've lost some weight. The only thing I have focused on my mind is when I'm going to make the Roasted Vegetable Soup with Parmesan. But there are so many other recipes that are delicious that I want to share with you.
So read, enjoy, and share with your mom friends!
______________________________________________________________________________________
Losing weight might be one of your first goals after giving birth, but if you turn your intentions toward eating a diet rich in nutrient dense foods that positively impact your recovery and your mental clarity, you might find that you won't need to work as hard to shed the pregnancy weight. And more importantly you will feel great. If you're nursing, rest assured that milk production burns 500 calories a day! Maximizing your energy by routinely eating nutritious meals is the best focus for you and your baby. One of the best things to focus on after pregnancy is probably micronutrients. If you're unsure about micronutrients, you could always look at visiting Revive MD to learn more about them. To put it simply, micronutrients are crucial for the health of the organisms in our bodies. Without micronutrients, our health would probably begin to deteriorate. That's why it's so important for new moms to ensure they have enough micronutrients in their diet.
What to Eat:
New Mom Micronutrients:
Vitamins

B Vitamins-Essential vitamins for metabolism and brain function. Get it from: dark leafy greens, nuts, yogurt, asparagus

Vitamin A-Vitamin A is lost through breastfeeding. Get it from: spinach, carrots, sweet potatoes, kale.

Vitamin C-This is a vitamin that is important to your baby and gets passed to him/her through nursing. Get it from: red peppers, oranges, broccoli, kiwi.

Vitamin D-Since we get most of our Vitamin D from the sun, and new moms are spending a lot of time indoors, consuming Vitamin D rich foods is important. Get it from: eggs, and mushrooms.

Minerals

Calcium-Incredibly important for your baby's developing bones. Get it from: Broccoli rabe, kale, dairy

Magnesium-Works in conjunction with Calcium. Magnesium balances stress hormones. Get it from: Green veggies, almonds. You can also check out articles such as https://www.ancient-minerals.com/magnesium-benefits/ to get more information on magnesium.

Iron-Iron is depleted after giving birth due to blood loss, causing feelings of weakness and exhaustion. Get it from:

leafy green vegetables, lean red meat, dried fruits. Eat enough Vitamin C since it helps the body absorb iron!
New Mom Macronutrients:
Fats

Omega 3s (Monounsaturated Fat)-These essential fats are anti-inflammatory and extremely nutritious. They l

ower incidences of postpartum depression, and are very different from the toxic trans-fats that and polyunsaturated fats. Plus, they are very important to the development of your baby's nervous system. Get it from: flaxseed oil, wild salmon (eaten only twice per week), and walnuts

Omega 6

-These fats are polyunsaturated, which I just warned you to stay away from. HOWEVER, humans need a ratio of one-to-one omega 3 to 6 to function optimally. Get it from: Avocado, coconut, evening primrose oil

Carbs

-Do not fear carbs! Add a variety of whole grain foods into your diet and stay away from refined carbs such as white flour, refined sugar, and corn-based fructose. Cutting carbs for weight loss purposes will leave you drained and sluggish. Get it from: brown rice, farro, quinoa, and starchy veggies eaten in moderation

Protein

-The recommended amount of protein for nursing mothers is 50% higher than non-nursing mothers. Protein impacts milk supply, and muscle and bone strength. Get it from: Grass fed beef and poultry, dairy, leafy greens, eggs
Anti-inflammatory Foods:
Trauma and stress on the body (i.e giving birth) can cause the immune system to respond by creating inflammation in the body. Fight inflammation by consuming anti-inflammatories, such as green tea, berries, garlic, and turmeric and garlic. You can also look at using Mission Farms CBD cream on areas that visibly show inflammation to help calm down the area and soothe it.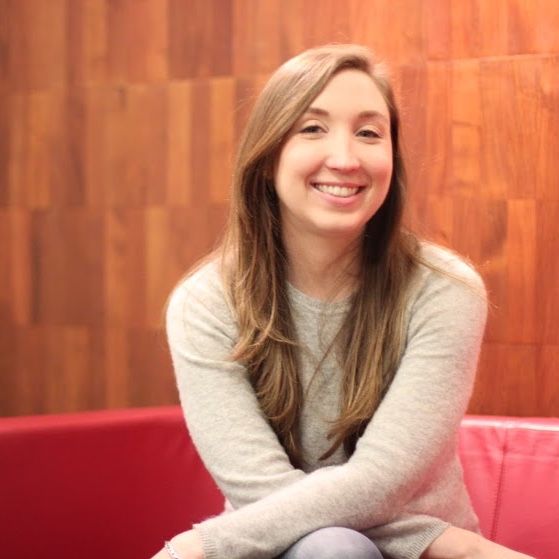 Mariah Ely is a Holistic Health Counselor in New York City. She works one-on-one with individuals craving changes in their lifestyles that will directly impact their mental clarity and wellbeing. She takes an integrative approach that considers each person's needs, desires, and goals. Mariah is a graduate of Columbia University with a Master's degree in Social Work, and received a certificate in Advanced Therapy from New York University. She is a Licensed Clinical Social Worker (LCSW) with a private practice in New York City but also works with individuals remotely via Skype and telephone sessions.
How to contact Mariah:
Web: http://www.mariahcely.com/
Facebook – Mariah C Ely
Instagram – Mariahcely
Twitter – MariahE_NYC
__________________________________________________________________________________________________________
RECIPES…
BREAKFASTS:
Spinach Scramble with Goat Cheese
(Protein, Vitamin A, Vitamin D, Vitamin B, Calcium, Iron, Magnesium)
INGREDIENTS
2 large eggs
Kosher salt
Freshly ground black pepper
1 teaspoon olive oil
3 cups baby spinach
2 oz goat cheese, crumbled
PREPARATION
Whisk 2 large eggs together with the salt and freshly ground black pepper. Heat 1 teaspoon olive oil in a medium nonstick skillet over medium heat. Add 3 cups baby spinach and cook until wilted. Add eggs and cook until just set for about 1 minute. Sprinkle with crumbled goat cheese and allow to sit to melt the cheese slightly and enjoy!
Baked Oatmeal
(Omega 3, Omega 6, Iron)
INGREDIENTS
3 cups rolled oats
1 cup dried unsweetened coconut chips
1 cup pecans or walnuts, quartered
1/2 cup pure maple syrup
1/2 cup coconut oil
1/4 cup sesame seeds
1 teaspoon coarse salt
3/4 teaspoon cinnamon
1/2 cup dates
PREPARATION
Preheat oven to 300 degrees. Mix all the ingredients together and spread granola in an even layer in a casserole dish. Bake for 40 minutes, stirring half way through cooking. Let cool slightly when out of the oven and enjoy!
Yogurt Parfaits with Apple Compote and Almonds
(Protein, Calcium, Magnesium, Iron, Anti-inflammatory)
INGREDIENTS
2 cups plain greek yogurt
2 apples, diced
1/4 cup pure maple syrup
1 tablespoon cinnamon
1/2 cup toasted almonds
PREPARATION
Cook apples on medium heat until softened slightly and add maple syrup and cinnamon. Cook for another minute and remove from heat.
Layer yogurt and apples evenly until you reach the top of your desired vessel. Top with toasted almonds and enjoy!
—————————————
LUNCHES:
Grilled Shrimp with fresh Fennel Slaw
(Iron, Magnesium, Protein, Omega 6, Vitamin C)
INGREDIENTS
1 fennel bulb with core removed, cut into quarters (sliced very thin)
1 cup thinly sliced purple or green cabbage
4 chives sliced thin
2 carrots, grated
1 green apple, grated
1/2 pound of deveined and cleaned shrimp
The slaw dressing:
4 tablespoons apple cider vinegar
1 tablespoons toasted fennel seeds
1/4 cup extra virgin olive oil
1/2 teaspoon agave
Salt and fresh ground black pepper to taste
PREPARATION
Mix all of your slaw dressing ingredients together with a whisk until emulsified and pour on top of the slaw ingredients in a medium bowl. Mix slightly and set aside.
Season your shrimp with salt and pepper and grill them on either grill pan or in a sauté pan for about 2 minutes per side. (As soon as they are pink and slightly curled they are done)
Serve yourself some slaw topped with shrimp and enjoy!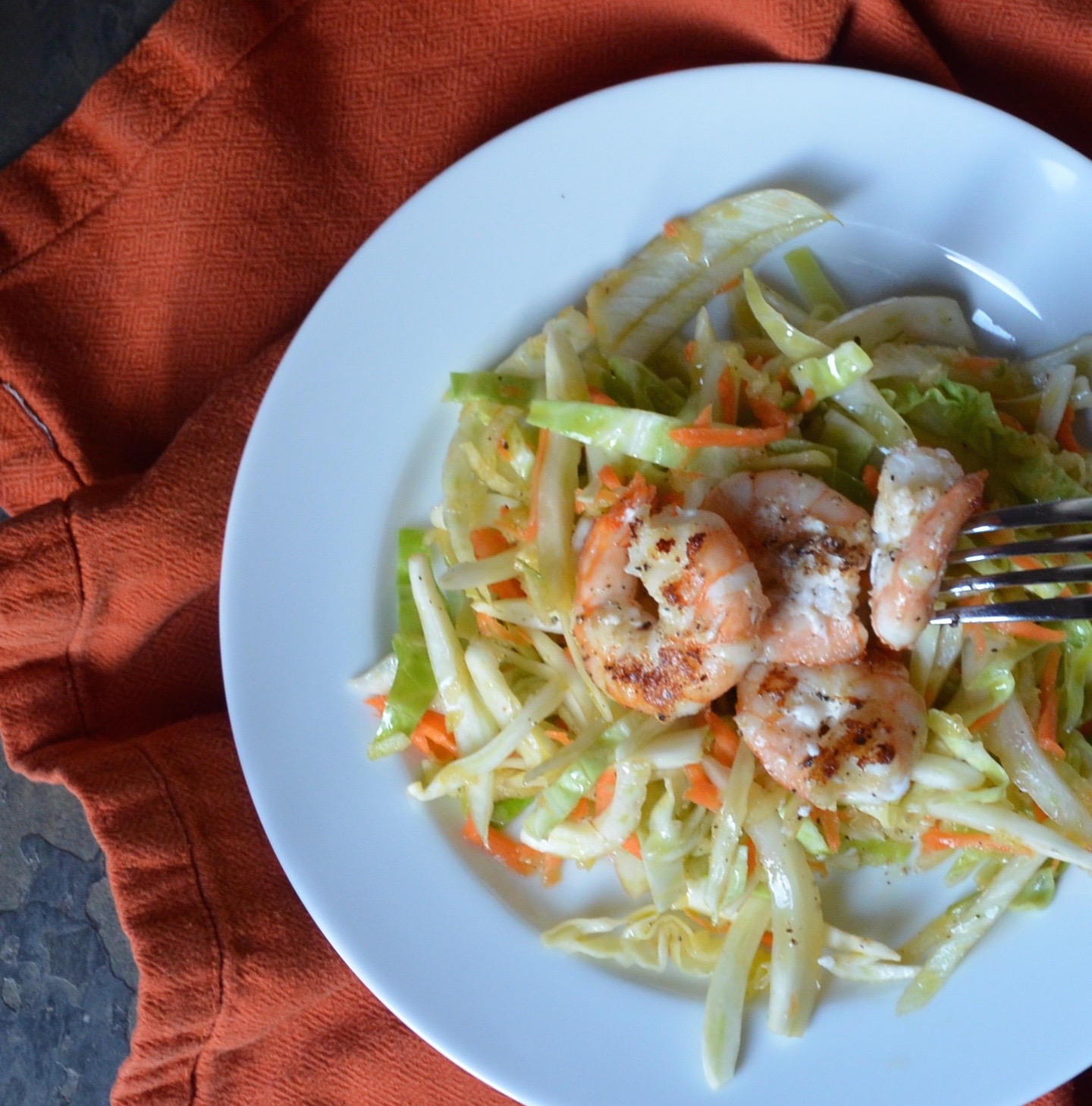 Lemon Scented Quinoa with Cauliflower and Walnuts
(Protein, Omega 3, Iron, Vitamin C)
INGREDIENTS
2 cups homemade or store bought bone broth (chicken broth works too)
1 cup quinoa, rinsed and drained
1 1/2 cups roasted cauliflower florets
2 tablespoons toasted walnuts, rough chopped
2 tablespoons chopped dates
1 shallot, minced
4 teaspoons extra-virgin olive oil
1 teaspoons apple cider vinegar
1/2 teaspoon lemon zest
Chopped fresh chives for garnish
Coarse sea salt and freshly ground black pepper, to taste
PREPARATION
In a small saucepan, bring broth to a simmer and stir in the quinoa. Cover and simmer over medium-low heat for about 20-25 minutes. (The quinoa will be soft and will have shed its shell when it is finished cooking)
Toss the quinoa in a big bowl with the prepared ingredients, season with salt and pepper to taste, garnish with fresh cut chives and enjoy!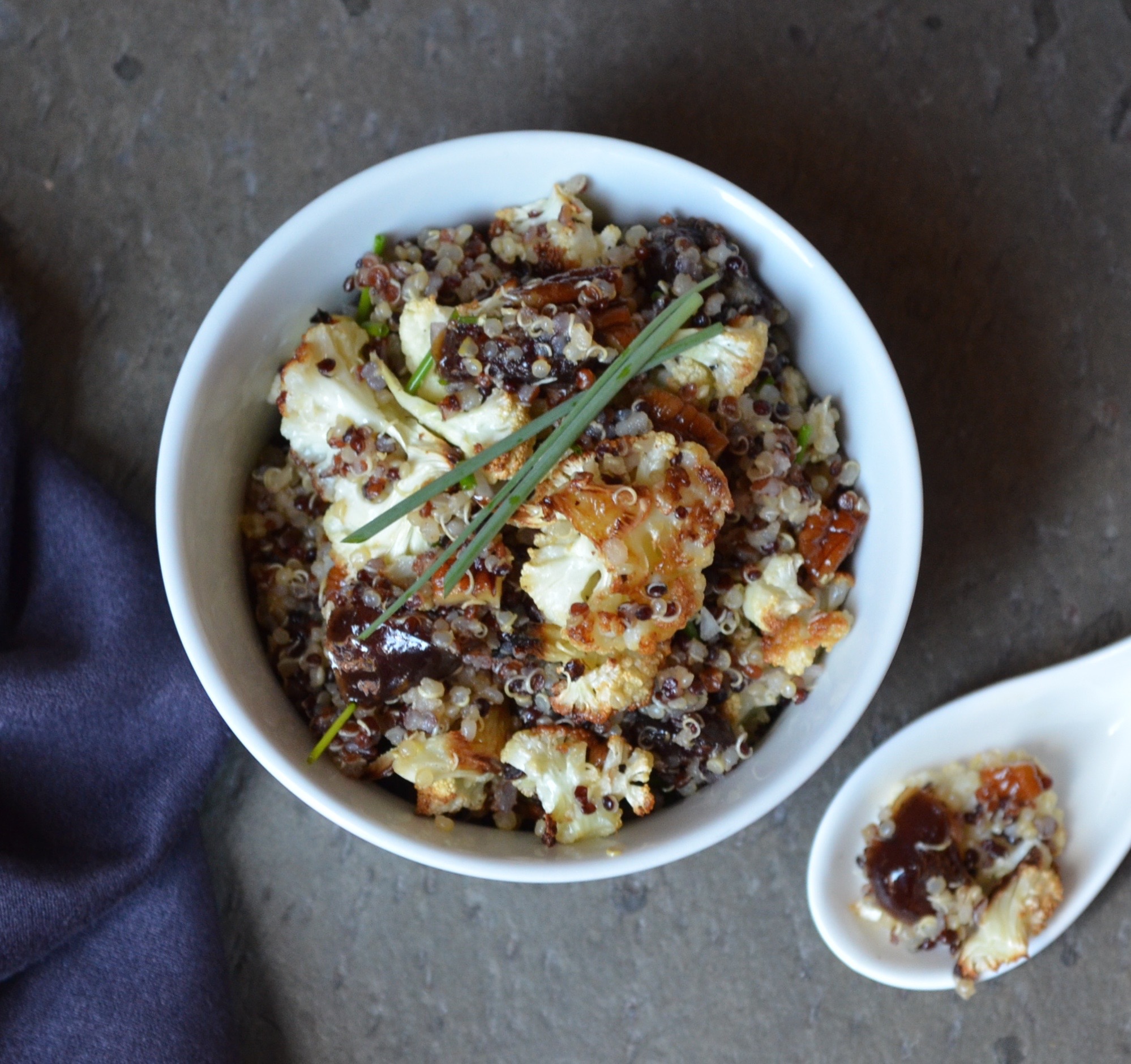 Cumin Carrots with Grilled Chicken Strips
(Protein, Magnesium, Vitamin A)
INGREDIENTS:
5 large carrots cut into 2 inch pieces
1/4 cup parsley, chopped
1/8 cup cilantro, chopped
1 clove of garlic chopped finely
1/4 cup golden raisins, soaked in warm water then drained
1 tablespoon cumin
1/2 teaspoon red pepper flakes (optional)
1/4 cup extra virgin olive oil
1 chicken breast, grilled and cut into long strips
salt and pepper to taste
PREPARATION
Bring a pot of salted water to a boil and add cut carrots. Cook for about 6 minutes until carrots are softened slightly.
While carrots cook, combine all other ingredients into a large bowl and slowly whisk in the olive oil. Drain carrots and add to bowl while they are warm. (This will help them absorb the flavors)
Top with grilled chicken strips and enjoy!
—————————————
DINNERS:
Grilled Pineapple with Salmon and Capers (serves 2)
(Vitamin C, Protein, Omega 3)
INGREDIENTS:
2 rings of freshly cut pineapple
2 6 oz skin on salmon filets
2 Tablespoons toasted almonds (chopped)
1 teaspoon capers
1 tablespoon fresh parsley plus 1/2 tablespoon for garnish
olive oil
salt and pepper to taste
PREPARATION
Cut fresh pineapple into rings and punch out the center with a small ring mold. Brush with olive oil and salt and pepper and grill on grill pan for about 2 minutes a side to create grill marks and slight caramelization. Set aside.
Season salmon filets with salt and pepper and grill skin side down for about 3 minutes per side.
Warm capers in a sauté pan with olive oil and 1 tablespoon of parsley and set aside.
Plate pineapple underneath salmon, garnish with the warm capers, toasted almonds, remaining parsley and enjoy!
Warm and Spiced Quinoa Salad with Grilled Chicken
(Protein, Iron, Omega 3, Magnesium)
INGREDIENTS
1/2 cup quinoa (rinsed and drained)
1/8 teaspoon ground cinnamon
1/4 teaspoon ground cumin
1/2 cup canned chickpeas, rinsed and drained
3 tablespoons dates (chopped)
3 tablespoons butter
1 tablespoon toasted walnuts
Salt and freshly ground pepper
Fresh flat-leaf parsley (optional)
2 chicken breasts, grilled and cut into strips
PREPARATION
Cook quinoa according to directions and transfer to a bowl.
Heat the butter, cinnamon, and cumin in a saucepan over medium heat until slightly foamy and fragrant. Add the chickpeas, dates, and walnuts, and heat through until the chickpeas are coated with the butter and spices. Season with salt and pepper, pour over quinoa and mix.Season chicken breast with salt, pepper and a sprinkle of cumin and grill. Cut into strips, serve over the warm quinoa and enjoy!
Roasted Vegetable Soup with Parmesan
(Calcium, Protein, Iron, Anti-Inflammatory)
INGREDIENTS
3 carrots (peeled and cut into 3 inch pieces)
1 large potato (cut into small pieces)
1 onion (peeled and diced)
3 cloves of garlic
1 cup of broccoli florets
1/4 teaspoon cumin
3 cups of home made or store bought chicken stock or bone broth
1/4 cup cream (optional)
salt and pepper to taste
Drizzle the vegetables with olive oil and season with salt, pepper and cumin. Roast on a sheet tray at 375 for about 25 minutes until they become fork tender. Heat the chicken broth in a large pot and add the roasted vegetables. With an immersion blender, blend the vegetables into the broth until desired consistency. Season with salt and pepper to taste and optional cream. Serve with shaved parmesan on top and enjoy!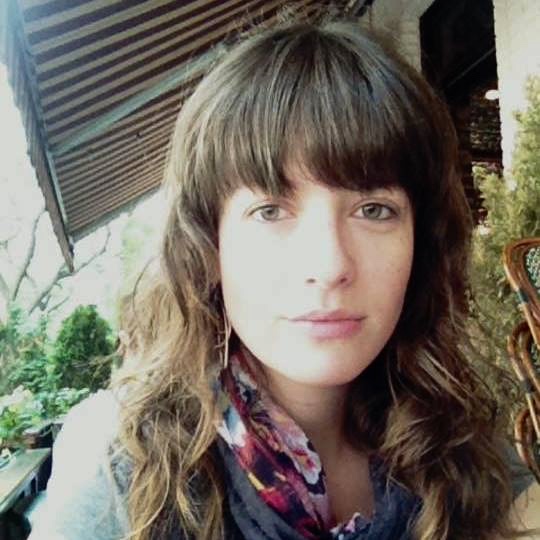 Chef Marjorie Greenfield is a graduate of the Natural Gourmet Institute in New York City. She is currently cooking at a bustling West Village restaurant, and also teaching culinary arts to middle school students. Additionally, Chef Marj is writing recipes and taking on personal chef clients in the New York Metropolitan area. She takes great pride in her ability to cook for a wide variety of clients, personalizing her menus to their specific dietary needs and cravings. Chef Marj's background is in Psychology and Art, but she gave up her social work job after eight years to pursue her true passion of cooking healthy and tantalizing food.
How to contact Marj: https://www.facebook.com/marj.cooks