As an expectant, first-time mom, I have been reading everything I can get my hands on, asking all of my mom friends for advice and basically just bombarding myself with information. For some aspects of pregnancy, I wish I had not done this, because sometimes too much information can be a bad thing. However, since this is my first time, and I have no personal experience to guide me through what to pack for our trip to the hospital, I have had to rely on friends, family and other outside sources for guidance. Some things I have left off the list because I know that my hospital provides them, (i.e. diapers, diaper cream, breast pads, etc.), so be sure to check with your doctor before you start packing your bag.
After comparing all of the different tips and packing lists, I have curated my own list, packed my bag and finally feel prepared and ready to go. I mean, as ready as I'll ever be – does a new mom ever really feel 100% ready for delivery?!
My theme for packing the hospital bag: Don't Overpack!
For Me:
Robe, nightgown, and warm socks – I got mine from Hatch – this would make a GREAT baby shower gift!
One nursing bra, one sleeping bra, one nursing tank top, (all c/o Motherhood Maternity), and lots of full coverage, cotton underwear.
Going home outfit. I packed a pair of very soft sweatpants, flip flops and a v-neck tee shirt for nursing.
Toiletries. (chapstick, travel size mouthwash (since they won't let you chew gum or mints apparently), toothbrush, toothpaste and floss, Pacifica shampoo and conditioner, face wash, moisturizer, makeup remover wipes (travel size pack), nipple cream, hair brush, travel size dry shampoo, deodorant, body lotion
Makeup. If I have a chance to grab it, I will bring my makeup bag, but I didn't pre-pack any makeup because my husband can always run home if I really need it, and to be honest, I'm just not that concerned about wearing makeup at the hospital!
For My Husband:
A change of clothes and things for him to sleep in. Again, we live close to the hospital, so I figured one change of clothes was sufficient and he can run home if we end up staying in the hospital for a longer period of time.
Flip Flops for the shower/lounging.
Toiletries: see my list above but add: his toothbrush, his deodorant, his cologne.
For the Baby:
Coming home outfit. Our hospital provides this as well, but we got so many adorable clothes at our baby showers that I wanted to bring another option for her anyways!
Swaddle blanket, hat and mittens. The hospital will provide a swaddle and a hat, but I have heard mixed reviews about how soft these are, and with baby blowouts an inevitability, it never hurts to have a back up! Plus this one is so crazy cute!
Car Seat. The hospital won't let you leave without one, so we have already loaded ours into my car. In fact, we've had our car seat picked out for a while. We started to look after we found out that we were only having one baby, as for a long time we were convinced that we were having twins. We'd already started looking at this stroller company called Stroller Buzz who offered car seats for twins. What's even better is that it came with a stroller too so we already had two items in one, (you can view it here – www.strollerbuzz.com/best-car-seat-strollers-for-twins). But as we are only having the one baby, we looked elsewhere. Who knows maybe we will have a look at that company in the future if we do end up having twins? For now, we can't wait to just bring this baby home.
Extra blanket. I have this sitting in the car in the car seat, just in case it is chilly the day we leave.
Odds and Ends:
Phone chargers. We both brought our extra chargers from work home to pack in the hospital bag.
Insurance documents/cards. This is a MUST, if you are pregnant and a Mom to be, and you haven't got insurance covering your labor, look into getting a different insurance quote.
Patient records from your OB. My doctor gave me my records in a sealed envelope for me to bring to the hospital with me. Yours may not do this.
Short Term Disability application. Since I work full time, I have a Short Term Disability Policy that will allow me to still be paid a portion of my salary while I'm on leave. My company sent me the paperwork, I pre-filled as much as I could and it is in a folder in our hospital bag for my doctor to sign once the baby is born. Short term disability insurance can help people so much who are going on maternity leave, etc. finding the best short term disability insurance individual will put you in good stead for when the baby comes.
Information on how to the baby to our health insurance plan. This is important. Many health insurance companies only give you a short window of time to add your newborn to your health insurance policy. If you forget and go past this window, any health conditions that may arise with your baby may not be covered. I have heard too many horror stories about this happening to families, so I have the instructions printed out and stored in the hospital bag as well.
Cliff Bars. Because one of us is bound to need a quick snack at some point, although check with your hospital ahead of time, many of them have cafeterias or other restaurants that remain open 24 hours.
Treats for the nurses. I am well aware that the nurses are going to be working hard to make sure baby and me are both comfortable and healthy while we're at the hospital. I figured that the smallest way to repay them would be to bring them some treats! We are planning on bringing some cupcakes from our favorite bakery!
Things to Make Packing Easier:
Overnight Bag. My Mark & Graham Daily Leather Overnighter was the perfect option for our hospital bag. It is currently in the trunk of my car, packed with all of the items that I listed above and it is not even full. It was big enough to fill with the items I needed, but not too big that it would entice me to overpack. I don't know about you, but if I have a bunch of empty space in a suitcase I tend to fill it! It has two handles but also has a detachable shoulder strap which will be helpful if I have to go straight to the hospital from work and have to carry the bag myself. It also looks extra cute with the monogrammed Daily Leather Tote Tag, plus I figured if it gets misplaced in the hospital somewhere, my initials will be on the bag and will make it easier to locate.
Toiletry Bag. Again, I wanted something sturdy that could fit everything I needed, but wouldn't be so huge that it would encourage me to overpack. My Daily Leather Travel Pouch is perfect – it fit every single one of the toiletries I mentioned above, including the full size shampoo and conditioner that I packed. (which I packed only because I already had new bottles – you could pack travel size bottles of each, of course).
Large Clutch for important items, i.e. jewelry or insurance documents/cards. I figured that I would go to the hospital wearing whatever jewelry I am wearing that day, so I would want a safe place to store it all after I get to the hospital. I have this Needlepoint Initial Zip Pouch already packed in the hospital bag with our insurance information and the my medical records inside. Since it is cushioned, I plan on storing my jewelry in here as well, including my new favorite piece of jewelry, this Dual Birthstone Ring that has my birthstone and the baby's birthstone on it. It is so sweet and delicate and is a wonderful little reminder of our mother-daughter bond – and with Mother's Day fast approaching, this ring makes the sweetest gift!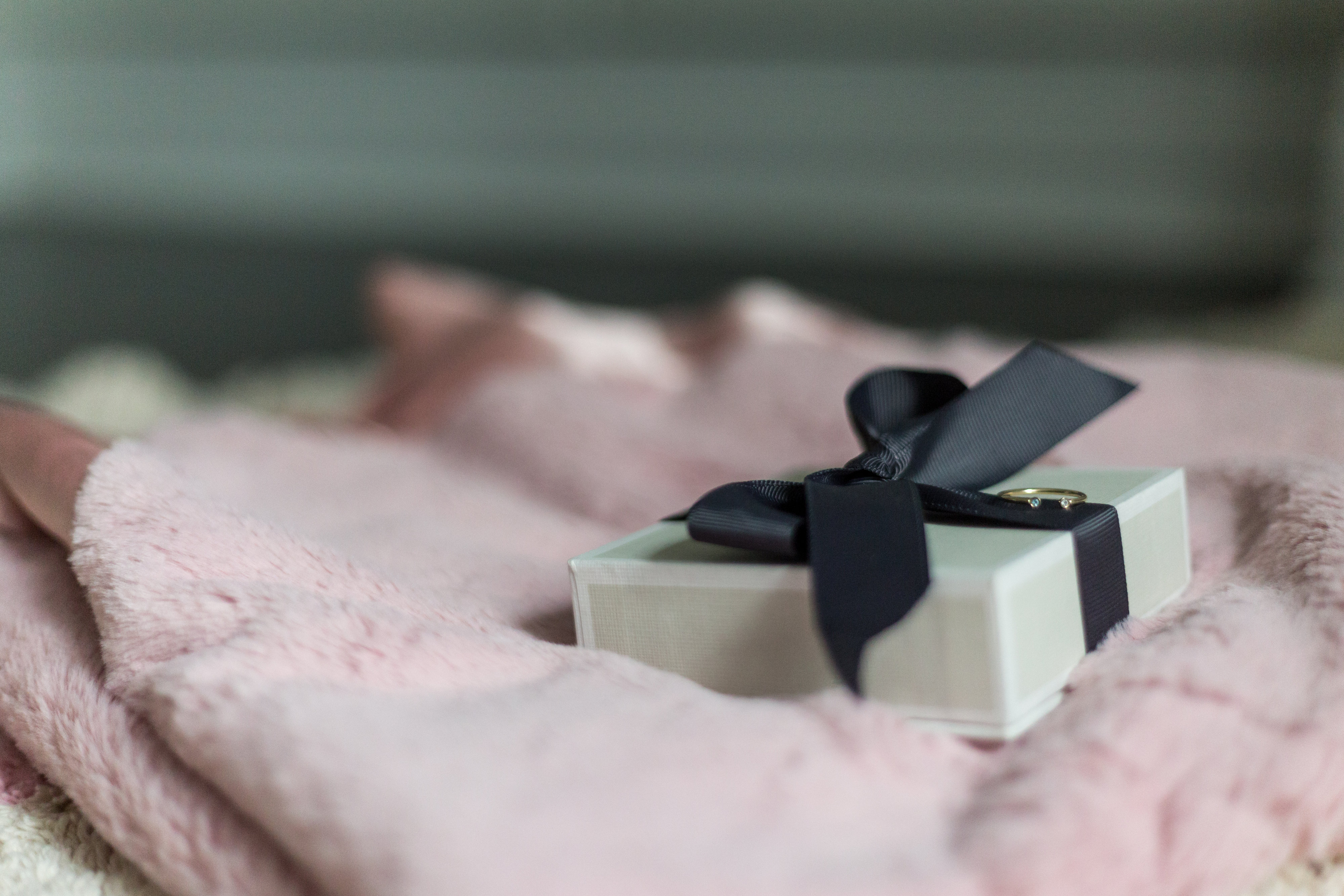 UPDATE – This post went live on the morning of April 19, which was the day I ended up going into labor early with Cora!l!! Good thing I already had my hospital bag packed! I honestly used nearly every single thing that we brought with us to the hospital. I had not packed my makeup bag, however Nick did end up going home to let the dog out the next morning, and I had him bring back my makeup with him.
The things that I did not end up using the entire time I was at the hospital were the pairs of underwear I brought. The hospital gives you these mesh boy short things…and even though they are hideous, you just throw them away afterwards and I found they were so much more practical and comfortable to be honest with you! So there it is – a tested list of what to pack!
XOXO – Em
A HUGE thank you to Mark & Graham for sponsoring this post for Mothers' Day!
photos by Emma Parker Photography