Wearing the most comfortable Scotch & Soda kimono from Thread, (here is a similar Scotch & Soda wrap dress as well), Lack of Colour hat, and bikini from Triangl, (who makes their tops in cup sizes so that if you have a big cup size and a small width around, you can find the perfect suit for your body!
Had an incredibly delicious dinner at The Continental to celebrate Valentine's Day, and wore this pretty dress. I cannot say enough about how good the food was.  Be warned, however, if you go during the season on a weekend night, it turns into a dance club for retirees.  We were originally seated on the patio and it was like…spring break, but for seniors…. it was entertaining for a while but then we actually asked to be moved inside.  But definitely go eat there!! The food and the service were equally phenom!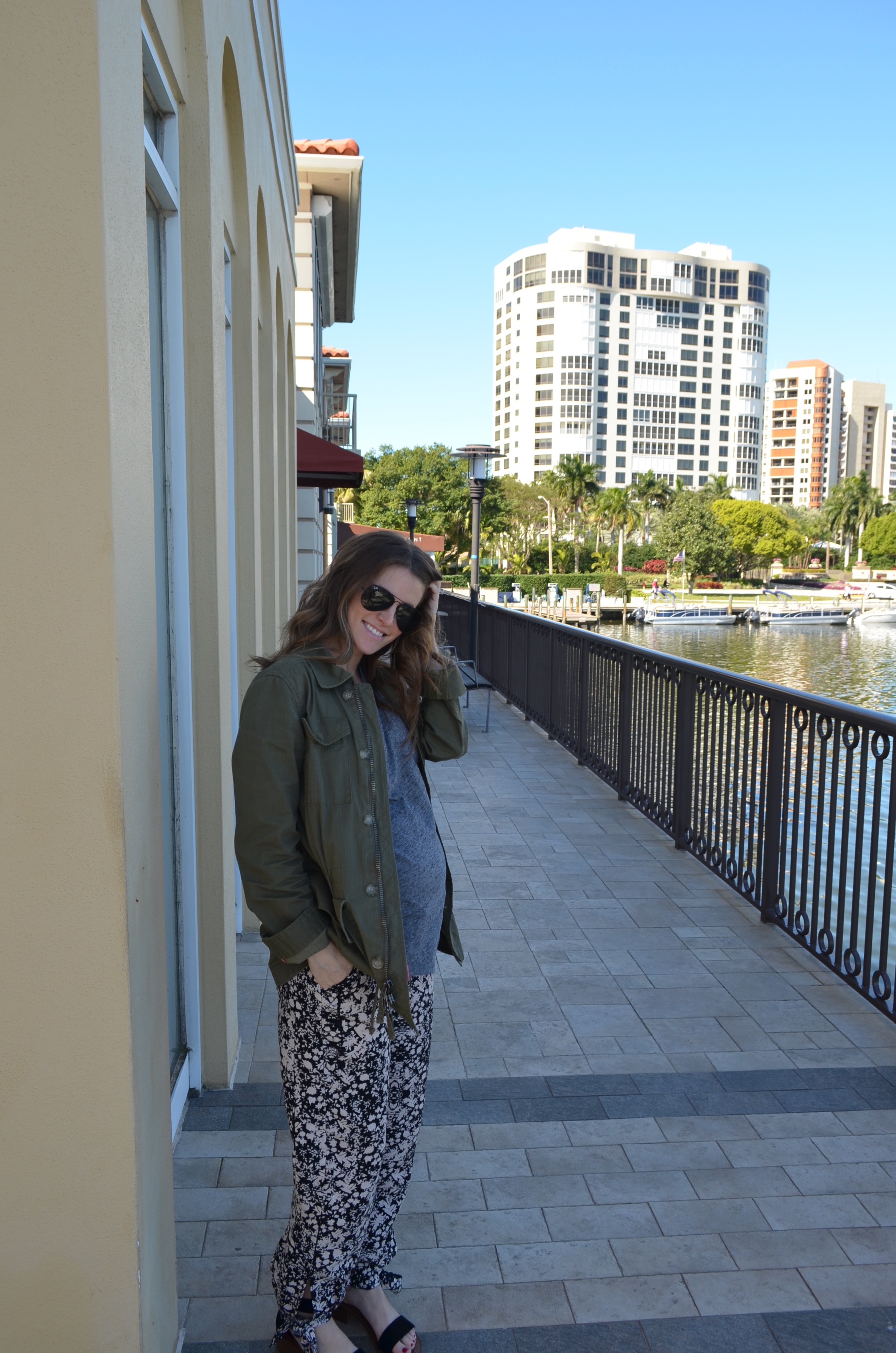 Packed lots of comfy outfits for shopping and exploring. These Rebecca Taylor pants from Thread were a lifesaver. I got this t-shirt from Madewell in about 5 different colors since it's long enough to cover this massive belly of mine. And I'm definitely happy with these Steve Madden sandals that have little tassels on the zipper and a low, chunky heel.
Who says you can't be sexy when you're pregnant! This dress is not maternity but it worked out perfectly with this belly.  The slit in the front looks higher when it's windy haha but standing still it doesn't appear to be high at all. I loved the floral pattern and how sheer it was – the perfect dress for dinner on the beach!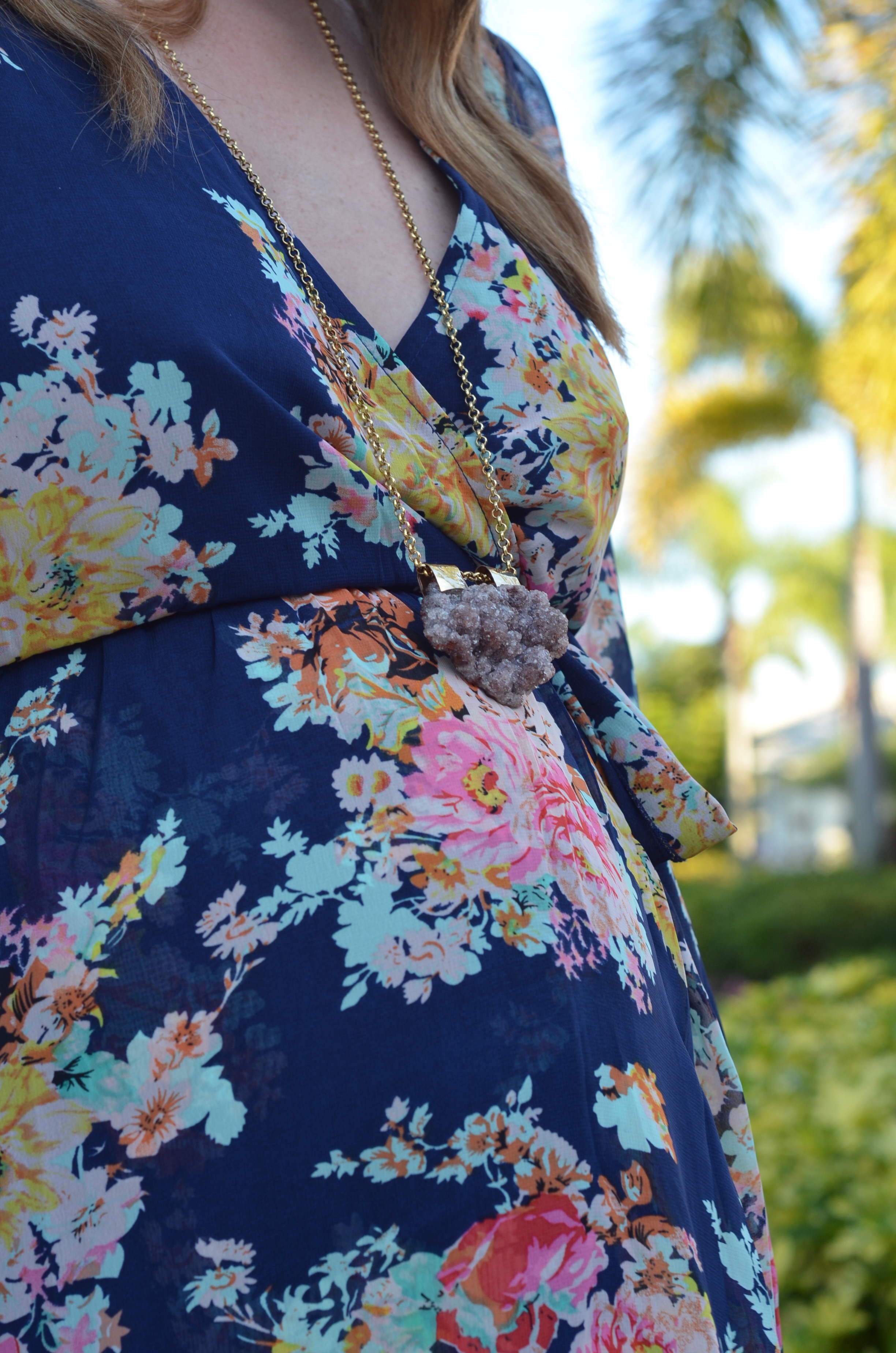 We are lucky enough to have an incredibly talented jewelry designer who is based out of Columbus. Pluma has the most stunning collection..I am especially obsessed with her rings! Check out her site…she also sells some pieces through Thread. The dress is also from Thread.
Not easy for this pregnant lady to pass up ice cream of any kind – but the vanilla + brownie gelato from Barbatella was out of this world!
We had such a wonderful time on our babymoon in Naples.  It is one of our favorite places to visit – it always feels like home when we go back.
We went to bed early, woke up early, ate too much and spent more time together than we have in a while.  It was incredibly good for my heart.
*And for those who asked me/are wondering…I did not see a single mosquito while I was down there, and I came prepared with plenty of organic repellent just in case.
XOXO – Em

| Lack of Colour Spencer boater | Scotch & Soda kimono (and Scotch & Soda wrap dress) | Triangl bikini (seriously check out all the different sizes they offer) | Rebecca Taylor floral pants | Steve Madden sandals | Madewell T-shirt | Jcrew army jacket old (similar) | Ray Ban aviators | NYC/LA floral maxi dress | Pluma necklace, not listed online but you can call!! |
Must-See's in Naples:
Coffee & Breakfast – 5th Avenue Coffee
Smoothies, Juice & Acai Bowls – Delicious Raw
Lunch – Tommy Bahama (get the crab bisque)
Dinner – Campiello, Sea Salt (get the Veal + Truffle Ravioli), The Continental, Vergina
Dessert – gelato at Barbatella, beignets at The Bay House
Shop – Marissa Collections, Waterside Shops
Paddleboard – Old Naples Surf Shop
Kayak – Naples Kayak Company
See the Animals – Naples Zoo at Caribbean Gardens