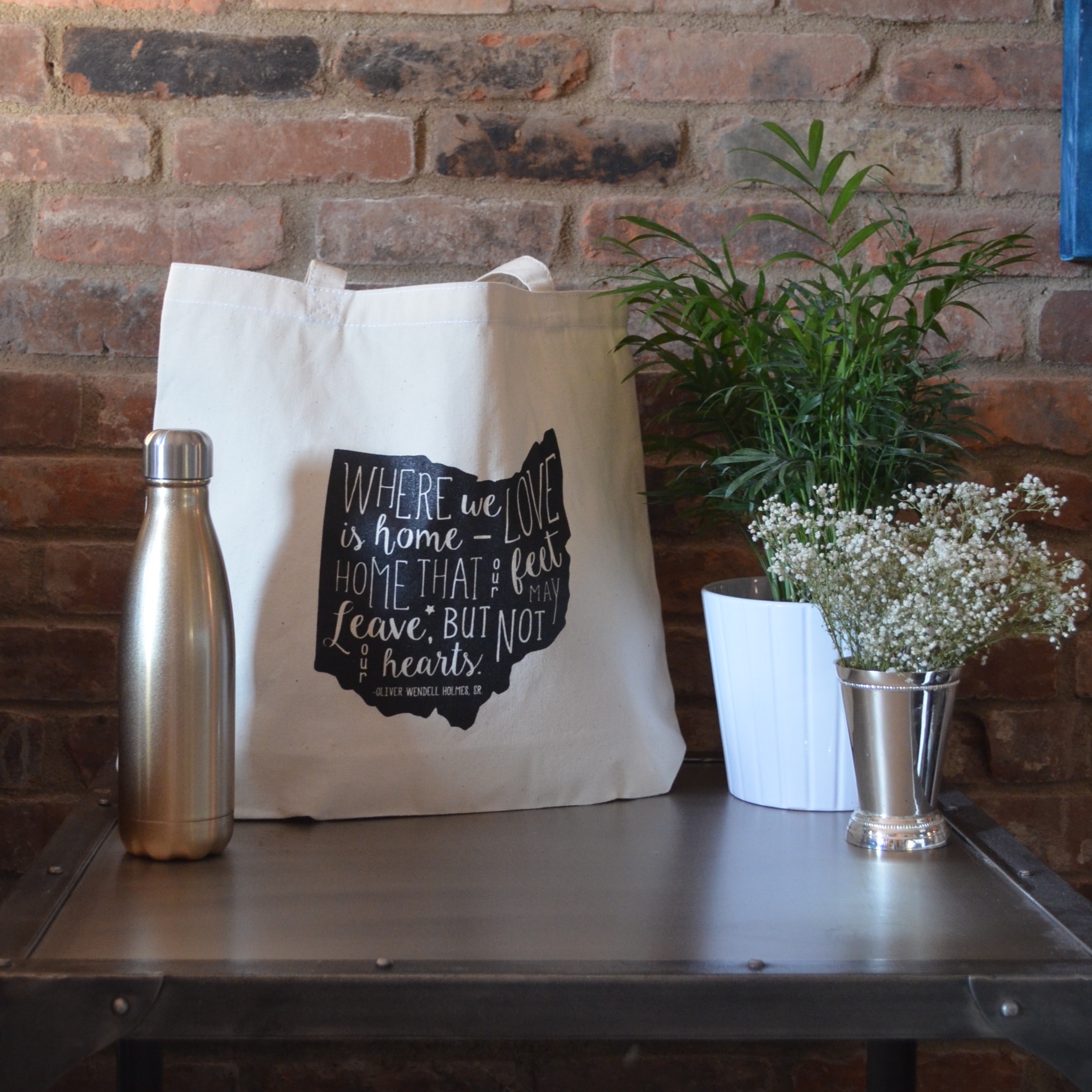 My resolutions for 2016 are a little different than they normally are. I usually try to set grand resolutions for myself – work out a certain number of times each week, finally start barre classes, write more letters, graduate from law school (at least I did that one!), etc… This year my primary goal is to do the best job growing a baby that I can – and then work to be the best mom that I can (which I realize means being ok with never being perfect).
But I also have a few smaller resolutions – things that I think will help do some good for our little family and put some positivity out into the world as well. Most importantly – I chose resolutions that are feasible and practical – I'm not resolving to start going to the gym every night – because I KNOW that's not going to happen – I mean there's Chipotle…..why would I want to go to the gym when there's Chipotle.
First – I got a few canvas tote bags and put them in the trunk of my car to use for grocery shopping or any kind of shopping really. During the holidays I really noticed how many plastic grocery store bags, department store bags and boxes we went through and it was alarming. There is no reason why I can't grab those tote bags out of the car when I have to shop. I got the one pictured above from Invoke Thy Quote – this really cool new site that puts these wonderful quotes and graphics on organic cotton totes. They are even offering 10% off any purchase from their site using code "CHAMPAGNE" which is good now through February 1, 2016. The two bags that I ordered are this one (pictured above) and this one.
Second – I want to take the time to let people know how important they are to me. If I have time to write and send real letters great – if not, then a simple phone call, text, or funny card. I have realized recently how important the gift of your time and attention is – it's irreplaceable and priceless and I think it really can make a difference in a person's day. With this in mind, I also want to spend some more time reaching out to our wider family. A few months ago I actually started working on a family tree! I found some brilliant genealogical resources online like these obituary archives that were recommended to me by a friend: https://www.genealogybank.com/explore/obituaries/all/usa/pennsylvania/philadelphia/philadelphia-inquirer. Although reading through the obituaries was quite emotional, learning about the history of my family has inspired me to spend more time with my relatives. That being said, I never got to finish the family tree I was working on and so I definitely want to spend some more time on it over the next few months! Watch this space.
Third – DRINK MORE WATER. I am terrible at this. It's not that I normally drink sodas or other bad things, I just never really drink anything. My mom is the same way, so I come by it honestly, but I know it is not a healthy practice. Nick gifted me this Swell water bottle for Christmas and I have been making a point of taking it with me wherever I go. That way I can fill it up anywhere and I usually force myself to drink it so that my purse isn't so heavy haha. P.S. I didn't believe the hype about these bottles in regards to how long they keep things hot or cold – but it's real. Trust.
Fourth – and most importantly – be happy with me. I feel like I am constantly trying to improve myself – which certainly isn't a negative thing, but it is a lot of pressure to put on yourself. And my focus has changed this year – it isn't about just me anymore. While I definitely want to make positive steps forward this year – at work, in life, with the blog – I always want to make sure that I am proud of who I am and what I have achieved without beating myself up for not being more. I want to be a good role model and a positive influence on my daughter, and I think that starts from being proud of yourself and happy with who you are as a woman.
What are some of your New Years resolutions? I would love to hear them!
UPDATE: Invoke Thy Quote is giving away a free, organic cotton tote bag of your choosing to one winner!!! Head to my Instagram feed and/or my Facebook page for entry details!
XOXO – Em