My mom used to make these "Chicken Pockets" for my sister and me when we were little and we were obsessed with them. Since they are DELICIOUS but not necessarily the most diet-friendly thing in the world, I started making smaller versions of what my mom made to serve as appetizers.  They are always a huge success and people often ask me for the recipe.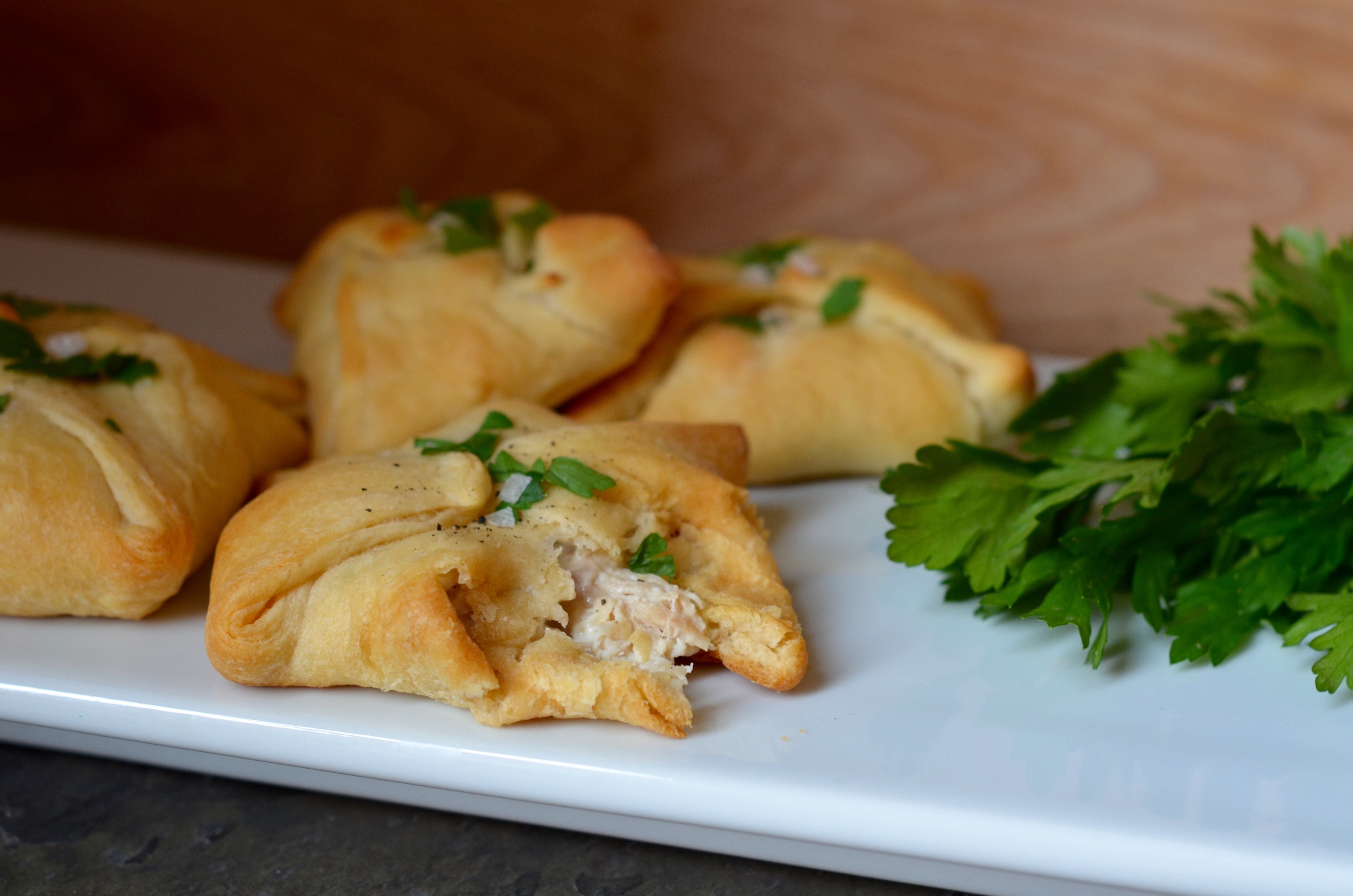 They could not be any easier to make, and they are PERFECT for holiday get-togethers.  I made these this weekend when we had people over and we did not have any leftovers!
Ingredients:
Rotisserie Chicken, skin removed and meat shredded
2 packages of croissant rolls (I use Pillsbury)
1  8 oz package of full fat cream cheese at room temperature (cuz why even bother trying to make this more low cal…)
2 oz pimentos (they usually come in 4 oz jars and I use half)
1/2 tsp garlic powder
1 tsp pepper
1 1/2 tsp salt
Fresh flat-leaf parsley chopped (I usually rip off two big handfuls and chop that amount)
Maldon Flaked sea salt, if desired.
Directions:
Preheat oven to 375 degrees
Mix the shredded chicken in a bowl with the room-temp cream cheese and all other ingredients except the Maldon sea salt.  I actually use my hands too because it's FUNNNNN.
Put a little flour on your counter top and roll out one of the two packages of croissant rolls. They are already perforated to make the croissant shape, but since we want to make square packages, we have to be a little crafty. Using a rolling pin, roll out the dough to make one full, square sheet.  (If any of the perforations rip slightly, just use your fingers to push the dough back together).
Once you have a square (or as close to a square as you can get) sheet, cut the dough once horizontally down the middle, and three times vertically.
Repeat this process with the second package of croissant roll dough.
Using a spoon, place about 3 tablespoons of the chicken mixture in the middle of each of the small dough squares.
Fold up each corner of the square around the chicken mixture to make little envelop pockets – see the photos above.
Repeat this process for each of the dough squares.
Place each of them on a non-stick cookie sheet and bake for 10-11 minutes or until they are golden brown.
Once out of the oven, let cool for 5 minutes or so and then sprinkle each pocket with a little pepper, some flaked Maldon sea salt, and a little chopped parsley.
Yield: 16 pockets
If you make them let me know what you think!
XOXO – Em