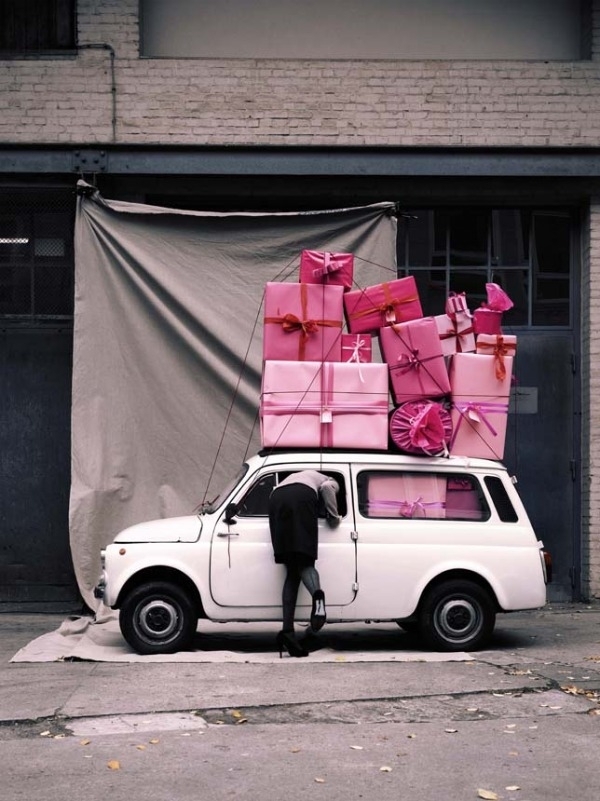 photo source: Pinterest
'Tis the season for cozy evenings at home, the best holiday movies, bringing out all your favorite decorations…and people who just stop by your house unannounced or invite you over for dinner 20 minutes from now.
I like to be prepared without having to freak out and run around like a chicken with my head cut off every time there is a Christmas party or holiday get-together and need to bring a host or hostess gift. People will think you spend so much time and effort on it and ran out just for them and will be like..WHATTTT how do you do it?! Welp…it's a trick.
There's really not many things more stressful than gift shopping during Christmas season. Finding the right gifts for all of the people in your life is not only expensive but frustrating too, while some would be more than happy with something like a Bissell vacuum others might be a little harder to shop for. Depending on your price range and who you're shopping for, a friend of mine told me that WatchShopping is a great place to find great gifts (hopefully that means I'll have a new Rolex shoved into my stocking come the 25th of December!) My method is that I tend to stock up on inexpensive but cool gifts right before Thanksgiving. I keep these gifts in our pantry or in the closet of our guest room. This way, throughout the holiday season I can just grab one of these gifts, quickly wrap it, and then head over, seemingly SOOO on top of it. (meanwhile I probably haven't shaved my legs for two days). Some of the gifts I usually stock up on are candles, baking or bar accoutrement, books, ornaments, and any other odds and ends that you may find. As a rule of thumb, I like to stick to gifts that are $25 or less. I have included below a bunch of different great gifts you can stock up on for all those last minute get-togethers or unannounced house guests and they are all $25 or less!!! Be sure to check out websites you buy these from to take advantage of free shipping and other discounts that always pop up during the holidays.
[p.s. that Voluspa candle is one that I ALWAYS keep handy to give out as gifts. If you have received it from me already it's because I love you and it's the best smell of all time]
I also save ribbon in a drawer in our kitchen anytime I receive something with ribbon on it. I have quite a stockpile that Monica Geller would be so proud of. I also order lots of brown craft wrapping paper and use that for gifts year-round. It's my favorite to use because you can change the ribbon and completely change the look of the wrapping. At Christmastime I like to use the craft wrapping paper, red plaid ribbon and some inexpensive ornaments to dress up gifts.
Bottles of wine or a good wine gift or gadget also make a great easy gift and people usually love them! There are quite a few funny wine gifts out there as well as GREAT bottles in the $10-$25 range – check out some wine blogs for ideas on cool and delicious inexpensive bottles. Then I use some of that stockpiled Monica Geller ribbon to tie a bow around the neck of the bottle, maybe attach a cute little Christmas ornament onto the bow and that makes a sweet gift as well.
I've always found that gifts that are a bit 'out there' often prove to be the best and most memorable, which is why you might want to consider buying something more unique for somebody in your life this year. For example, there aren't many gifts more creative than custom bobbleheads, which is why you may want to give some thought to investing in some, because you never know who's day you could be making by thinking outside the box a bit more.
I like to bake and I prefer to bring homemade baked goods to people's homes for the holidays, but there is so much time involved in doing that, that I don't always get to do it. Usually right after Thanksgiving I am all geared up and prepared with tons of chocolate chip cookies or madeleines, but closer to Christmas I find that we are just too busy. Although with me being pregnant and with what I'm assuming will be the appetite of a truck driver as I get further into the second trimester maybe I'll be baking all the time anyways.
If I'm baking cookies, I make double or triple batches, bake one batch and store the dough in the fridge or freezer to make later. I love this chocolate chip cookie recipe I recently found and also this madeline recipe, (I use a baking pan like this for the madeleines – they look extra fancy but they couldn't be easier). Once made, I store the cookies in a jar with a piece of bread at the bottom of the jar. The bread keeps the cookies moist in the best way possible – it's a great trick. When I need a quick gift, I put some cookies in one of these Chinese takeout containers, slap a red bow and a few tiny candy canes on it and it's ready to go so quickly!
How do you stay on top of things over the holidays?
XOXO – Em