Recently, Charles Penzone, (the most amazing Columbus-area salons), reached out to ask if I would be interested in testing out their new line of facials…um DUH!! I couldn't say yes fast enough!! For me, facials are those things that I don't do nearly enough because I always think they're too expensive, but then every time I get one, like when I finally tried out the non-surgical medspa options in Idaho to refresh the look of your skin, I always realize how WORTH it they are if you want to really take good care of your skin.
The Penzone salons started using this new line of Eminence facials on June 1, and it has become a fast favorite. Eminence is an Organic Skin Care company that has been using sustaining farming and green practices to create natural, organic and Biodynamic products since its inception in 1958. Eminence also plants one tree for every single product purchased through their "Forests for the Future" Environmental Initiative to champion their movement in creating a more sustainable world.
My Experience:
Penzone's offers 4 different types of Eminence facials, each geared to tackle different skin problems – Bright Skin (brightens and lightens to gently fade hyperpigmentation and increasing the youthful glow of your skin, Clear Skin (helps to regulate oil production and reduces breakouts by restoring your skin's pH balance), Firm Skin (lifts and hydrates tired skin), and Calm Skin (calms and cools rosacea-prone and sensitive skin).
I made my appointment and met with Catalina to go through a quick questionnaire and a consultation where she looked at my skin and helped me determine which of the 4 facials I should choose. We decided that Bright Skin would be the best for me because my skin tends to get dull from time to time, (although much less recently – see this post to find out why).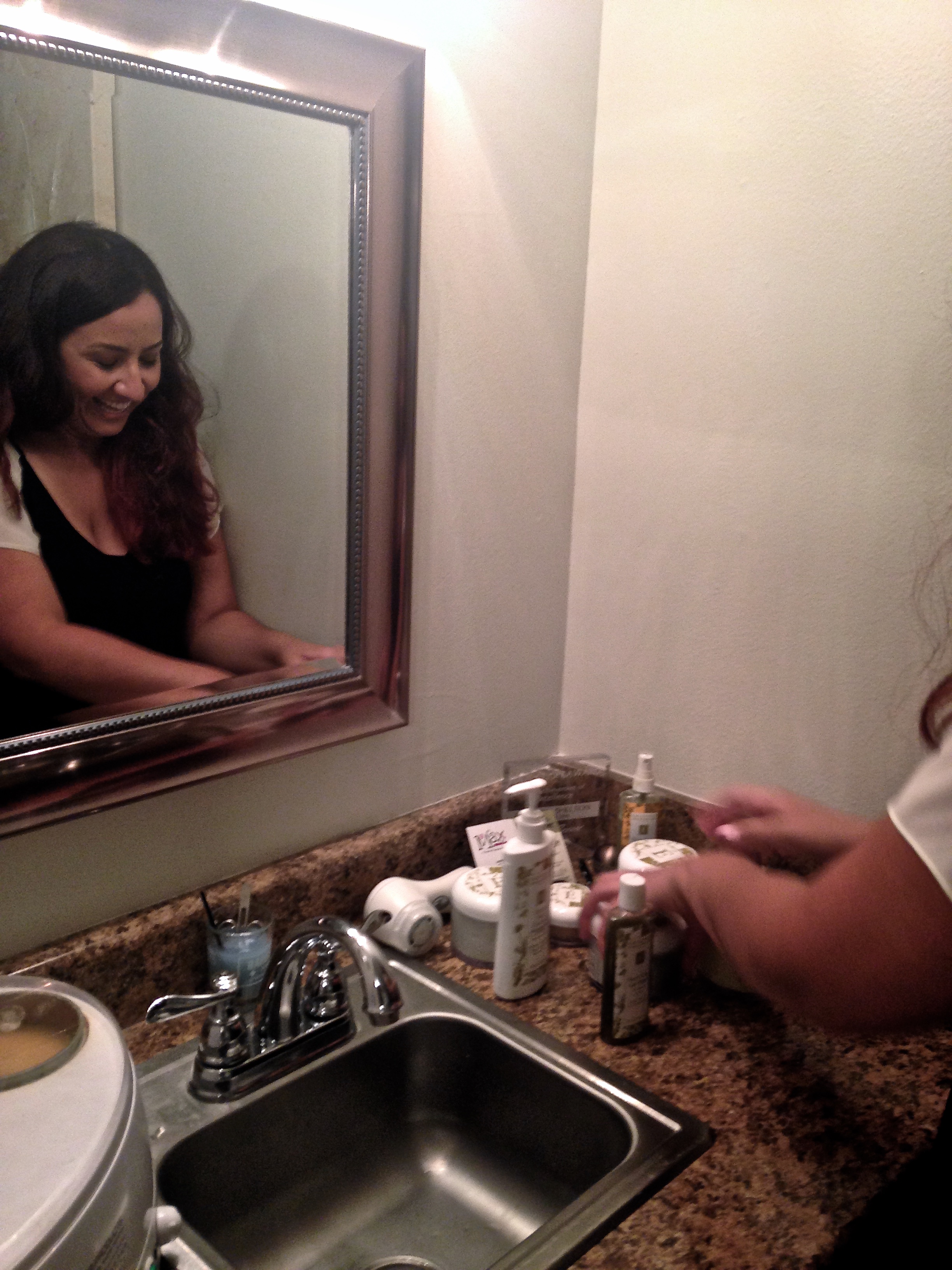 [Miss Catalina herself!]
After we decided which facial I would have, Catalina left the room and let me change into the robe that covers your body but leaves your shoulders exposed because these facials come complete with a neck and shoulder massage, a foot massage AND a hand and arm massage…WHHAATTTTT!
What Happened:
1. Catalina completely removed my makeup with makeup remover.
2. She cleansed my face twice, the second time using a Clarisonic brush.
3. Next, she applied a yam and pumpkin enzyme peel which, as Catalina explained it, has mini Pac-Mans that eat the dead skin cells and leave behind the healthy ones! While she did this, she had a steamer directed towards my face.
4. While this peel sat on my face, Catalina gave me a hand and arm massage – HELLOOOO total relaxation!
5. After she removed this peel, Catalina did an extraction. You don't have to do this at all – aka if your skin gets super irritated and you don't want to leave all red and blotchy, just tell her! But if you have blackheads or acne problems, they will do an extraction for up to 10 minutes. For especially acne-prone skin, Catalina suggests you come back after a couple weeks or the following month for a follow-up extraction.
6.After my extraction, ('cuz I've get some serious blackheads on my nose!), she applied a T-zone treatment, (this was an add-on to the normal facial because my T-zone is a problem area for me), and applied the Bright Skin mask along with it, (see photo below).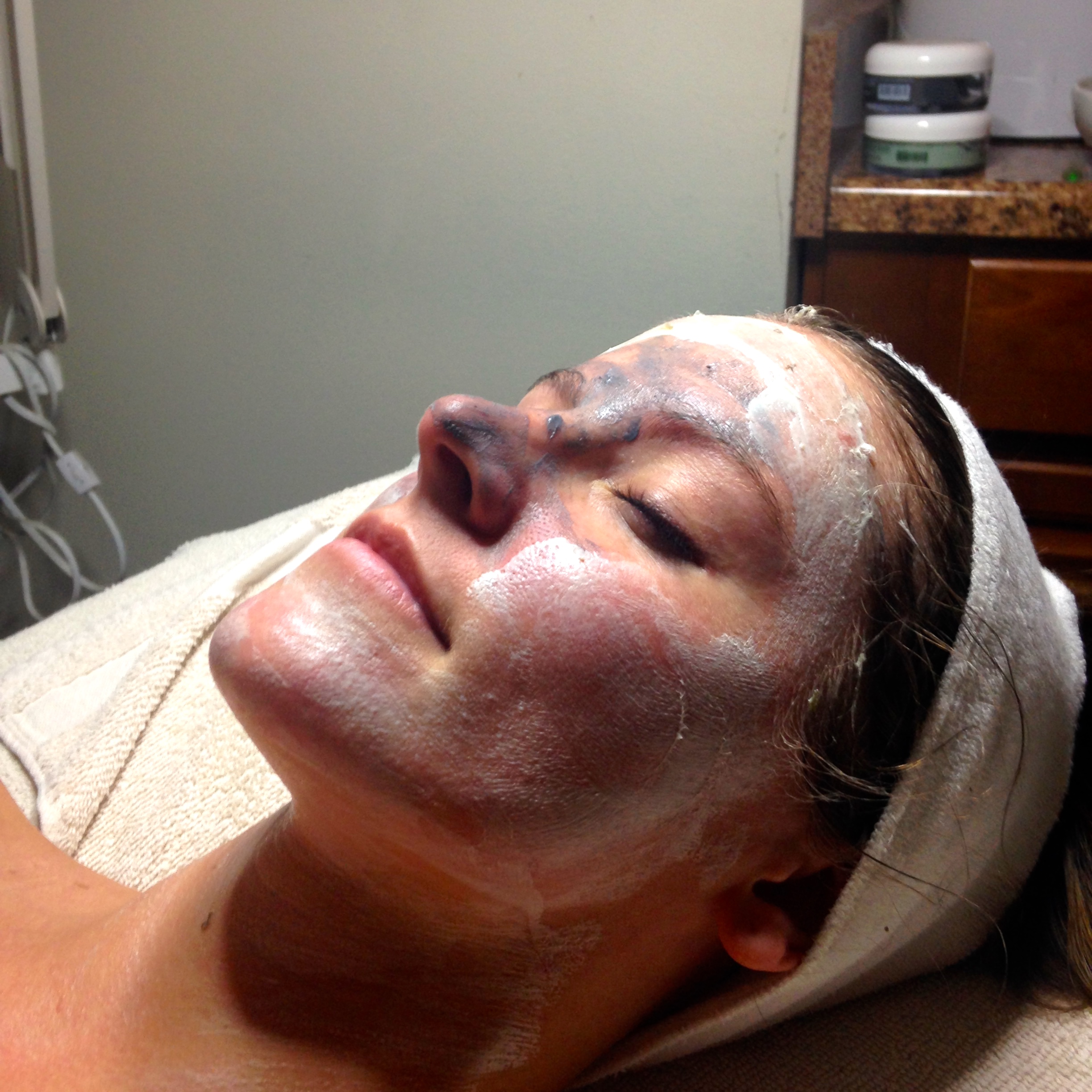 [ The Bright Skin mask – and as you can see by that awesome red zit on my forehead – I really needed the facial ]
7. While the Bright Skin mask sat on my face, Catalina gave me a foot massage….I was in Seventh Heaven by this point.
8. The process of removing the Bright Skin mask is essentially a face and neck massage. Catalina put a warm towel under my neck and then started massaging the mask off, adding a little water every so often – Catalina explained that the more time you have the mask on your face, the better, so the extends the removal process as long as she can.
9. Once my face was clean, she applied a Bright skin serum all over my face, an age corrective eye serum under my eyes, applied a hydrating toner mist, a special petroleum-free lip balm, and then finished with a Bright Skin moisturizer.
Catalina recommends that you get a facial every 6 weeks or so if you have normal skin, but seasonally at the very least, as the change in seasons can put a lot of strain on your skin. She also recommends that you do not tan at least 48 hours before a facial and said that she would not work on someone who has a sunburn, as this could cause serious irritation of your skin. The beginning of each Eminence facial includes a consultation about your skin with the Penzone esthetician, so she will be able to help you assess what type of facial would be best for you!

[This picture was taken a full week after I got my facial, AND I had spent the entire day at work prior to this, plus I woke up crazy early that day AND I didn't even touch up my face makeup before this photo was taken – my skin STILL looked good!! If that isn't enough testament about this facial I don't know what is.]
But the BEST PART IS………..wait for it………..Penzone's would like to offer one of you guys a chance to experience one of these facials yourself!! To win, you just have to follow myself and Charles Penzone Salons on Instagram, and like and comment on today's post (here or on Instagram) and you will be added!! The contest starts today and will end Monday, July 6 at 8PM when I will announce the winner. GOOD LUCK!!
XOXO – Em