Last week on the blog I posted THIS recipe for both a Blackberry Ginger Shrub and a Blackberry Ginger Gin & Tonic using a blackberry ginger balsamic vinegar from Green Olive Company.  Today, I am featuring the second set of recipes for my collaboration with Green Olive Co: Chimichurri Sauce on Grilled Flank Steak, Grilled Corn on the Cob (sometimes called Mexican Street Corn), and some grilled bread, (because obviously why not). Also in last week's post I advised to stay tuned because Green Olive Co and I would be offering up a giveaway and TODAY IS THE DAY!!!  So if you scroll to the end of this post, past the recipes, you will find the way to enter the raffle to win a HUGE gift basket from Green Olive Company!!  See below for details on the goodies inside!!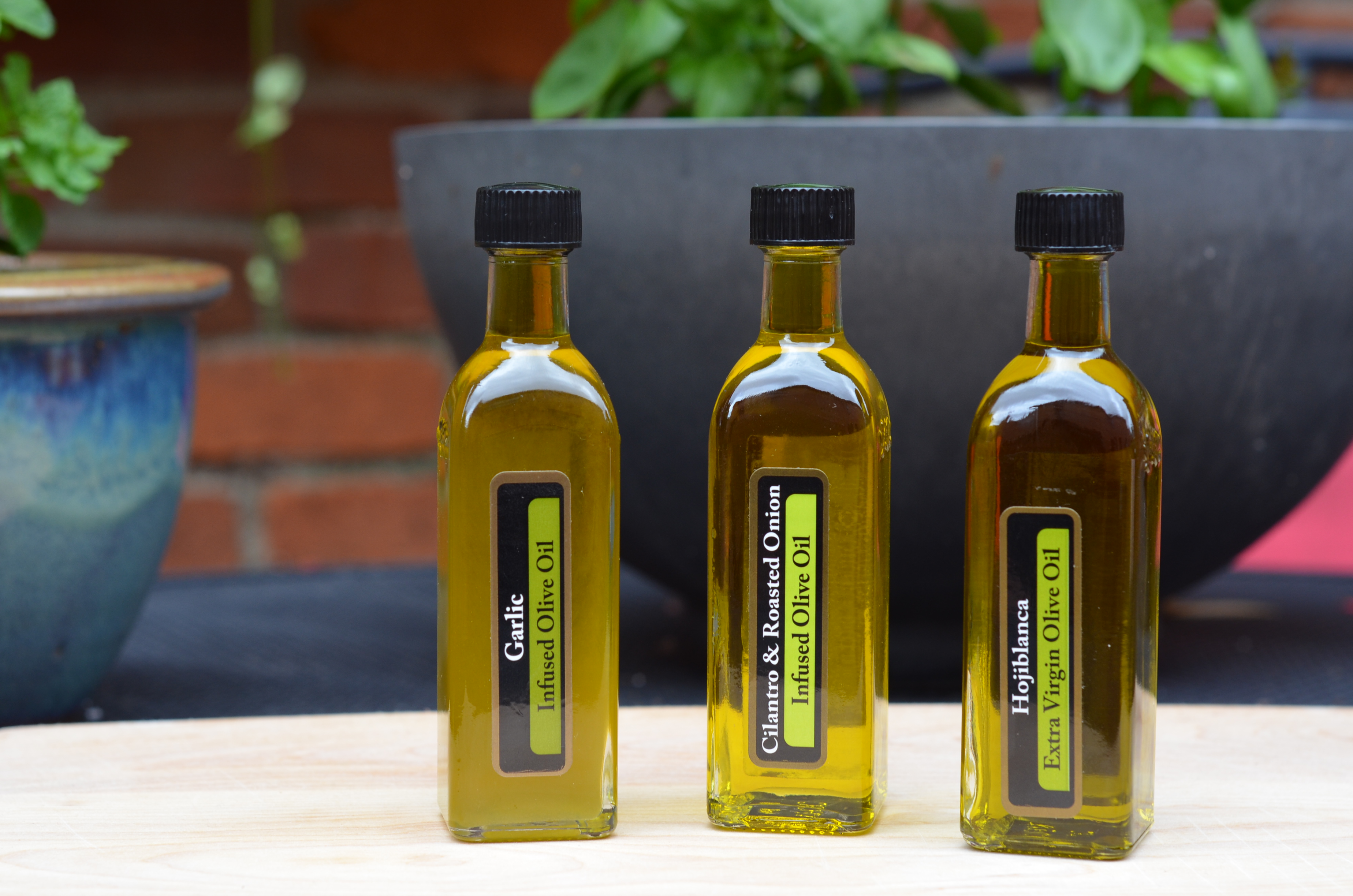 When my husband and I first went to Green Olive Company to pick out the oils and vinegars that we wanted to use for the collaboration, I saw the Cilantro and Roasted Onion Olive Oil and I IMMEDIATELY thought of this Grilled Corn on the Cob recipe that Nick always makes.  It's a fan favorite amongst our friends and families and we pretend that it's super hard to make but it really couldn't be easier.  From there, I just wanted to pair a steak and chimichurri sauce with the corn and THUS – our menu was born. So check out the recipes and let me know what you think.  I linked each of the oils we used as well, as they can all be purchased online. Grilled Flank Steak with Chimichurri Sauce Ingredients:
Flank Steak (typically a cheaper cut of beef, because it is thinner and has less fat/flavor, thus it is paramount that you marinate flank steak if you want it to be juicy)
1 cup fresh Italian parsley
1/4 cup Hojiblanca Olive Oil from Green Olive Company
1/4 cup red wine vinegar
1/4 cup fresh cilantro
2 large peeled garlic cloves
1 tsp crushed red pepper flakes
1/2 cumin
1/2 tsp salt
1/2 tsp pepper
juice of half a lemon
1 small, chopped and seeded jalapeño
Directions:
To make the sauce, now pay close attention – this is the tricky part – dump every ingredient above, other than the steak, into a food processor and hit puree.  AHHHHHHHH I know. It's a lot.  Then transfer it to a bowl – you can store it in the fridge for a while first too, so this is a nice thing to make in advance. And that is legit all there is to it.  Tastes and looks like you spent hours on it.
Place the steak in a casserole dish or some kind of dish with sides and cover the steak with half of the Chimichurri sauce, cover with plastic wrap and refrigerate for AT LEAST 3 hours. Don't cheat and do 1 hour – 'cuz trust me it will not be as good.
Once the steak has marinated, get the grill very hot.
Lay the steak down on the bottom rack of the grill, (closest to the flame), and don't move it again for about 5 minutes.  If you want those nice, caramelized grill marks, it is imperative that you don't move the steak around.
Flip the steak over and let sit on the bottom rack for 3 minutes. At this point, your flank steak should be medium rare, so if you like it this way, pull it off the grill now.
Nick always uses his finger for his part, (it's hot?!), but here is when you test the steak for doneness by poking the middle of the steak with your index finger.  It should feel like THIS depending on how done you want the steak to be. (Side note: when I asked Nick what it should feel like, he said "it should feel like whoa!" – so, good luck figuring that out).
If the steak feels like it needs more time, transfer it to the top rack for another minute or two until it has reached the level of doneness that you would like. (Side note: flank steak is not a cut that you want to cook very long – so if you normally order your steaks well done, consider going to medium well on a flank steak).
Remove the steak from the grill, transfer to a cutting board, cover with foil and let it rest for 8-10 minutes.
Using a sharp knife, cut against the grains of the steak – so for flank steak, this means cutting it along the width of the steak rather than the length – although this is normally obvious to people because otherwise you would have CRAZY long strips of steak (and they would be terribly difficult to chew).
Top with the remaining Chimichurri sauce, sprinkle on some flaky sea salt and serve with lime wedges.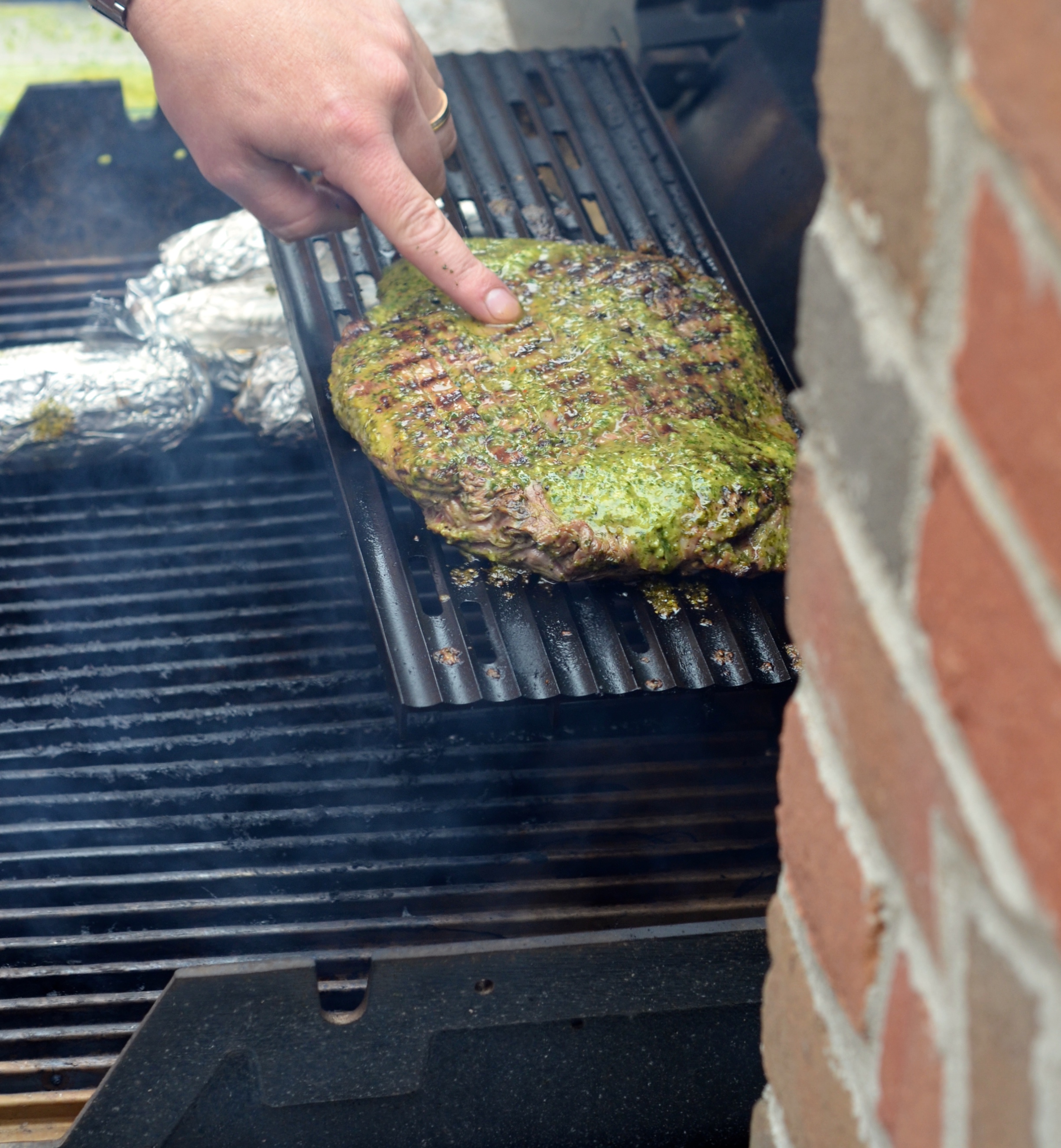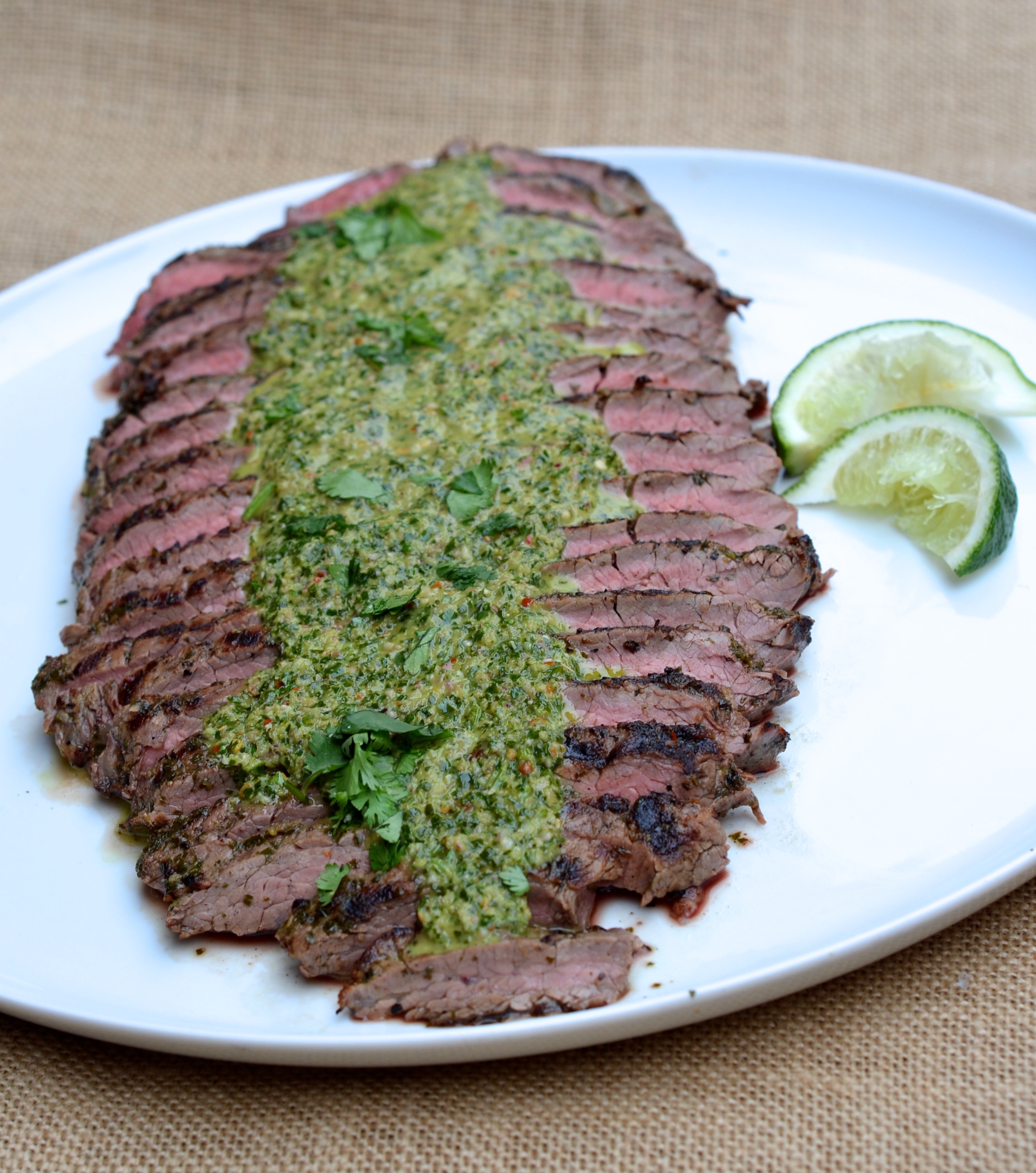 Grilled Corn on the Cob (aka Mexican Street Corn, aka Nick's Corn on the Cob) Ingredients:
4 ears of corn (p.s. this is the easiest way to shuck corn, seriously genius)
Fresh cilantro
Cayenne Pepper
1/2 lime
Cilantro and Roasted Onion Infused Olive Oil
grated Oaxaca cheese (like a Mexican feta – most grocery stores have this now)
a little salt and pepper
Directions:
Shuck the corn, brush each ear with Cilantro and Roasted Onion Infused Olive Oil, sprinkle with salt and wrap individually with aluminum foil.
Nick normally starts the corn on the top rack of the grill, not directly on the flames, and keeps them here for about 15 minutes, rotating slightly every 5 minutes.  Then he will finish them on the bottom rack just for a few minutes.
Remove the ears of corn from their foil packages and lay them on a serving dish.
Cover each ear with grated oaxaca, some chopped fresh cilantro, about a 1/2 tsp cayenne pepper (but do this to your preference), a pinch of pepper and a bigger pinch of salt, and squeeze the lime over all 4 ears.
Finally drizzle with just a little more of the Cilantro and Roasted Onion Olive Oil and ENJOY!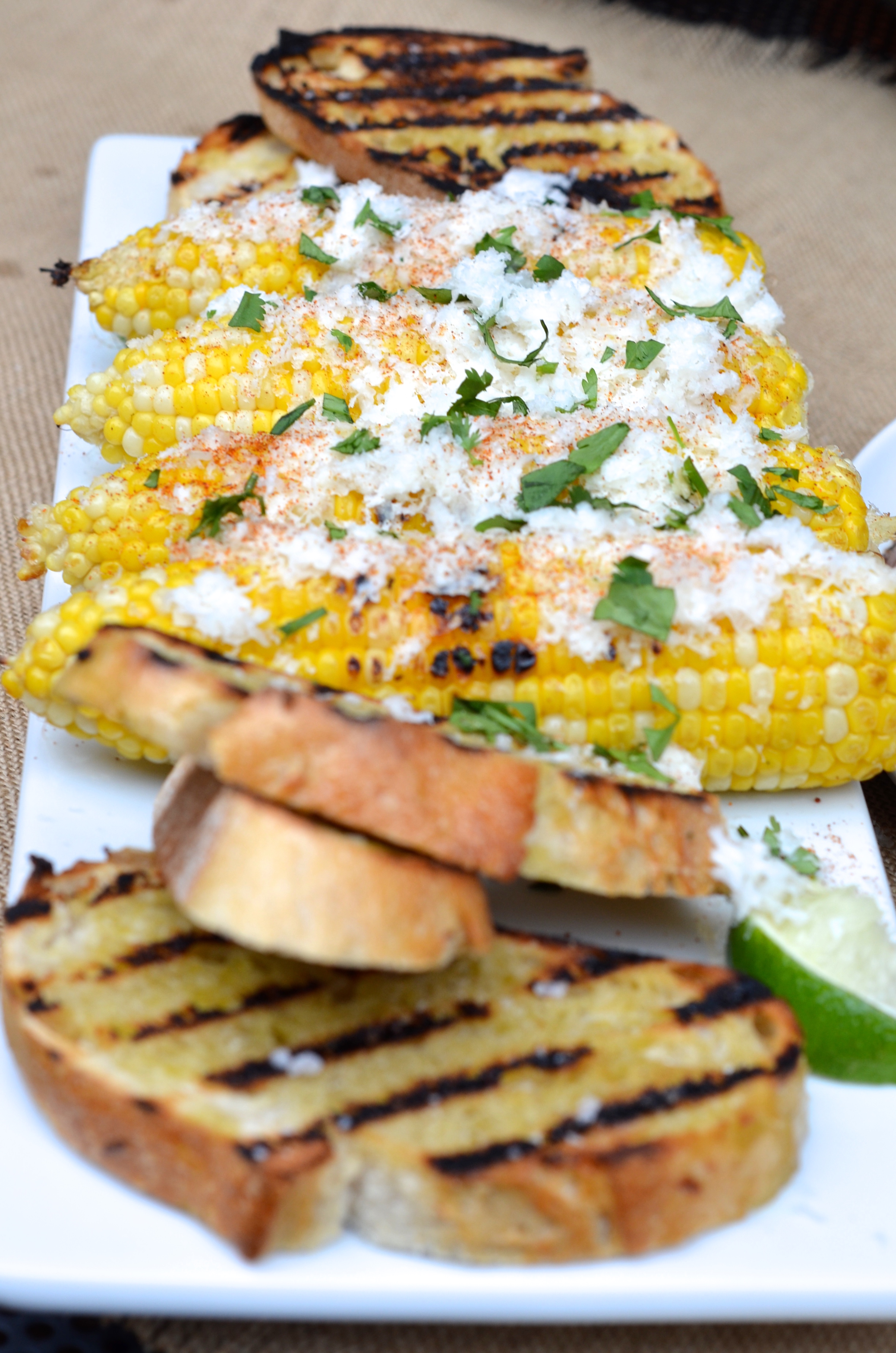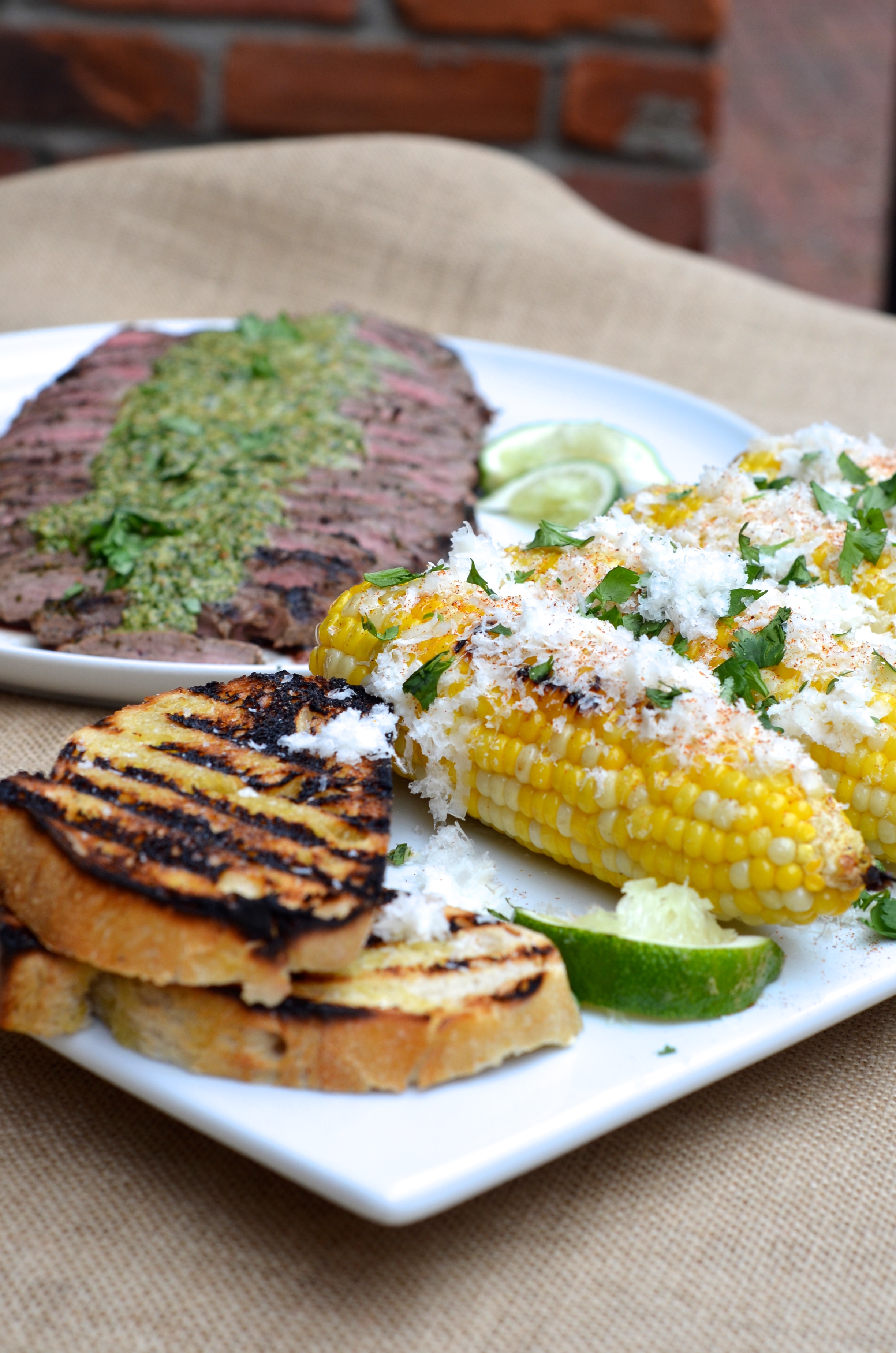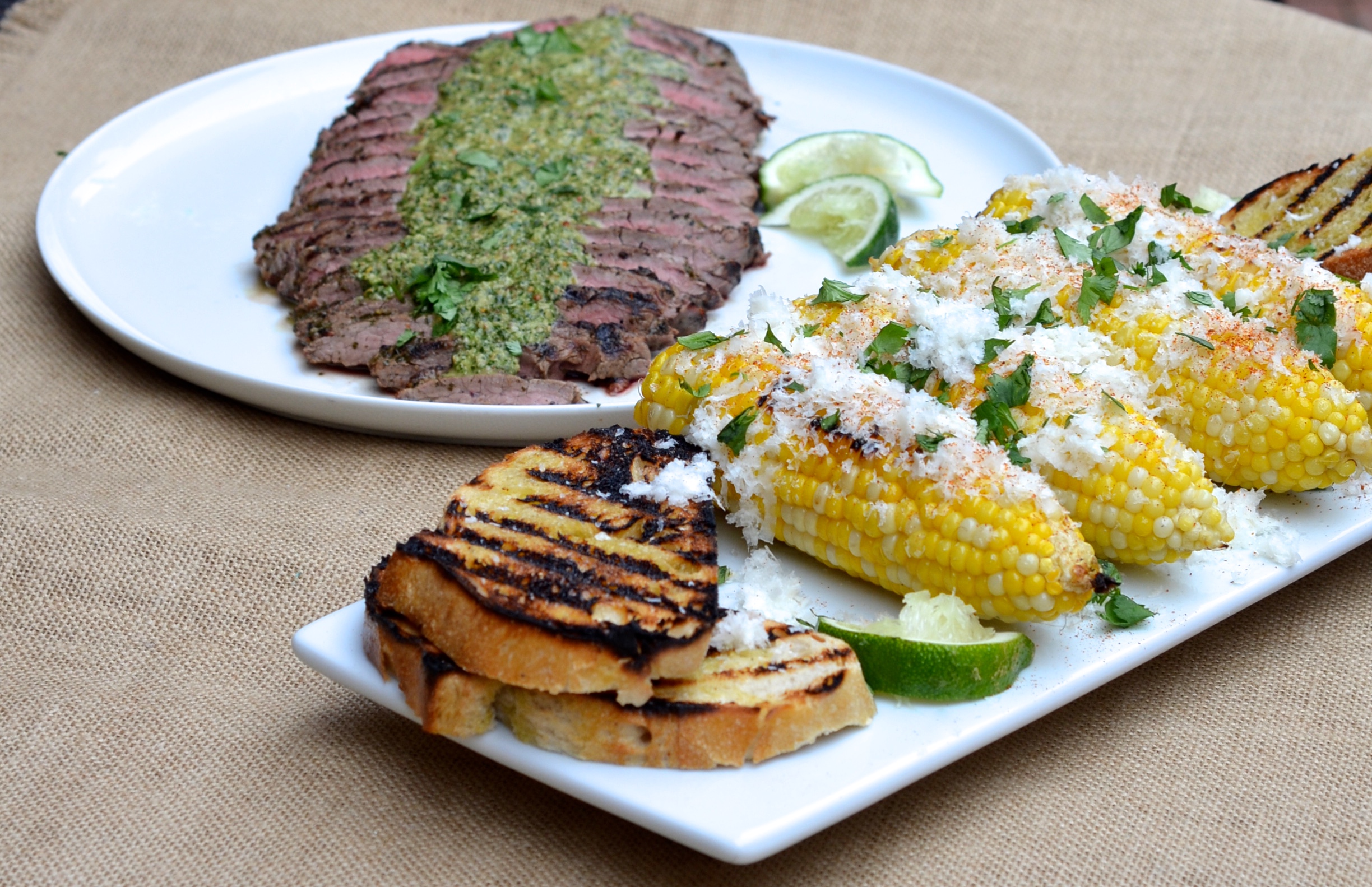 Also, Grilled Bread, (and yes it deserves its own recipe): Ingredients:
Rosemary Olive Oil Bread (also could use Italian or French, just something fresh with a good crust)
Garlic Infused Olive Oil from Green Olive Company
one peeled garlic clove cut in half
Directions:
Cut the bread into slices and brush each side with the Garlic Infused Olive Oil – you don't need a ton, just a light brushing
Place pieces of bread down onto a medium hot grill, (we grilled the bread last, so the fire had already died down a little), for roughly a minute or two – depending on how hot your grill is.  Then flip over for another minute.
Rub a cut garlic clove over one side of each of the pieces of bread.
Sprinkle lightly with a little flaky sea salt and serve warm and dip in the chimichurri and realize that this is your new favorite food and you will want to make it every night. #isbreadacarb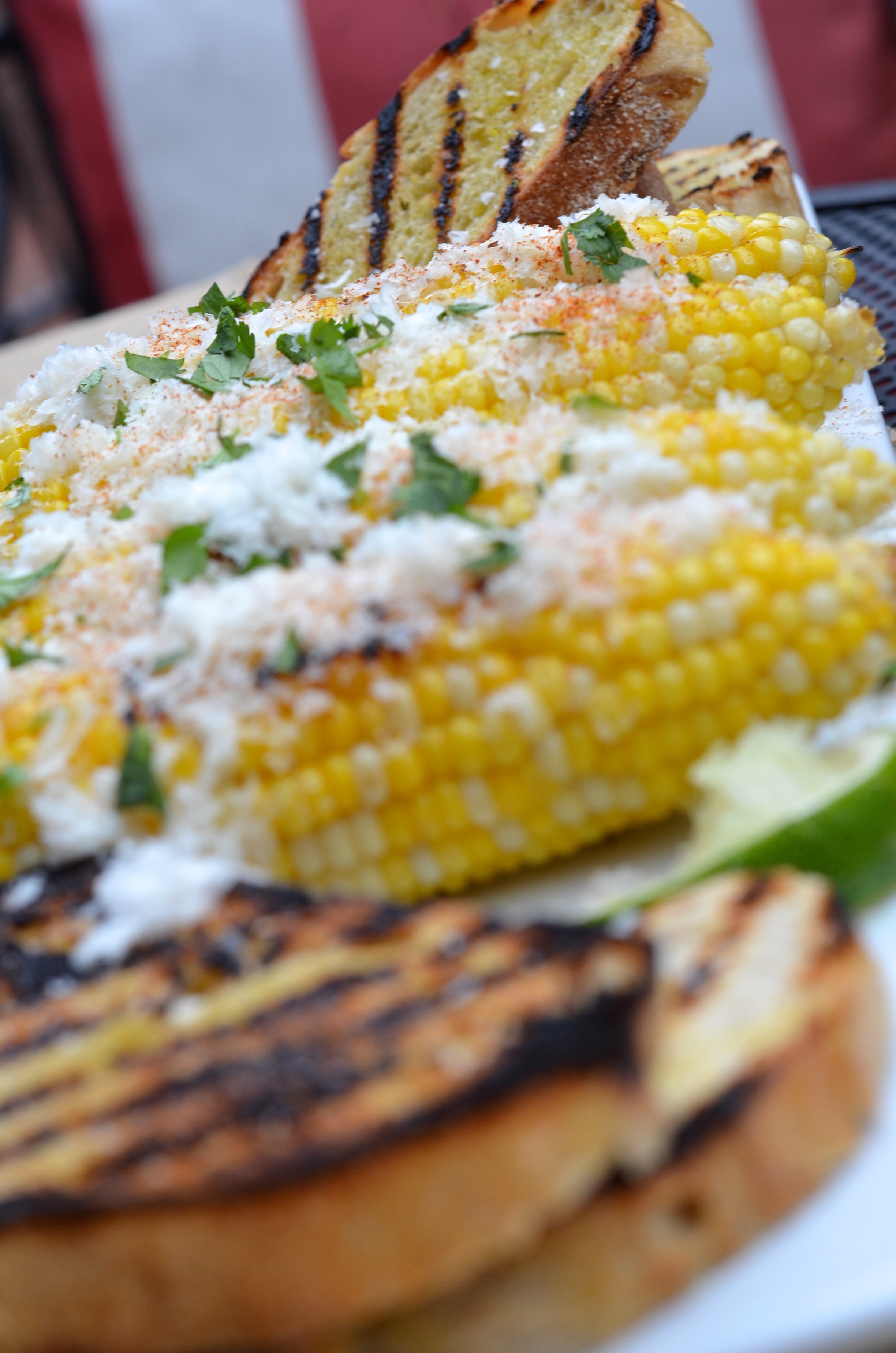 If you make any of the recipes, let me know.  I'd LOVE to hear what you thought and whether you made any good alterations or substitutions I should know about!! XOXO – Em
Gift Basket Giveaway from Green Olive Company & Champagne In The Rain:
A signed copy of the cookbook "As Old As Time" which focuses on recipes using flavored oils and balsamic vinegars, and one of each of the following oils and vinegars: – Espresso Balsamic Vinegar  – Blueberry Balsamic Vinegar – Strawberry Balsamic Vinegar – Oregano White Balsamic Vinegar – Blackberry Ginger Balsamic Vinegar – Cilantro & Roasted Onion Olive Oil – Basil Olive Oil – Chipotle Olive Oil – Lemon Fused Olive Oil – Persian Lime Infused Olive Oil To win: complete as many of the entry opportunities below as you would like!  The more entries, the more likely you are to win!!! Good luck!!   a Rafflecopter giveaway