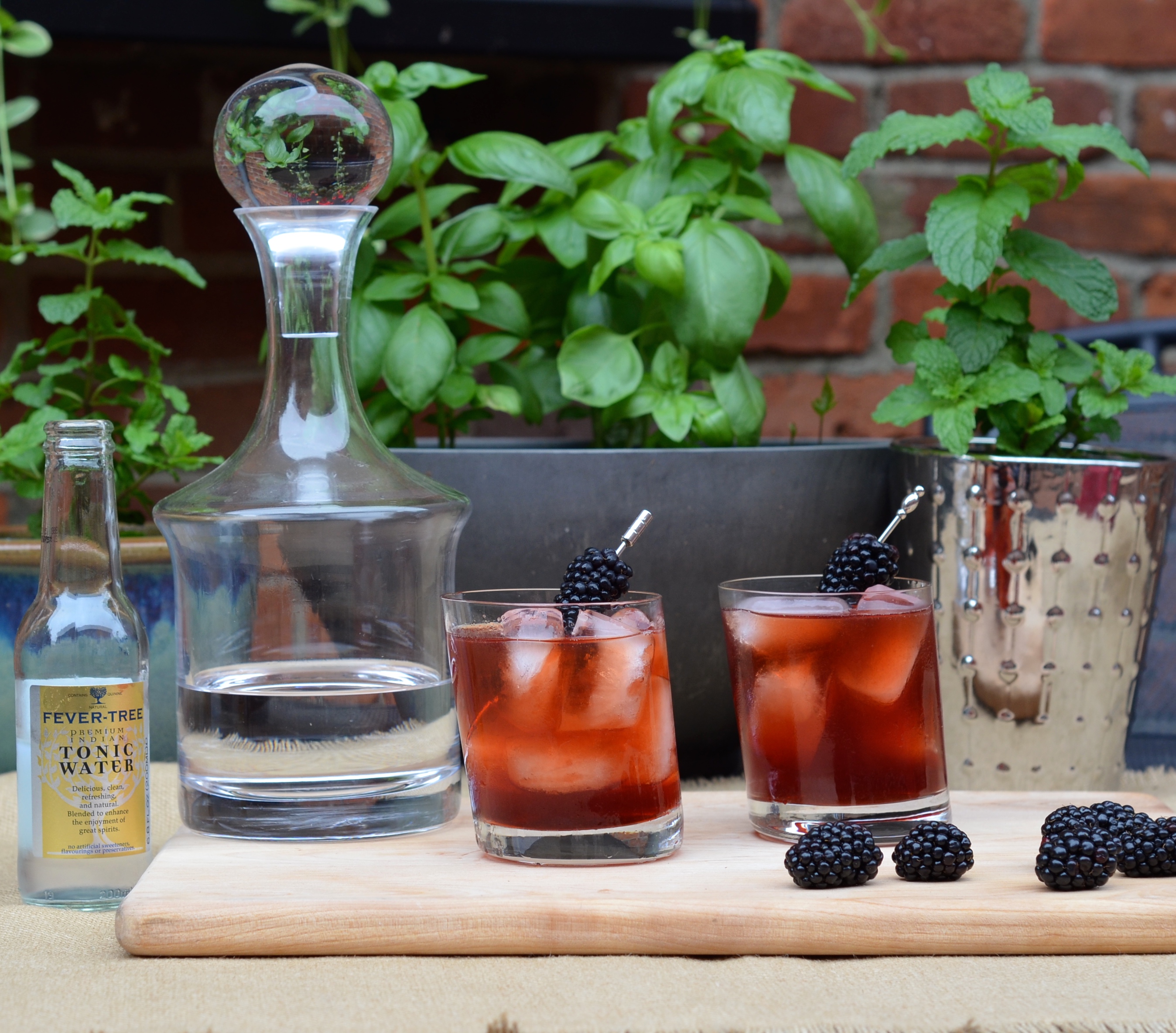 When I first learned what a shrub was, I was like "WHAAAAATTTTT?! Vinegar in your cocktail?! Ah, no thank you."  But then, about a year ago, Nick and I went on a little vacation trip to Cincinnati and stayed at 21c (my most favorite hotel), and I finally consented to trying a cocktail with a shrub in it.
If you don't know what a shrub is, read here for the full down low, but essentially, a shrub is a mixture of fruit and vinegar (sometimes herbs) that you can add to cocktails or even sparkling or still water.  Shrubs were originally enjoyed by the Romans who diluted acidified wine with water to drink as a summer thirst quencher.
If you haven't tried shrubs before, 1. it sounds crazy to drink vinegar, 2. it sounds complicated to make.  I waited for ages after I found out about them to taste test one, and I ended up being sorry I had missed out all this time.  THEY'RE DELICIOUS, and, incidentally, super easy to make at home.
When Green Olive Company reached out to me to see if I would be interested in collaborating with them to create a few recipes, a shrub was the FIRST thing that came to mind.  Green Olive Company specializes in olive oils and balsamic vinegars from around the world.  They have a massive selection of gourmet and infused oils and vinegars and I was like a kid in a candy store running around, tasting each one of them and dreaming up recipes.  (AND you can buy all of them online!)  As soon as I tasted their "Blackberry Ginger Balsamic Vinegar" I knew it would be the perfect base for a blackberry shrub.  I used the shrub to concoct a Blackberry Gin and Tonic – perfectly summery and refreshing, but I also tested the shrub in a glass of Perrier and it was phenomenal.  Serve this shrub up at a party and people will be impressed and will think you are Fancaaaaaay.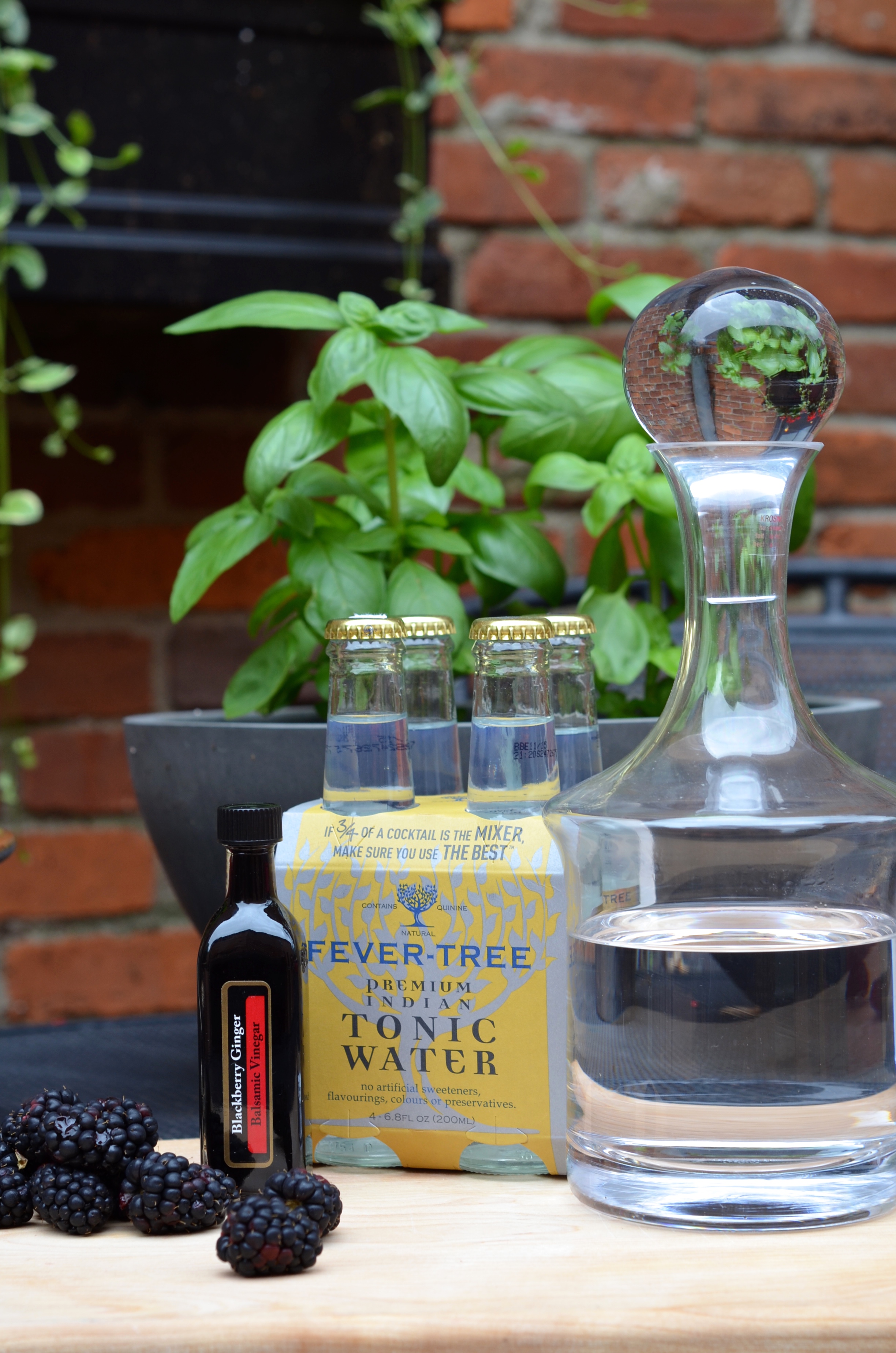 Blackberry Ginger Shrub
Ingredients:
Directions:
Add the blackberries, water and sugar into a saucepan over low heat and stir for 10-15 minutes.  As you stir, smash up the berries as much as possible to release the juice.
Pour the mixture into a fine mesh strainer, (or I used cheese cloth stretched over another saucepan), and squeeze or press as much of the juice out of the berries as you can.  Discard the berries and return the remaining liquid back to your saucepan.
Add the balsamic vinegar and increase the heat to medium, stirring occasionally until the liquid reaches a slow boil.
Take the pan off the heat and let cool.  Transfer to a bottle or a small pitcher and let cool in the fridge before use.
*you could also just use regular balsamic vinegar and just add 3oz more blackberries and add two large slices of fresh ginger in with the balsamic vinegar and remove before serving.
Blackberry Ginger Gin & Tonic
Ingredients:
1.5 oz Blackberry Ginger Shrub
1.5 oz Gin (I used Bombay, but any kind that you prefer will work) – of course you can use more or less, based on your preference, but 1.5 oz is roughly a shot.
1-3 oz tonic (I LOVE Fever Tree's) – I normally just eyeball the tonic, it really depends on your preferred ratio of liquor to mixers, I normally like equal parts
a full glass of ice
fresh blackberries for garnish
* For a very refreshing spritzer, add 2-3 oz of the Blackberry Ginger Shrub to a high ball glass, fill with ice, fill with sparkling water and garnish with mint leaves!!!
Directions:
Pour the Blackberry Ginger Shrub into a cocktail glass, fill the glass with ice up to the top and pour the gin over the ice.
Add the blackberries as a garnish and then add the tonic.  You may need more or less tonic than I recommended above based on your preference.
ENJOY and let your friends think you are some cocktail-mixologist genius.
And stay tuned – I have more recipes using Green Olive Company's delicious wares that I will post soon and there may or may not (or there definitely will be) a delicious giveaway that coincides with these new recipes!!!!
XOXO – Em
| tipsy cocktail glasses, old from Crate and Barrel (similar) | wooden cutting board | cocktail picks | clear decanter |