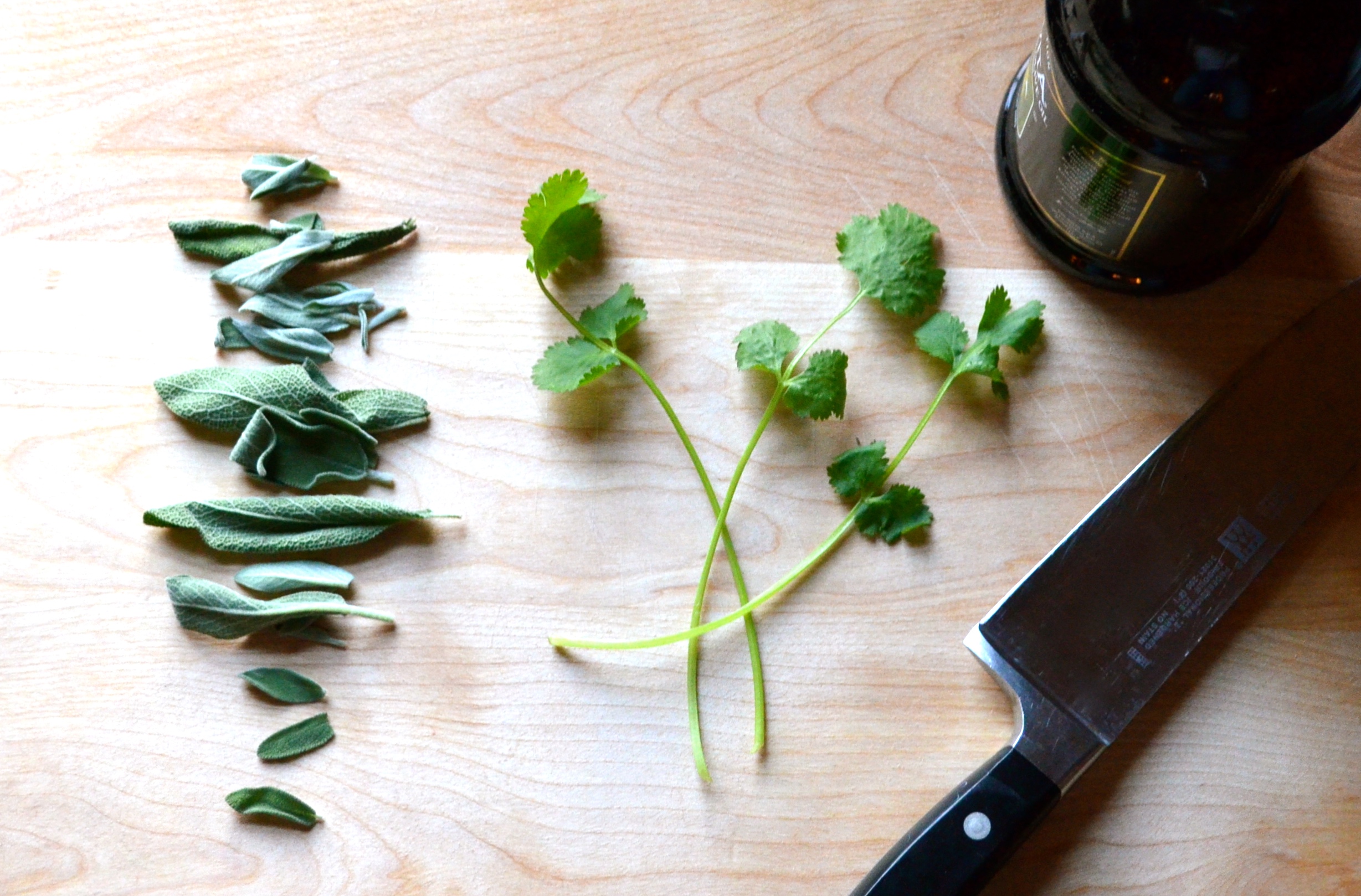 I love cooking with fresh ingredients – who doesn't, but with everything I have going on, I find that I can plan really well for a dinner or two, but not for a whole week's worth of meals. This means I end up with a ton of fresh herbs leftover from a meal that required about a teaspoon of fresh sage or a pinch of fresh rosemary.
So to combat both of these issues, i.e., too many leftover fresh herbs and limited meal planning time/capacity, I've been utilizing one of my favorite life hacks – Herb Cubes.  It's the easiest thing in the world to make them and even easier once it comes to using them!
This week I had leftover sage and leftover cilantro to work with.  Below are the instructions for making the Herb Cubes and following that are a few options for using the cubes once they're made!
Step 1: Finely chop up your leftover fresh herbs and choose what kind of oil you want to use to freeze the herbs.  I almost exclusively use olive oil because that is what I like to cook with most often, but depending on what herbs you have, you can use whatever kind of oil you would prefer.  In fact, for cilantro, I like to melt down some coconut oil, mix that with the cilantro and then fill the ice cube trays with that mixture. Delish!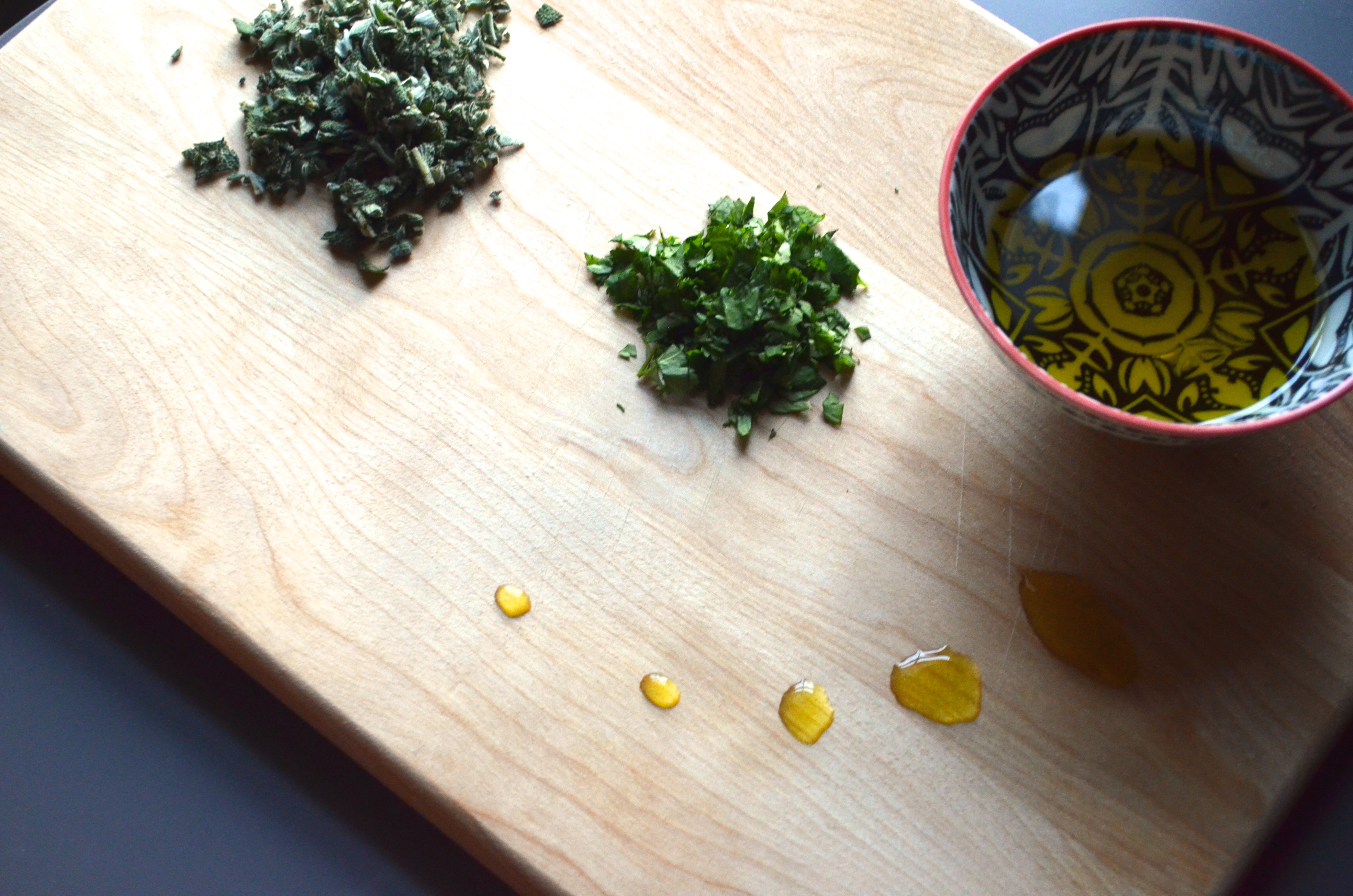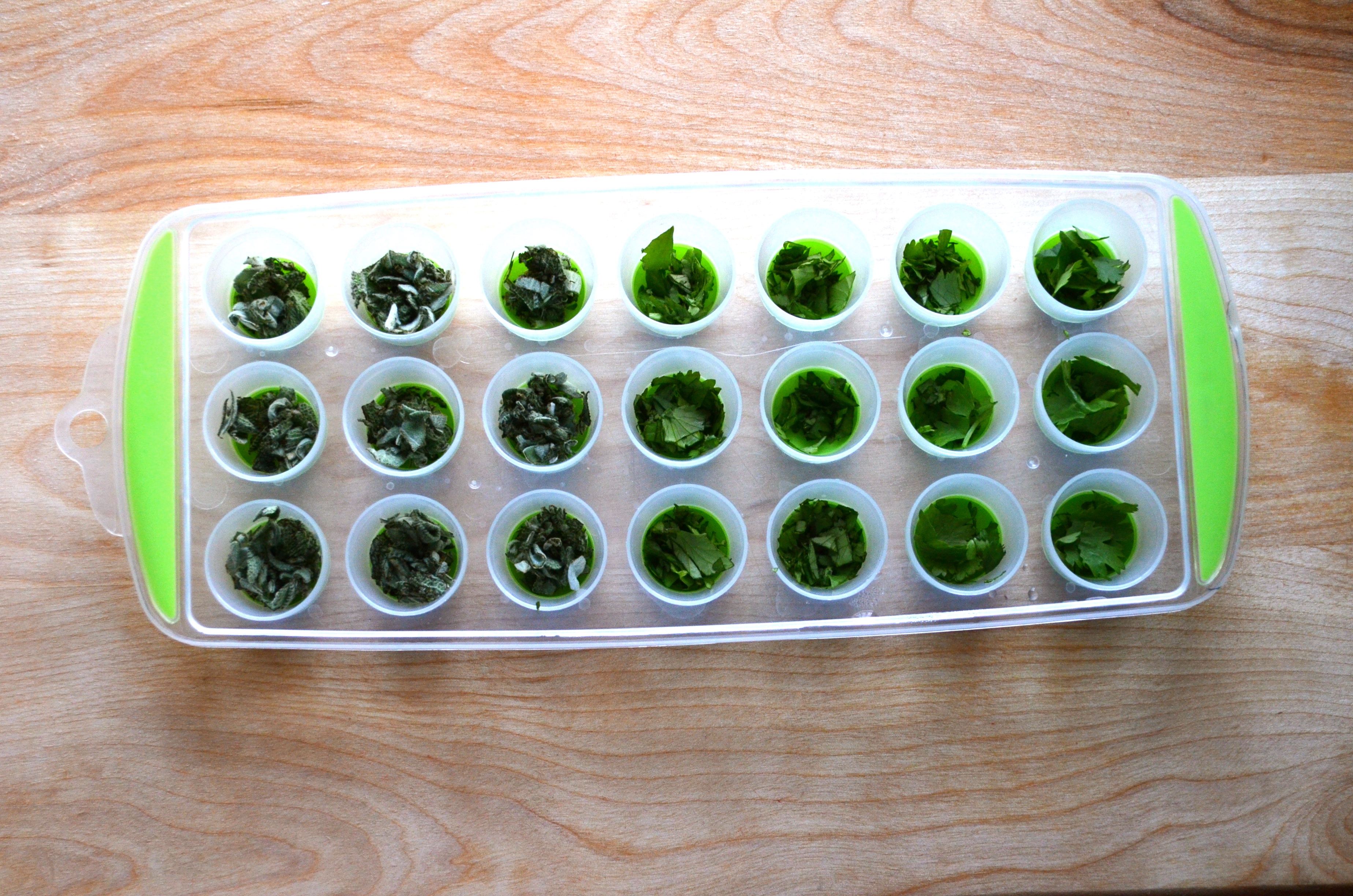 Step 2: Use trays for this that you will exclusively use for herbs. An ice cube tray with a rubber lid would work well for this.  Put the chopped herbs in the tray, filling up each indent about one-third to one-half of the way up.  Make sure to keep track of which herbs are on which side.  If you notice above, I have 3 rows of sage on the left and 4 rows of cilantro on the right.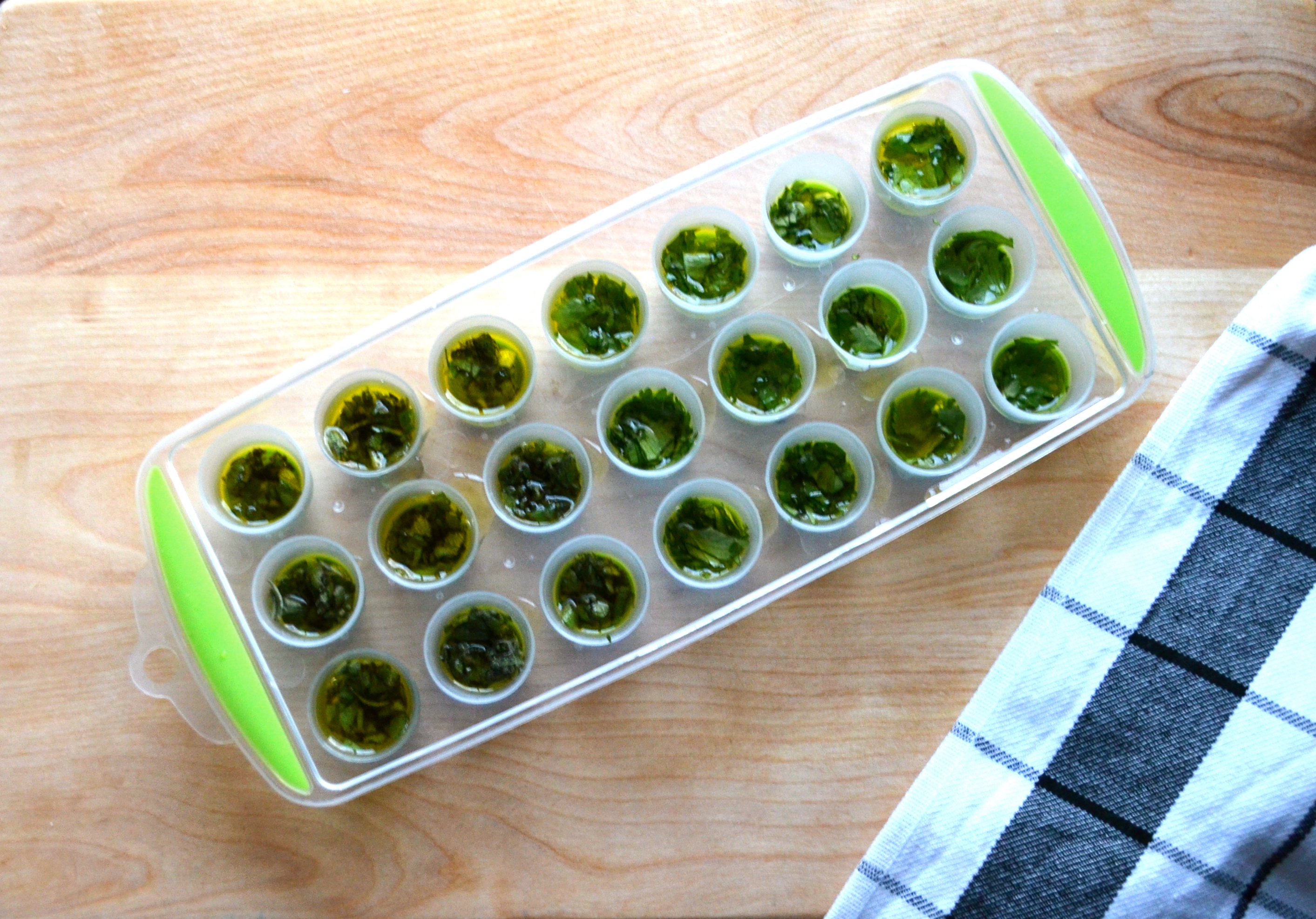 Step 3: Fill each indent halfway with the oil of your choice.  Here, I am using extra virgin olive oil for the whole tray.  This tray does not have a lid, so once the herbs and the oil are added, I cover the tray with plastic wrap and then cover it again with aluminum foil.  On the top of the foil, with a Sharpie, I write which herbs are on which sides of the tray. And you're all done!  See?! So easy!
When you're ready to use a cube, just pop them out, (they normally come out really easily when you crack the tray or use a knife), and add the cubes to the pan, skillet, etc that you're going to cook with.
Here are some ideas for using both the Herb Cubes that I made above:
Sage + Extra Virgin Olive Oil Cubes
add to a skillet with some butter and let brown, then add cooked gnocchi or ravioli and serve with shaved Parmesan
serve on top of a helping of mashed sweet potatoes
let a few cubes sit out a room temperature until the oil has melted, then rub on to a rack of lamb along with dijon mustard, S&P, and breadcrumbs, pan sear the lamb and finish in the oven
Cilantro + Extra Virgin Olive Oil Cubes
add cubes to cooked white or brown rice and a squeeze of lime juice
cut the cube into smaller pieces (very easy to cut frozen EVOO) and place pieces on top of a fillet of salmon, add S&P and a few lemon slices, wrap in parchment paper and steam in the oven
add cubes to skillet, add eggs, pepper jack cheese, spicy chorizo, S&P – make scrambled eggs and serve with a little salsa or hot sauce
What do you guys do with your leftover fresh herbs?
XOXO – Em