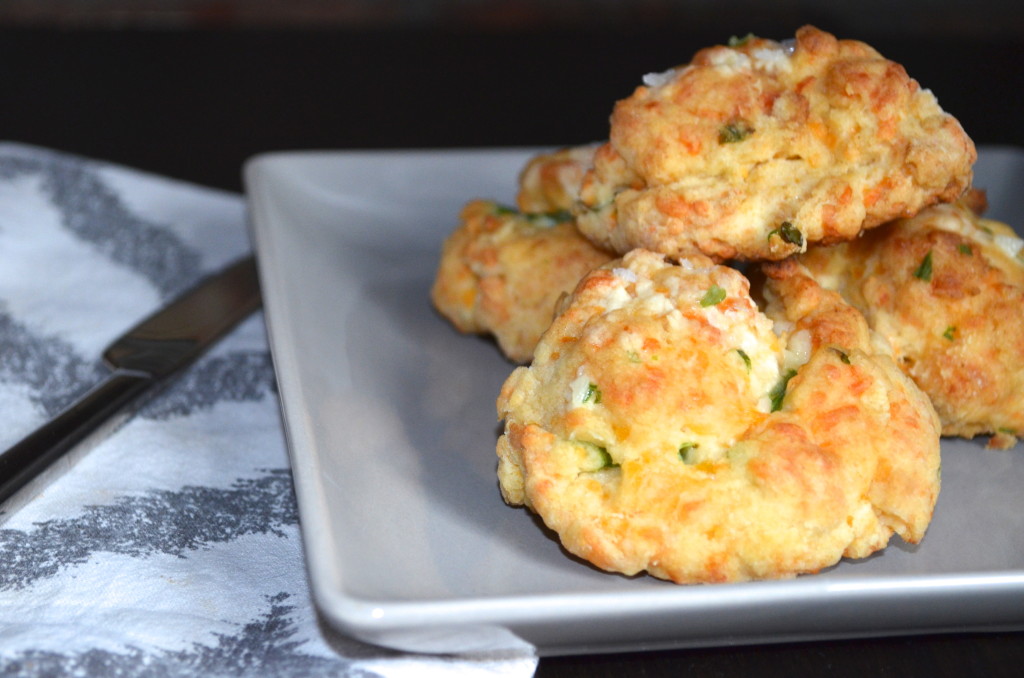 Recently, my husband and I ventured into Grandview, a really sweet neighborhood in Columbus, and had dinner at Third & Hollywood.  We were not starving and intended on just ordering salads until our server convinced us that we had to at least try their Cheddar Garlic biscuits that come to the table straight from the oven – served with pimento cheese.  I was raised in the south and I will never say no to anything with biscuits or pimento cheese.
These biscuits were so flipping good.  I swear my husband and I probably looked like we were trying out for those York Peppermint Patty commercials or for a rendition of Meg Ryan's scene from "When Harry Met Sally."  They were reminiscent of the biscuits from Red Lobster, but so so much better.  [Red Lobster should have been called Awesome Cheddar Biscuits because that was really the only reason why anyone ever went there].
Anyways, I thought about these biscuits the entire following day, so after work I promptly went home and made these.  I have a standard drop biscuit recipe that I think is from an old Betty Crocker cookbook and then I literally just added cheese, green onion and the delicious garlic butter on top!  The recipe is seriously so easy.
Ingredients:
1 3/4 cups all-purpose flour
1 tbsp plus 2 tsp baking powder
2 1/2 tsp sugar
1/4 tsp salt
3 tbsp Crisco (I use the butter flavored Crisco)
4 tbsp VERY COLD, unsalted butter cut into small pieces – like 1/2 inch pieces
1 1/2 cups of grated sharp cheddar cheese
3/4 cup whole milk
the green parts of three green onions, thinly chopped
For the garlic butter:
3 tbsp or so of melted unsalted butter
1 smashed or finely chopped garlic clove
Maldon sea salt flakes and chopped green onion to taste
Directions:
Preheat the oven to 425 degrees. Use a non-stick baking sheet OR ELSE. jk just use cooking spray.  So I make biscuits in a weird way, but it works really well for me and keeps the butter cold and in pea-sized pieces, which is exactly what you want.
Pulse the flour, baking powder, salt and sugar in a food processor. Once this is mixed, add the shortening, added little by little. Add the pieces of butter and pulse a few times until the pieces are pea-sized.  Add the cheese and the green onion and pulse a few more times.  At this point I transfer to a big bowl, add the milk and mix it in with your hands until the dough forms.  Pull the dough out onto a floured surface and knead the dough a few times until everything is combined.  Don't go crazy with the kneading.  Biscuits are better when the butter is cold.
Drop portions of the dough on the baking sheet with plenty of room in between each portion.  I'm guessing 1/4 cup portions, but eyeball it. I probably baked 9 at a time but it depends on how big your baking sheet is.
Bake at 425 for 15-18 minutes.
While those are baking, combine the melted butter with the garlic and some chopped green onion and sauté for a minute or microwave if you're lazy like me.
Pull the biscuits out and transfer to a plate.  Brush a GENEROUS amount of garlic butter over each biscuit and sprinkle the Maldon sea salt on top.  Serve immediately and make sure everyone eats them due to the garlic and then everyone will have to deal with it.  I honestly am not sure how to store them because we ate nearly all of them the day they were made and the next morning for breakfast.  These will be made again and again and perhaps next time with the pimento cheese spread.
Yields approx: 14-16
– Em